SIGNAL PEAK -- Heather Moulton and Susan Tatterson tell a story of people long buried in Arizona's dry desert soil. The pioneers. The cowboys. The ruffians. The prostitutes. Even the children.
It's a story told in words and pictures.
Moulton supplied the words. She's a professor of English and literature at Central Arizona College, Signal Peak. Tatterson is professor of digital media at CAC, Signal Peak. She teaches photography and design. She supplied the pictures, as you might have guessed.
Their collaboration led to their first co-authored book, "Graveyards of the Wild West: Arizona." It's one of a series. They've also published books on New Mexico and Nevada's Wild West cemeteries.
The Arizona book is a show-and-tell of eight Wild West graveyards. From Boothill to Yuma, and points in between.
Moulton is a big fan of the Earps. That's Wyatt and his brothers Morgan and Virgil. So Tombstone's Boothill is a favorite, by association.
"There are no Earps, but the people they buried are there," Moulton said.
Moulton kicks off the Boothill chapter with Tombstone's founding by prospector Ed Schieffelin in 1877. He's buried nearby. Moulton soon lands on Boothill. Here she introduces the three men gunned down by Earps at the OK Corral shootout. Wyatt Earp lived to tell his version. In it, he's a hero maintaining law and order.
One of Tatterson's photos tells a different story. A Boothill tombstone reads: "Billy Clanton, Tom McLaury, Frank McLaury — Murdered on the Streets of Tombstone 1881."
It seems they were not alone, at least in dying by other than natural causes. In Moulton's telling, shootings, hangings (including a lynching), mine explosions and a horse trampling all played a part in filling up Boothill.
In a few photos, grave markers seem to glow under a foreboding sky. Tatterson says she seeks out backdrops of clouds and storms. Often punctuated by a setting sun.
Getting it right isn't always easy. She had to scramble up Florence's Poston Butte to capture the light on a stone temple holding the remains of Charles Poston. He's known as the father of Arizona.
"The sun was setting. I did actually, literally run to the top," she said. "There was a storm coming, which I actually wanted."
She got the shot. It's on Page 122.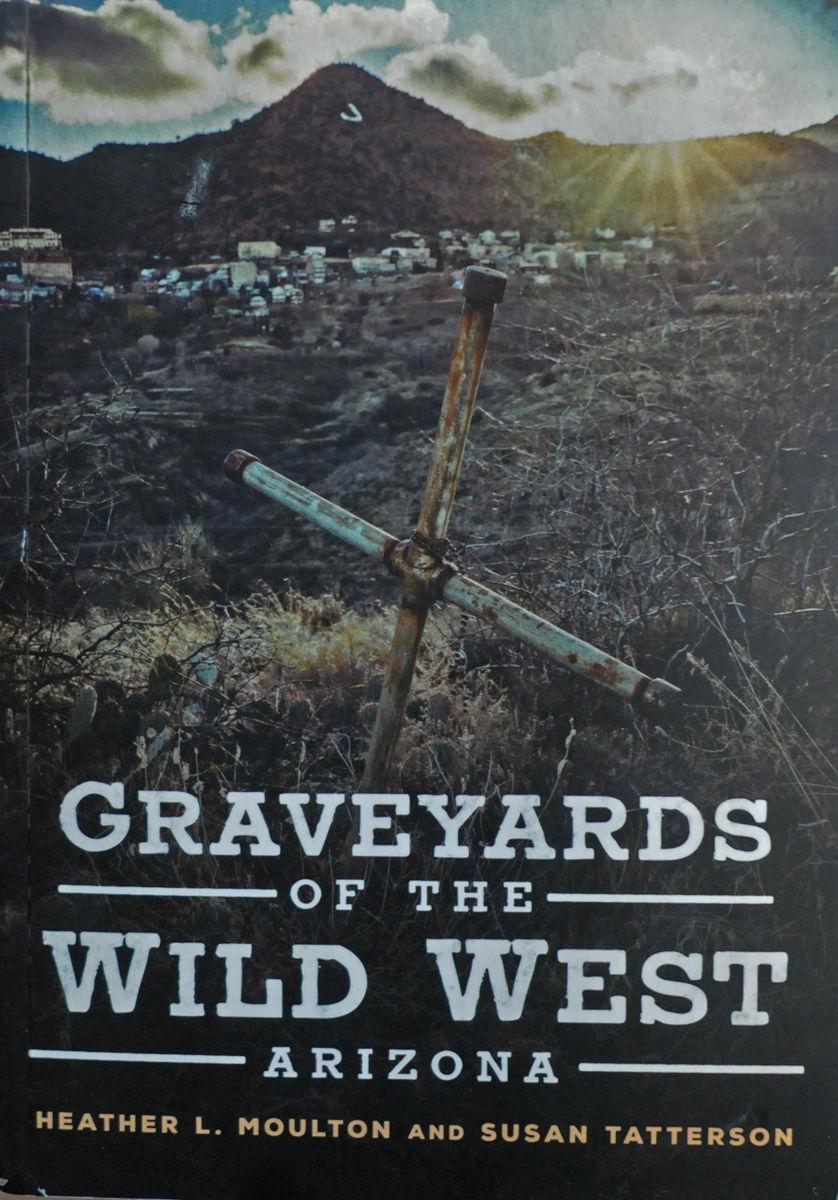 Tatterson did not start out with graveyards. She had long photographed abandoned buildings. She found plenty of them on the East Coast, where she landed after making her way from Australia some 20 years ago. She's now a U.S. citizen.
She completed a Master of Fine Arts at the University of Baltimore. For her thesis, she photographed old buildings in and around the city. She loved the texture, the lighting and colors of theaters, factories and asylums — all long since shuttered.
Her thesis became a book of photographs.
Tatterson moved to Arizona eight years ago to begin teaching at CAC. She explored Arizona's version of abandoned buildings. She traveled the state, seeking out ghost towns. Her photographs led to the book "Abandoned Arizona: Ghost Towns and Legends."
Moulton was already teaching at CAC when Tatterson arrived. She grew up in Upland, California, outside Los Angeles. She's been at CAC for 16 years.
She learned of Tatterson's trips to Arizona ghost towns. Being a student of history herself, Moulton asked to go along. She'd often wander off to nearby cemeteries.
"I'd be in the ghost town, she'd be in the cemetery," Tatterson said.
Graveyards weren't about the dead, for Moulton. They were about the stories of the living. The people who brought the ghost towns to life.
A new book? Tatterson figured, why not?
"I thought we might as well do something different," she said.
She pitched the idea of Wild West cemeteries to her publisher, Arcadia. It was greenlighted.
Not all the cemeteries overlook ghost towns. Some towns had near-death experiences, but they pulled through. Saved by tourism. Tombstone is one. Jerome is another.
Tombstone's Boothill has the stories. Jerome's cemetery has the scenery. It sits on a hill. On one side is the town of Jerome, rising up Cleopatra Hill. On the other, the panoramic sweep of the Verde Valley.
"It's what they call a tomb with a view," Moulton says.
A lot of the graves are unmarked. Some hold children. One marker, an iron cross, identifies the grave of Bruno Wiche, age 5. Two stuffed animals lie atop the grave. An offering.
"It's very, very sad," Tatterson says.
Then there's Phoenix, anything but a ghost town. Still, the Phoenix Pioneer and Military Memorial Park Cemetery, near the state Capitol, was worth a visit. Even if it was the middle of summer, the temperature hitting 109. And in the harsh light of a noonday sun. Not the best for taking pictures.
Tatterson made it work. She processed a number of photos in a sepia tone. It gives them an old-time historical look.
The cemetery has its celebs. You can find the Lost Dutchman here. His given name is Jacob Waltz.
For Moulton's money, though, it's the Earps. And the women who loved them. Mattie Earp was Wyatt's common-law wife. She committed suicide. She was 38. She's buried in the old Pinal Cemetery, under the shadow of Picketpost Mountain, outside Superior.
Hers was not an easy grave to find. One of the locals gave Tatterson directions.
"It's like turn left at the cactus and head down this way. It's all on dirt and it's in the middle of nowhere," she said. "You have to find that specific cactus."
Big Nose Kate is buried in Prescott, at the Arizona Pioneers' Home Cemetery. She was the girl of Wyatt's friend Doc Holliday. She died five days short of her 90th birthday.
Moulton and Tatterson's next road trip will take them to California. There they'll stand over the grave of the man who helped to populate Boothill. And make a small fortune for Hollywood.