Secretary of State William Seward had a broader vision of expansion for the U.S. when he orchestrated the purchase of Alaska from Russia in 1867 for $7.2 million.
According to some historians, he was hoping to some day acquire British Columbia to connect the country with the newly acquired 586,412 square miles of Alaskan wilderness.
His dream never came to fruition and his purchase was ridiculed by some at the time, labeling the new territory "Seward's Icebox."
But now more than 150 years later, Alaska has become a tourist mecca with many viewing "Seward's Folly" as his crowning achievement. The vastness and diversity of the country's largest state is one reason there are 24 national preserves, monuments and national parks set aside for future generations.
It could take a lifetime to visit much of these properties, but those not living in the state like me have to settle on just the vacation of a lifetime.
In researching how best to see key parts of Alaska in a two-week period, it was apparent I would have to rely on planes, trains and automobiles. But when I started trying to put together a contiguous trip, I ran into logistical and financial challenges. Trying to coordinate destinations into one flowing trip and arrange chartered plane trips was almost impossible, and the cost was astronomical. That's when I began looking at tours.
There are plenty of tour groups to pick from, but one name that kept coming up in my research with positive reviews and recommendations was John Hall's Alaska Cruises & Tours. (www.kissalaska.com)
The family-owned business dates back to 1955 when founder John Hall Sr. was driving the Alaska Highway in a 1947 Cadillac to deliver 500 cases of eggs. Three generations of the family have run hotels in Wisconsin and Minnesota. In the 1980s the family entered the tour bus business, which eventually expanded to Alaska.
John Hall's Alaska offers seven itineraries, providing all-inclusive tours into Alaska, the Yukon and the Canadian Rockies. They range from a six-day land-only tour to a 24-day combination of land and cruise. Each tour is limited to 28-42 people.
I picked the 13-day National Parks Land Tour because it seemed to be the most diverse involving bus, plane and train transportation, with trips covering one end of the state (Barrow) to the other (Katmai National Park). I then convinced  a childhood friend from Tucson, Peter Akmajian, to come along.
The cost, which is reset each year, came in at just under $10,000, which includes all meals and gratuity. It was considerably less than my calculations for doing the same trip a la carte.
The group for our tour was mostly couples between 50 and 70, many who were experienced travelers. There was one set of grandparents with their two grandsons, but no other family units, per se.
Our tour guide and bus driver for the trip was an amiable fellow who has worked in the Alaskan tourism field since 2006. Mark Leavitt kept the tour hopping and was able to fill in the times traveling with interesting anecdotes and historical background.
He said he enjoys the people he meets on tours the most.
One time he had a 93-year-old man on a Yukon Alaska tour, and he wanted to go to a small place on the road system, called Nenana.
"The place never had significance to me on tours before," Leavitt said. "But when we stopped there I found out he was stationed there during World War II. And he shared what the village looked like then and where he lived and what he did."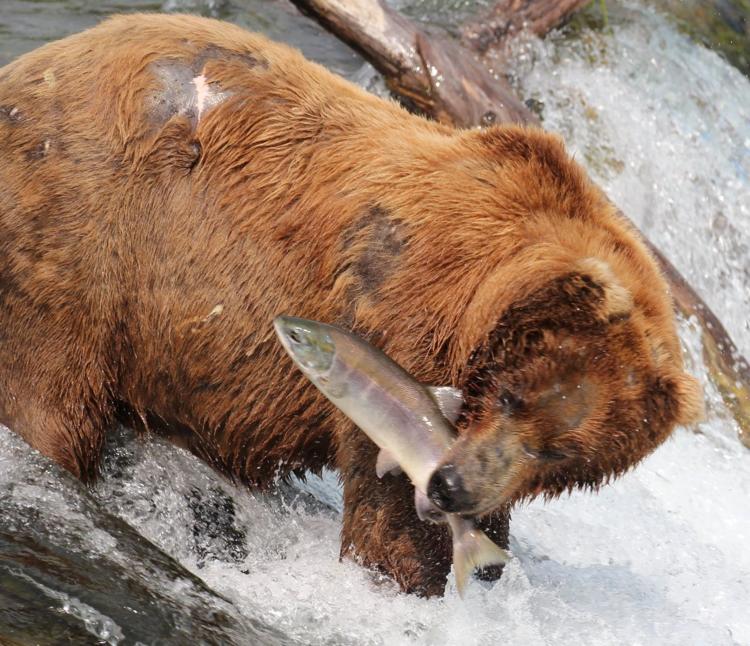 After a day of travel getting to Anchorage, we jumped right into the tour, flying out of Anchorage to King Salmon and then taking a float plane to Brooks Camp in Katmai National Park.
This was the one stop I looked forward to. And I wasn't disappointed. At Brooks Camp, where the lodge is located below Brooks Falls, the National Park Service constructed a bridge over the Brooks River. The new bridge was built because too many bears would sleep on the old floating bridge, preventing hikers and tourists from getting by.
What has happened is that the bridge has become an area where mother bears and their cubs congregate away from the threat of the large male bears at the falls. This presented some excellent opportunities for visitors to see up close cubs playing along side their mothers and juvenile bears frolicking in the water.
It was almost as rewarding as the falls themselves.
After some delay waiting for a sleeping bear in the trail to the falls to move along (with some help from a ranger and a noise device), Peter and I got to the falls and the viewing platform, where visitors are limited to 45 minutes of viewing before they have to make room for others. The Park Service limits the number to 30 people at one time on the platform.
While there were only four or five bears at the falls when we visited, it was clear they were the dominant males. One battle-scarred male was the only one on the top of the falls while the others fished below. Watching the salmon jump was a fascinating experience, as the king of the bears waited for the right moment to grab a flying salmon in his mouth.
Whenever we journeyed into the backcountry of Alaska, either hiking or mountain biking, we were encouraged to take along bear spray.
Later a ranger said Brooks Falls during the salmon run is like a bear armistice. The bears seem to accept each other, and the humans, as they gorge themselves readying for the long winter.
Experiencing this event in person was much more rewarding than watching it stream on the NPS "bear cam."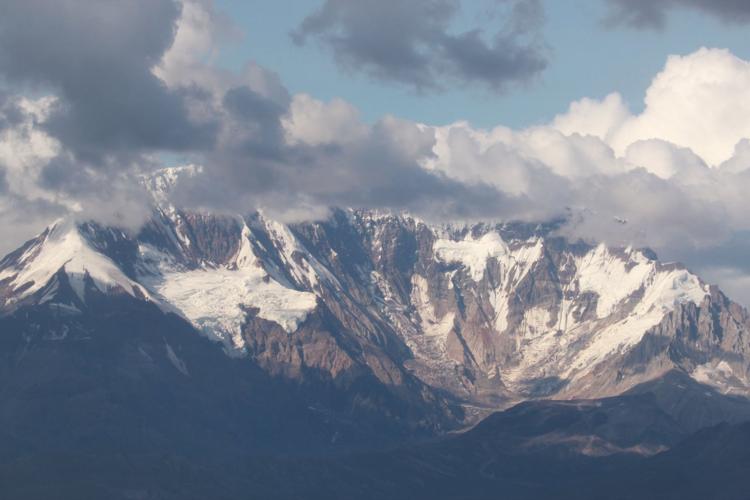 Wrangell-St. Elias National Park
After Katmai, we took a bus journey across the center of the state along the Glenn Highway before boarding small bush planes for our journey into Wrangell-St. Elias National Park and the historic mining town of Kennecott.
The flight in provided spectacular views of the Wrangell Mountains and its glaciers. However, I got sick as the plane banked over a glacier and I threw up into the air sickness bag. The pilot was so impressed I got it all in the bag and none in his cockpit that he offered to tip me after we landed.
The landing was on a dirt airstrip between the remote communities of McCarthy and Kennecott.
Kennecott is a fascinating historic copper mining community, where the NPS is restoring many of the buildings that were abandoned overnight in 1938 when the mine was closed, leaving it a ghost town. We took a fascinating tour of the old mill, which is an iconic centerpiece in the community.
Leavitt says this is one of his favorite places in Alaska.
"Overall, the historical significance of Alaska at the mine is fascinating to me," he said.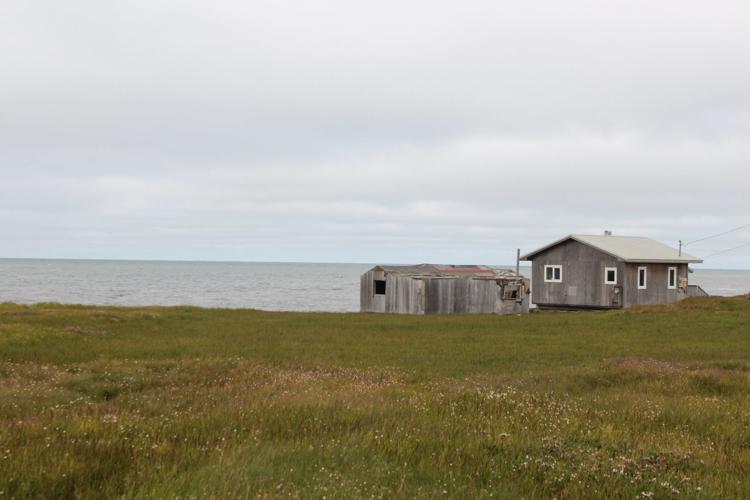 Another fascinating spot on the tour was Utqiagvik, better known as Barrow, the northernmost point in the United States. We flew in a charter plane from Fairbanks. A stopover in Gates of the Arctic National Park had to be aborted because of high winds.
In Barrow we took a tour of the community that has a population of mostly 4,000 native Alaskans. The barren tundra was a fascinating element, as was the blue turf of Barrow High School's football field within yards of the Arctic Ocean. After games, the winning team runs over and takes a dip in the ocean. We had that option, but chose to wade instead.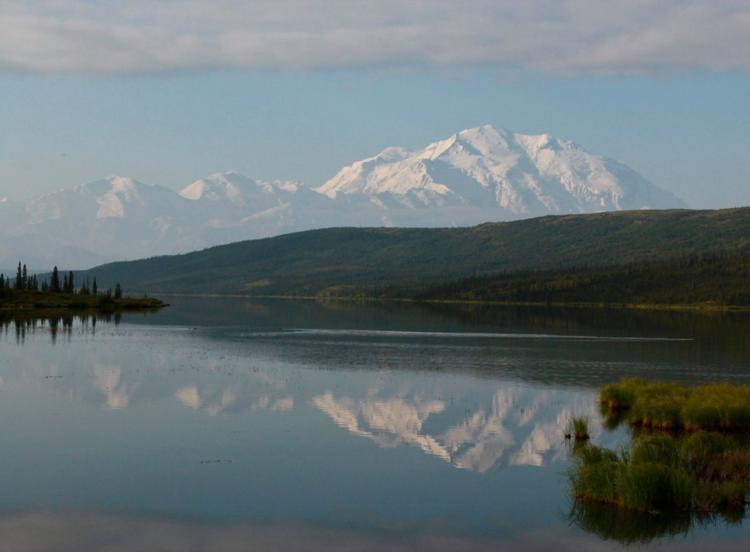 Visiting Denali National Park was much like an African safari. A journey to a backcountry lodge at Kantishna in the park's interior involves a bus ride on a 90-mile dirt road, which is closed to private vehicles without a permit.
The trek takes five hours, but the wildlife viewing was special. On the trip to and from our lodge we saw caribou, moose, bears and Dall sheep. At one spot near Wonder Lake we watched beaver working diligently to block a culvert under the road. Apparently these busy beavers block the culvert every day, which the rangers have to clear out every morning.
Also, we were blessed with clear views of Denali, which everyone says is a special treat because it is often obscured by clouds.
During our backcountry stay, we took a 9-mile guided hike but saw no wildlife. Our guide said the best opportunity for wildlife viewing is along the road, which apparently is also a transportation corridor for the animals. Our bus was slowed for several miles when it got stuck behind a strolling caribou, which couldn't care less if he was holding up traffic.
The trip concluded with a boat tour of Kenai Fjords National Park in southern Alaska that included viewing bald eagles, puffins, killer whales, a humpback whale, sea lions and seals.
And the best part was, I didn't get sick.
The overall tour also included a visit to Trail Breaker Kennels to pet some Iditarod dogs and puppies; a visit to the town of Talkeetna, the launching point for Mount Denali climbers; a ride on the Alaska Railroad from Fairbanks to Denali National Park; and a visit to the Alaska SeaLife Center in Seward.
For those seeking more adventurous tours, there are plenty to choose from. And although Peter and I would have enjoyed more type A activities, like rafting and hiking, there was no tour that I could find that jammed so much of the state into a two-week visit.
For those who don't plan regular trips back to the 49th state, this trip is well worth it.