CASA GRANDE — A golf course might be among the purest places to be amid this milieu of infectious disease and the coronavirus.
With Arizona Gov. Doug Ducey last week declaring golf an essential activity, courses in Eloy and Casa Grande are in full swing at making their facilities as clean and safe as possible, with one course even washing the golf balls smacked around its driving range.
Carts are sanitized and restricted to one player, on-course ball washers are off-limits, touching flag sticks is a no-no and the 19th hole is no longer serving drinks to thirsty golfers after a round. Most golfers welcome the health and safety guidelines and are adjusting to the new style of golf, pro shop officials say, and not feeling inconvenienced.
Because, after all, golf courses are an essential operation, according to Ducey.
"It is to me," said cigar-smoking Scott Cavitt, who plays every day at Dave White Municipal Golf Course in Casa Grande. "I certainly appreciate the fact that I can still play golf. I would consider it a bonus considering all that is going on around us. Are you asking if it's an inconvenience? No. There's a lot of other people dealing with a lot worse in the world. That I can't wash my ball after every hole is not an inconvenience in the grand scheme."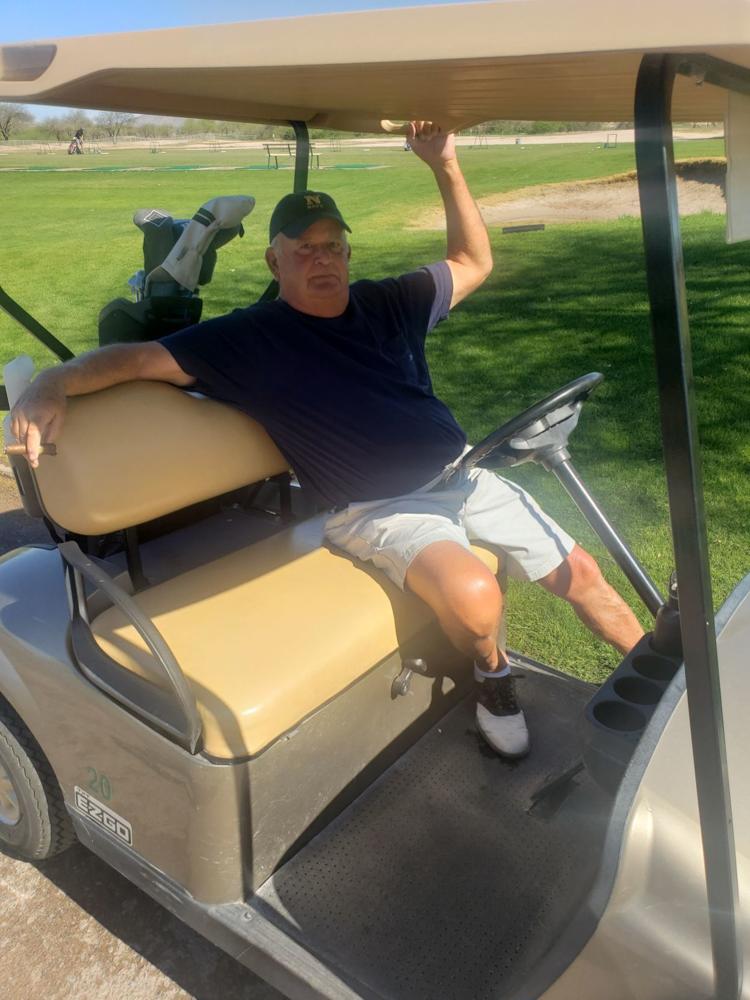 The biggest challenge golfers have is not shaking hands or exchanging fist bumps on the greens. Even on the golf course, the 6-foot social distancing guidelines are recommended even though one's personal space is inherent with golfing, pro shop managers say.
"Obviously it's a form of exercise to get people outside and get people moving around," said Jay Wilson, head golf professional at the semiprivate Robson Ranch Golf Club in Eloy. "It's fairly easy to social distance on a golf course and we're making them enter and exit (through different doors) to keep people separate. I can't hold their hand, though. I can't go out on the golf course and say 'Step away from the other guy beside you.' That's my only issue. They have to have some awareness of their own."
Many golf courses in the country are discouraging golfers from pulling the flag sticks from the hole on the greens, and Robson Ranch is taking the extra measure by insulating the cups with 2-inch noodle foam to keep the ball from sinking all the way into the hole.
A few of his golfers have griped about the changes, but Wilson remains as firm as one of his greens.
"Some go to extremes both ways," Wilson said, adding he's heard "I'm not going to worry about this. It's nothing" to seeing "people walking in here with face shields on. Where we fall in that line doesn't matter to me. We're just trying to keep you safe. We've had some people really opposed to some of the things we're doing. My golf purists are coming to me going 'This is going to mess up my handicap.' I say 'You guys just need to go out there and have fun and stop worrying about your handicap and the game you're playing because if you don't start listening to what we're telling you, we could get closed down.'"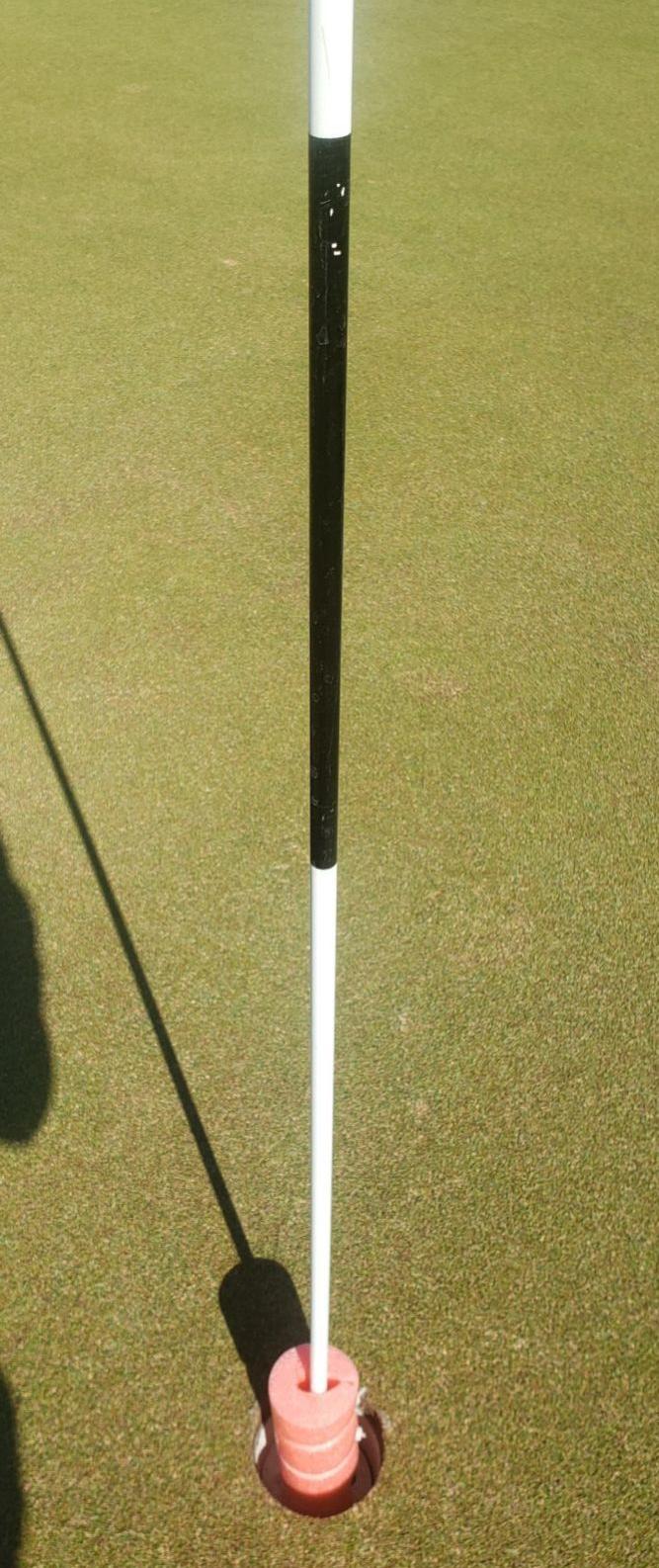 Wilson also has discontinued selling merchandise in the pro shop and has limited concessions at the patio snack bar to take-out orders, both decisions to prevent customers from touching products and to keep golfers from huddling up.
But golf, far more than most sports, is a social activity among participants. Make a hole-in-one? You're buying a round of drinks at the clubhouse. At Dave White, which also suspended concessions except for sealed water and sodas, they're noticing the happy hour mood is gone.
"Golf is supposed to be a social event, and we're not having that social aspect of it anymore," said Jennifer Thornton, golf manager. "People are still exercising, they're still getting out there, they're still playing, but there's no social aspect anymore, and I think that hurts. Because there's no gathering afterwards to sit down and socialize and talk about your round. We've taken out all the seating inside and we've closed our patio. People come and play and they leave. So that hurts us. That's the fun part of golf. You talk about how good and bad you were, your good shots and your bad shots."
While providing a community service at an earlier-than-usual springtime rate of $30 for 18 holes with a single-rider cart, the Casa Grande muni is still hearing some blowback about golf courses' status as essential services, Thornton said.
"We've been hammered a little bit on social media. Some people have said the only reason we're open is because the mayor plays golf here and that's just not true," she said. "We've had 100, 200 people coming here to play" and they've all expressed gratitude that golf is still available while bowling, most bars and restaurants and movies are not.
"I think all the staff here, and our customers, are very thankful that we're still open and continuing to operate, and they're very understanding of the steps we've taken to try to help with their safety," Thornton said. "If somebody wanted to come out and try it to have something to do, we have a full driving range, a full practice facility. We can lend people equipment to use out there if they want to try it. This is maybe a great opportunity for people to try golf because there's nothing else to do. And I'm sure you saw (Saturday) morning they closed all the pickleball courts."
While activity at Dave White and Robson Ranch has been fairly normal despite the coronavirus, player rounds at Francisco Grande in west Casa Grande have found a rough patch in the ledger columns recently. Many winter visitors left early this year, and much of that exodus was tied to health insurance held by Canadians, according to Adam Krukow, director of golf. In short, if a Canadian wintering in Arizona had been infected with COVID-19, their insurance coverage would be in peril, which is why many left Arizona early, Krukow said.
As a result, tee times the last few weeks have been relatively easy to come by at the nearly 60-year-old links. And green fees have not transitioned seasonally yet, he added.
On Saturday, Francisco Grande had 67 rounds of golf scheduled, a large drop-off from previous Aprils.
"Normally on a weekend in early April you'd have around 180. It's all relative in terms of the revenue side of things," Krukow said.
Losing that many golfers has also squeezed the golf course's staff in what had been one of Francisco Grande's best golfing seasons in years, he added.
"I'd say right now we're about half the players we would normally have," Krukow said, adding that the resort's Barca Soccer Academy has ceased temporarily. "So it's definitely not business as usual. We've seen a pretty dramatic decrease even though we had probably one of the best years on record to start. It has dropped off quite a bit there. We've had to make some cuts. When your player count goes down you don't need as much staff or they don't have to work as many hours. We've had to limit not only pro shop staff but outside service staff, a little bit from golf course maintenance as well."
While providing the driving-, chipping- and putting-hungry masses with a venue, "essential" is not an exactly fit description for the service, Krukow believes.
"People are a little bit stir crazy after awhile from staying in their homes. I don't know if the term 'essential' is the right term. I see stores, obviously first responders, medical staff (at work). That's more the term essential I think of. This being a sport that is unlike that, or hiking, it's good for people to get outdoors and still be able to do that."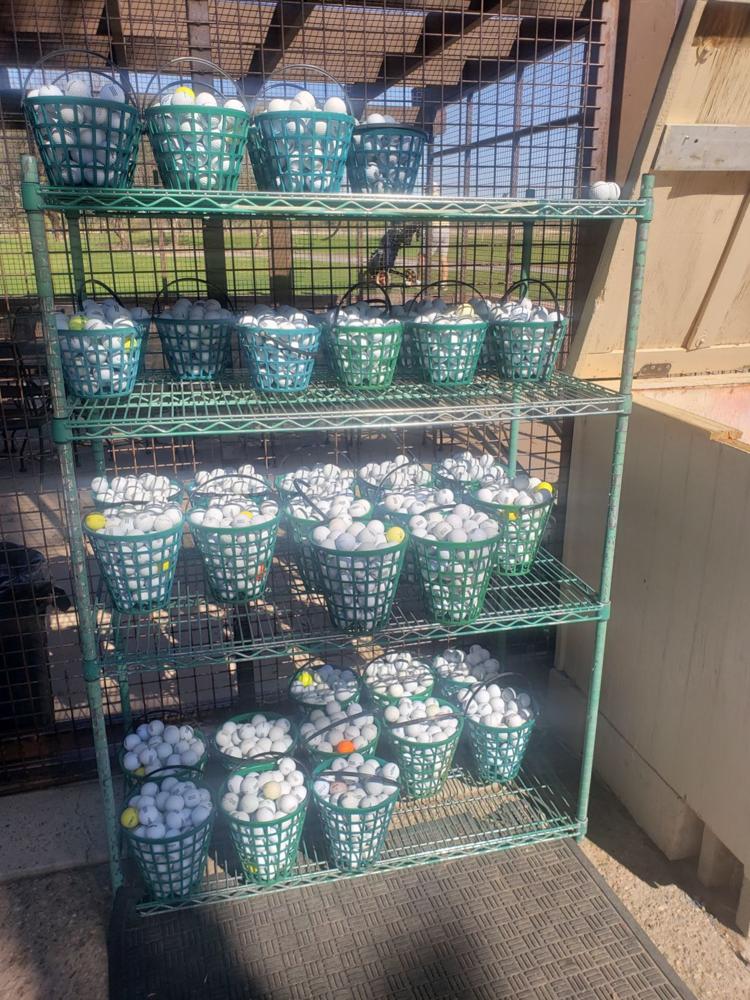 While recreational golf courses across the country like Francisco Grande, Dave White and Robson Ranch remain open, the multimillion-dollar PGA and other pro tours have canceled or postponed tournaments, such as the Masters, which was scheduled to begin Thursday but has been moved to Nov. 12-15 in Augusta, Georgia.
"The big thing there is because when you come out to a daily-fee course like ours, you have people that are checking in, playing golf. There's still the social distancing aspect," Krukow said. "When you're talking about a PGA Tour event, there's not just the players there. It's all the volunteers. It's the staff. It's the spectators. A golf course is kind of open; people are walking along with the players. That's the big difference I see."
And for the time being, there's always small-town golf for everyday hackers like Larry and Mike, who recently played at Robson Ranch in Eloy but didn't want to give their last names.
"We feel it's kind of a release. It's better than sitting on the couch. We're trying to follow all the rules. People know the rules. It behooves them. Everybody's adjusting. If they shut it down we're (in pretty bad shape.) We're not touching each other's equipment and stuff like that. It takes a lot of stress off people just getting out of the house and away from all this BS," the men agreed.