CASA GRANDE — A downtown business may have set a world record during an auction on Saturday.
Western Trading Post, on Florence Street, sold a Lander Blue turquoise squash blossom jewelry set for $112,000, which auctioneer and store owner Jim Olson believes may be a world record for an item of its kind.
"We have researched results from the biggest auction houses, googled it and also looked at other auction results available to us," Olson said. "We found no other squash blossom necklaces sold at an auction for anywhere near this amount. While we do know of a few gallery sales of squash blossoms selling in the six-figure range, we believe ours is the first one ever sold at a live auction for six figures."
The jewelry set was made in the 1970s by an unknown Navajo craftsman using what's now considered the rarest and most highly sought-after turquoise, Lander Blue, Olson said.
"The set passed through a couple of hands since the 1970s," Olson said.
Included in the set are four pieces — a bracelet, ring, earrings and a squash blossom necklace.
"The necklace was consigned to Western Trading Post's advanced collectors auction by a consignor from out of state," Olson said. "We had been talking with them for a couple of months about selling it for them; then in November, they brought it to us for consignment."
The seller found Western Trading Post because they handled the sale of a similar set in 2019, he said.
"They found that sale online, checked us out, then decided to start a dialog with us about selling it for them," Olson said.
Bidding was brisk during the auction with several dealers and collectors participating. A collector of Lander Blue stones made the highest bid via the internet, securing the items.
"The primary value is the turquoise itself," Olson said. "However, the purchaser told staff at Western Trading Post he liked the idea of it being set in a vintage sterling silver setting — that it added to the history."
While the $112,000 bid was the largest auction-related sale for Western Trading Post, the business has sold other items with larger price tags.
"It is the largest sale for us through our auction process, but we have had a larger single sale than that through the gallery," Olson said.
Other items that sold at the auction on Saturday were pistols, a rifle, a Navajo concho belt and a wool Navajo chief's blanket.
"We had great buyer attendance from all over the country for this auction," Olson said. "Over 550 bidders participated online and live with thousands more viewing the auction during the weeks prior."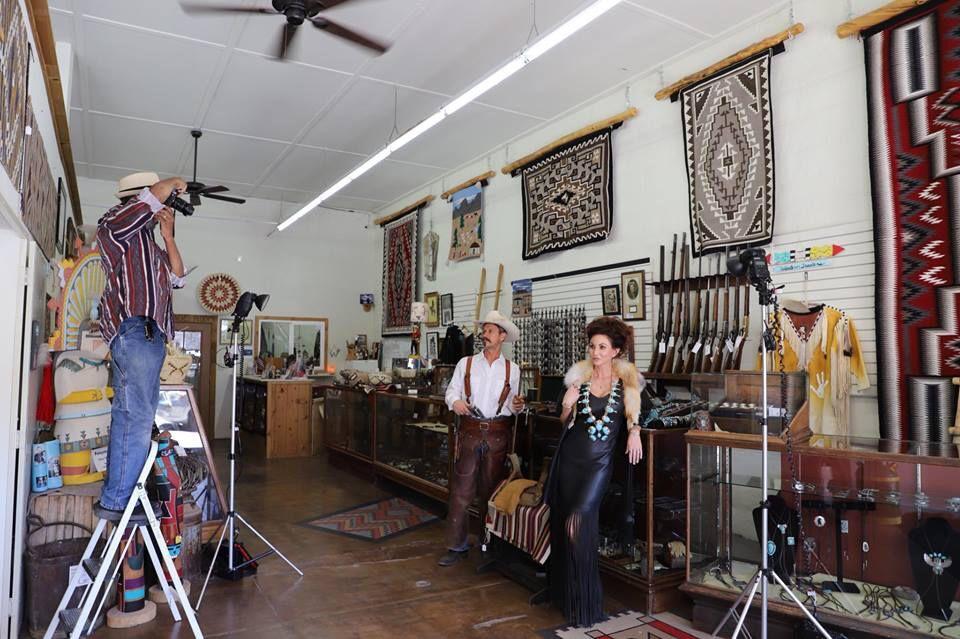 Western Trading Post is an auction service and gallery that specializes in Western Americana, Native American collectibles and historic firearms.
Preserving and promoting the Western heritage is important to the Olson family. Jim, a former rodeo cowboy, has written several books and articles about the western lifestyle and cowboy lore. He manages the day-to-day activities at Western Trading Post.
His wife, Bobbi Jeen, is a professional actress, model and stunt woman who has been in dozens of western-theme movies, commercials and print work. Their son Rowdy is also involved with Western Trading Post along with Bobbi Jeen's mother, Betty Whiteley.
Western Trading Post is also the subject of a reality television show on The Cowboy Channel and Great American Westerns.
"Western Trading Post TV," is hosted by Jim and Bobbi Jeen Olson and focuses on the often rare and unique items that come into the store. The show is also about a close-knit family and the work they do.
Footage for the show was shot Saturday as the record-breaking bid was made.
"It will probably be in an episode later this year," Olson said.