FLORENCE — Pinal County and its community partners are vaccinating people against COVID-19 as fast as they can, although shipments of vaccine are falling as sharply as infections are rising, the Board of Supervisors was told Wednesday.
The county's first allocation of COVID-19 vaccine was 10,000 doses, received in the days before Christmas. "We started later than Maricopa County because we received the opportunity to order at a later date. We always order the maximum that's allowed to Pinal," Pinal County Health Director Tascha Spears told the board.
County staff had planned as far back as summer to distribute the first doses to the county health department and 14 other local health care providers or "community partners" that have met the federal criteria to receive the vaccine, Spears said.
Most of the first allocation, 5,700 doses, was shipped directly to health care facilities to vaccinate their own physicians and support staff and correctional officers. Of the remaining 4,300 doses, all but 200 have been administered or are scheduled to be administered. The county's community partners have been registering people to receive the last 200, Spears told the board.
Following health care professionals and long-term-care residents in group 1A, the county is now vaccinating people in the 1B category of law enforcement, education other essential workers and residents over age 75. After this will be the 1C group of adults with high-risk medical conditions and those over age 65.
The county is vaccinating as fast as it can with the allotment Pinal County receives, Spears said. The county's next shipment is considerably less than the first, at 2,000 doses, followed by a third allocation of 1,800.
"When we order the vaccine, it typically doesn't arrive until the following week." The third allocation was to begin arriving this week, Spears told the board. The county didn't know the exact day it would arrive, and with the allocation so much less, it affects the ability to offer appointments to people, Spears told the board.
County staff anticipate a fourth vaccine shipment soon but don't know how much it will be. If the allocation continues to decrease, that will be a concern because "we are ready to vaccinate, and our community partners have done a phenomenal job."
Supervisor Mike Goodman, R-San Tan Valley, noted the frustration in schools over the scarcity of the vaccine and said Spears had received a nasty message that "was not indicative of all teachers." But on the positive side, a TV news report described how Pinal County has successfully used its community partners to roll out the vaccine, he said.
"The work that our public health staff has done in working with local partners to distribute what we do have — not hoarding it, but getting it out into the hands of people who need it and are looking for it — I would like to see that kind of message sent out to the public as a whole," Goodman said.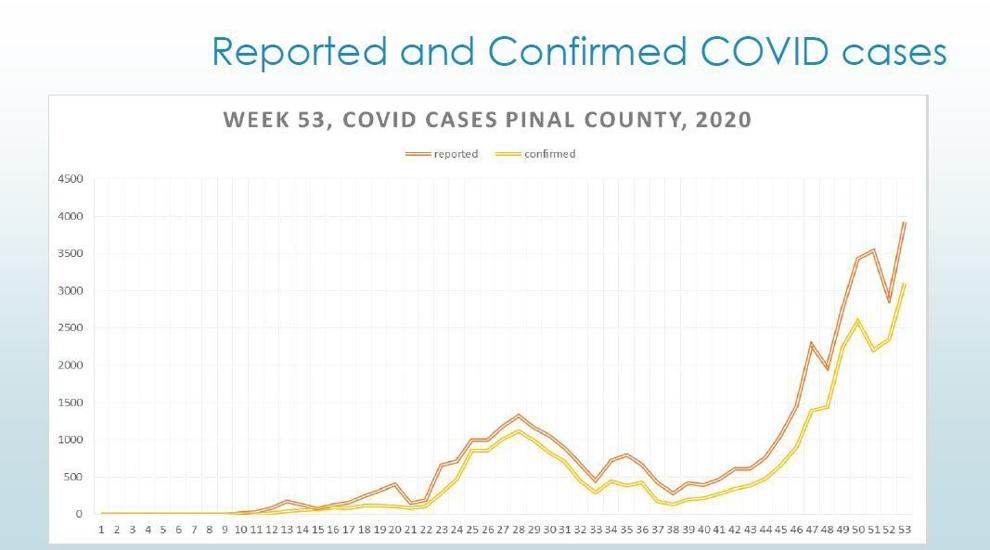 Infections up sharply
Spears shared a graph with the board showing Pinal County's infections have been mostly rising sharply for the last 10 weeks, with confirmed cases topping 3,000 and reported cases pushing 4,000.
"You can see we are in an acceleration phase similar to other places in the nation. Needless to say, this is some of the most important data that will ever be collected historically, in our time and in times to come, so our Pinal County public health team does review every single case that comes through." The county often receives between 600 and 800 case reports a day, Spears said.
As for how many are cases in the correctional facilities as compared to the community at-large, Spears shared a graph that showed corrections cases spiking a month ago before leveling off. "We do this by hand as well," Spears said. Community cases are the vast majority of cases currently. In the most recent week ending Jan. 2, the actual number of detainee cases was 79, down from 122 the previous week.
COVID-19 deaths in Pinal County are also on the rise, with more than 20 per week in four of the last five weeks. The most recent week currently shows just three deaths, but that number could change as the county learns of more deaths that should be properly assigned to Pinal County.
Call to the public
In "call to the public" at Wednesday's meeting, Roberto Reveles of Gold Canyon said the current stage of the pandemic "calls for radical new measures" including a mask mandate.
"It is not an overstatement to say that your response … has now become a matter of life or death for your constituents. … I urge you to enact a mandatory public health policy that requires face masking and enforcement as the most effective science-based tool to save lives and save our economy," Reveles said.
Also in call to the public, a Saddlebrooke resident who volunteers at the Pinal County Animal Care and Control shelter said volunteers have formed a new nonprofit to pay for surgeries for animals. She thanked the board members and asked for their continued support of the shelter.
David Malton of San Tan Valley told the board they're now "five white guys" and the county's logo includes a black sun. Malton asked, "Are you advocating for white Nazis to move to Pinal County?" He further said the county's Meridian Road project came up short, and Goodman did little more than "pave (his) own drive." Malton was an unsuccessful candidate for supervisor last year.
Goodman was given an opportunity to respond but said he didn't consider Malton's comments worthy of a reply.