SACATON — Food vendors at Interstate 10 rest stops north of Casa Grande are not rolling in dough, but they are making truck drivers happy.
"They're super, very thankful, appreciative just for us being here," said Bill Voice, who with wife Mary sells grilled sandwiches and fruit-filled refreshments weekdays out of Mama Lita's Soda Bar and Delites food van at the westbound Sacaton Rest Area. "For us, it hasn't been a big-money thing. If you combined our time it would be like $5 an hour. We do it because it helps people. People tell us 'thank you very much for doing this' even though they may not buy anything."
In fact, Voice said, since they set up shop early last week, he has often taken a loss or simply given product away, especially free shaved ice on a warm day.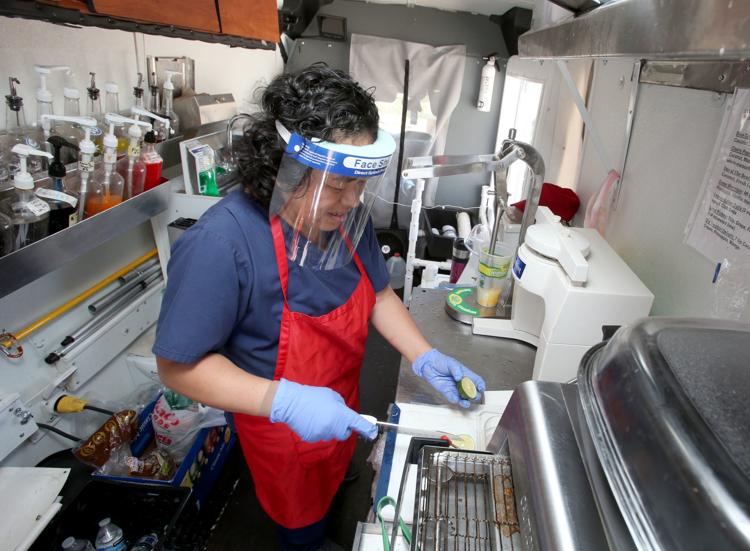 On Wednesday, a truck-driving couple had only $6 in cash to pay for $11 in sandwiches and drinks so Voice ate the remaining $5 and was glad to do it.
"People get fed. If they don't have money or a lot of money. We make sure they don't go away hungry or thirsty," he said. "It's human kindness. There's so many people unemployed, and we're blessed."
Two other food vendors at the Sacaton rest stops reiterated the same sentiments from truckers and other highway users, who are pleasantly surprised to discover food and beverage on an I-10 stretch between McCartney and Riggs roads with only one other option for fulfillment.
"They are the friendliest group of people, the truckers. They're very chatty. It's very interesting the stories that they share," said Chandler-based Tracey Nordahl, the lone vendor Thursday on the eastbound side of I-10.
One of Nordahl's noontime customers chatted with her about his experience during the pandemic-forced restaurant closures.
"I wish there were more vendors. A lot of people don't want you to stop," said Magdaleno Soto, who was trucking his way from Perris, California, to Taylor, Michigan, and said many drive-thrus tell 18-wheel drivers to hit the road.
"I hear comments like that all day long," Nordahl said. "'So glad you're here. Why haven't you been here?' The truckers are so appreciative. The other day a trucker gave me $2, didn't buy anything and just said 'Thank you for being here.'"
Truck driver Malachi Jackson, who lucked into Nordahl's Chicago-style hot dogs, even said he prefers the vendor format over the truck stop classic chicken-fried steak, mashed potatoes and bottomless cups of coffee.
"This is lovely right here. This is a big help," said Jackson, on his way home to El Paso, Texas. "It's hard to find places to have a simple meal now. In and out. It's quicker. This is my first time seeing this. I just stopped to get out and stretch my legs and saw her here."
Another vendor, sharing the westbound Sacaton rest stop parking area with the Voices, soldiers on despite enduring significant setbacks economically.
"They appreciate the food being out here. Most didn't know it was here so they already planned their lunch or dinner," said Mesa and Tempe-based Cheree Santa Cruz, who sells hot dogs, chips, drinks and cheesesteaks, naturally, from a cart she calls Aphillyated.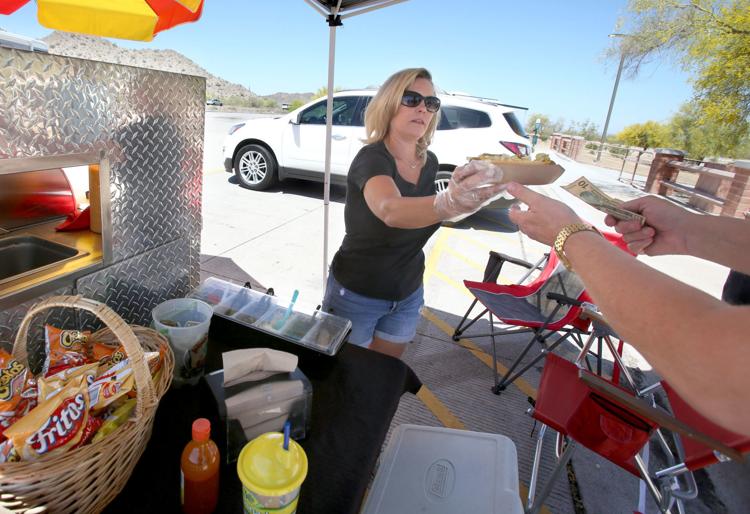 "Healthwise, it hasn't been an issue so far. Most don't wear face masks. I use safety precautions at the cart. I have gloves and hand sanitizer. A lot of them will park, have it in their truck and take a nap."
What has been an issue for the Voices is clean hands for them and their customers at Mama Lita's. In addition to serving some exotic island-inspired fruit drinks, Bill and Mary Voice, a Philippine native, insist visitors use the hand-washing station they provide at the food van's site. It includes a pump bottle of plain soap and water and a second pump bottle of rinsing water.
"Just like our mamas told us, 'Wash your hands before you eat, wash your hands after you go to the bathroom,'" Bill said. "With this, we thought it was super important. We practice social distancing and teach hand-washing practices. Just like the (Centers for Disease Control and Prevention say), handwashing is the No. 1 way to eliminate the spread of the disease."
He should know. Voice's regular job is riding in an ambulance as a critical-care nurse.
"I get the sickest of the sickest or the most injured," he said.
With most restaurants closed or offering delivery and take-out only, the Arizona Department of Transportation on April 15, through a governor's executive order, made eight interstate rest stop areas available to food vendors, from hot dog carts to full-sized mobile kitchens. Vendors are required to register for no-cost, 30-day permits. They can stay open from 30 minutes before sunrise to 30 minutes after sunset seven days a week. In normal times, commercial enterprises at federally funded rest stops are prohibited by the Federal Highway Administration, according to a news release issued by ADOT.
In Arizona, rest stops are limited to three vendors to adhere to social distancing requirements, and both I-10 Sacaton rest stops are at the three-vendor capacity through May 10, said Ryan Harding, public information officer for ADOT.
The state agency has issued 32 permits statewide, Harding said.
From last week's results, vendors at the Sacaton rest stops are experiencing poor to marginal success financially.
Nordahl on the eastbound side reported about 200 customers a day, while Santa Cruz across the road said she's in the red, earning as little as $30 one day after taking in $180 the day before.
"The level I'm at is not meeting my bills," Santa Cruz said. "It won't pay my bills. I've lost events and as a food vendor I'm down several thousands of dollars. Can you tell them to reopen the state?"
Santa Cruz's primary locations had been near Dierks Bentley's Whiskey Row in Gilbert, along with school events, carnivals and the like, but that area had last call long ago.
"I really thought it would be realistic to do $150 to $300 a day consistently," she said of the Sacaton rest stop. "That's just for a little food cart. The food trucks were probably expecting more than that. That's the good, bad and the ugly. I'm glad to have a place to go but sad it's not as financially successful as could be — and to provide a service to the truckers on the road."
Nordahl has been more fortunate and has hired back four employees. She and her husband, Tim, also have a vendor's spot on Interstate 17 at Sunset Point north of Black Canyon City and are also considering adding a third ADOT permit.
"We usually operate in front of Home Depots and since the closures haven't been able to work," Nordahl said, adding that private parties and special events have been canceled for her and other vendors, too.
"We were basically out of work for five weeks with no income. When the governor made those available we jumped at it right away the first day. We brought some employees back so it's been great. It's definitely been worth it. We got some money flow. It hasn't been overwhelmingly great, but we're happy to be here for the truckers. It's been a rough month, I'll tell you that."
And then there's Voice, who says he's not motivated as much by making a buck as he is by making a difference in others' lives, even if it's only serving a thirst-quenching lemonade with an Arizona kick.
"We take pride in the quality," Voice said. "I tell people you can't get more Arizona than that — lemonade and prickly pear."