CASA GRANDE — Arizona state Rep. Frank Pratt of Casa Grande died Tuesday after a long illness, state officials said.
Since 2009, the Republican Pratt, 79, has represented Legislative District 8, which includes Casa Grande, Eloy, Coolidge, Florence, Superior and southern Gila County.
Pratt leaves behind a legacy as a staunch supporter of the state's agricultural industry and was described by those who knew him as a humble, soft-spoken embodiment of old-school values and leadership.
"He kind of lived by the cowboy creed," said Sharon Gill, former chairwoman of the Pinal County Republican Committee. Gill, who met Pratt in the early '90s, helped Pratt during his initial campaigns.
"I just enjoyed him so much," Gill said. "He was a true gentleman, honest to the core."
Pratt was most associated on the campaign trail with state Sen. T.J. Shope, R-Coolidge, and the pair showed up in ads and photos donning matching cowboy hats. In mourning Pratt's loss, Shope described him as a mentor and friend who helped shape his views on politics and legislating.
"He's by far and away the closest person that I have in this crazy game of politics," Shope said. "He was somebody I respect very much. When I first decided to run, he welcomed me into the race."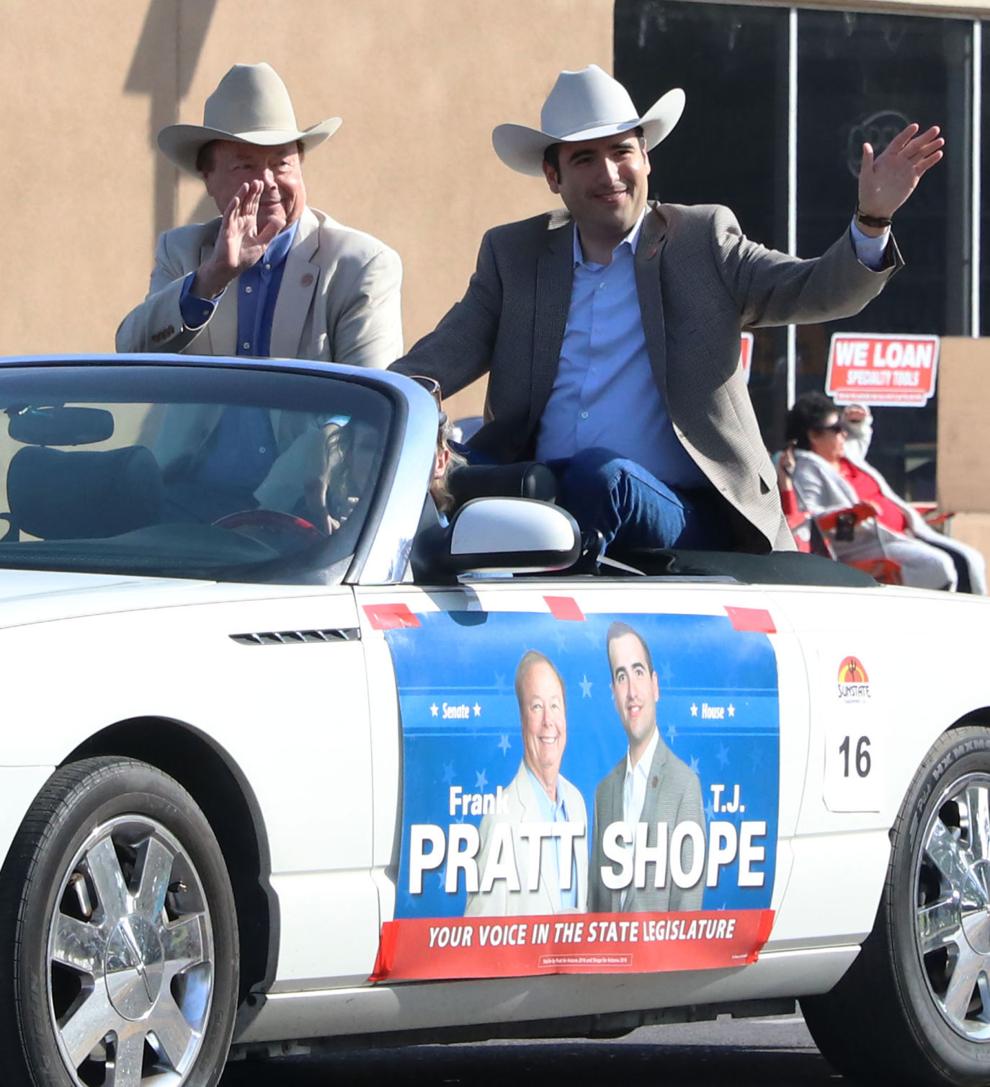 Shope fondly recalled both working on local issues, like Interstate 10 or education, but also just conversing over long car rides or on the couch in Pratt's office.
"Oftentimes people get a negative perception of elected officials," Shope said. "He was quiet, he didn't talk much about himself. He's the 'anti-2021' elected official who needs a spotlight all the time. He conducted himself with the honor and dignity we should all aspire to."
That wasn't to say he had nothing on his mind. Shope said that he could "talk your ear off" one-on-one and always made himself available.
"Here's a guy who, I could give him a call on a Friday or Saturday in summertime," Shope said, "and he'd answer the phone, and he'd be out there in 115-degree weather in a tractor or trying to build a swimming pool for somebody."
Shope knew Pratt was ill — he missed a number of legislative sessions due to his illness, which hasn't been disclosed — but said he found out about Pratt's passing along with everyone else Tuesday, and processing the news was very difficult.
Pratt, whose family's Arizona routes go back to the 1880s, was born in Florence in 1942. As a young man, Pratt worked on his brother's farm and began his own operations, spending decades as a farmer in both Yuma and Pinal counties. Later, in 1986, Pratt moved to Casa Grande, where he ran a pool-construction business with his son.
Two longtime local officials, County Supervisor Steve Miller and Casa Grande City Councilman Dick Powell, said they first knew Pratt from his days as a local businessman.
"He'd come into our store quite a bit when he was a farmer," Powell said. "We sold all kinds of things for the farm community like saddles and tack, and Frank was one our regular customers. He was always friendly and easy to get along with."
Pratt first ran for the state Legislature in 2004 and was elected in 2008 to the state House. He served in that capacity until 2016, when he was elected to the state Senate. Pratt ran once again for the state House of Representatives in 2020 as Shope switched to the Senate, winning in Arizona's District 8 and serving in that role for the past year. In 2010, the Arizona Chamber of Commerce named him "Legislator of the Year."
Miller, who met Pratt when they were both working in construction, said the kind of leader Pratt embodied — someone with deep ties to the area and its agricultural community — is now "few and far between" in local and state politics.
"It's not a battle between urban versus rural," Miller said, "but it's too hard to find representatives now who know about agriculture, about the business of agriculture, how to make it profitable for farmers."
Eloy Mayor Micah Powell also released a statement thanking Pratt for attending his swearing-in ceremony and being generous and accommodating.
"Even though we were not in the same party," Powell said, "Frank never saw the difference between us. He introduced me and my wife to the governor, and he made sure we had time to talk about Eloy."
As a legislator, Pratt fought hard for local education. Gill said he was a strong supporter of Central Arizona College and chaired the state Senate's Natural Resources and Energy Committee.
"Frank Pratt was a quiet man with a great passion to help his community," said Casa Grande Mayor Craig McFarland. "We will miss his monthly chamber updates, and his unwavering support at the Legislature for our cities and towns. He always took my call and he always listened."
In a strange and brutal incident on Christmas Day in 2010, Pratt was tied up and beaten at his business on Cottonwood Lane in Casa Grande. He was found hours later by his worried wife, Janice. The assailant, a homeless person who had broken into the business, stole his Rolex watch and vehicle, and Pratt was hospitalized.
"I'm sure that was pretty scary for him," Dick Powell said. "I know he didn't argue with the guy, that wasn't his nature. It had to be concerning, but he came out of it and he's done well."
Various state officials honored his memory.
Gov. Doug Ducey ordered flags at all state buildings be lowered to half-staff from sunrise to sunset Wednesday in honor of Pratt.
"Representative Frank Pratt was a champion of rural Arizona," Ducey said in a statement Tuesday. "He was a staunch supporter of economic development, an advocate for workforce training programs and someone who believed in the necessity of developing sound water policy. In both chambers of the Arizona Legislature, he was unwaveringly dedicated to serving the people of Arizona and expanding opportunities."
House Democratic Leader Reginald Bolding also paid his respects to Pratt, despite being in different political parties.
"Representative Pratt was a deeply respected member of our legislative family who loved this state with all his heart. We may not have always agreed, but he was never once disagreeable," Bolding said in a statement Tuesday. "He loved his work for his constituents and always showed up ready to work. And although he was not vocal, when he spoke, his words carried weight. I will personally miss our conversations on the House Floor, and our caucus will all miss the presence of a class act who never put partisanship in front of relationships. "
There are now three and soon to be four vacant seats in the Legislature. Former Sen. Kirsten Engel, D-Tucson, and former Rep. Aaron Lieberman, D-Paradise Valley, resigned to focus on campaigns for higher office. Rep. Bret Roberts, R-Maricopa, is moving out of state and plans to step down on Sept. 30.