CASA GRANDE — For four decades, Against Abuse Inc. has been a source of safety, comfort, support and various services for victims of abuse throughout Pinal County.
This year marks the 40th anniversary of the founding of Against Abuse, a private, nonprofit social service agency that is dedicated to helping people better understand the nature and effects of family violence and the resources available to those who have been abused.
To commemorate its 40th anniversary, Against Abuse founder and Executive Director Pat Griffen sat down with PinalCentral for a Pinal Spotlight interview to talk about the organization's accomplishments and its recent fundraising challenges.
She was joined by Against Abuse sexual assault victim advocate Kimberly Henry, who works directly with victims throughout the area.
Against Abuse maintains two domestic violence shelters, one in Casa Grande and another in Maricopa, providing housing for abuse victims.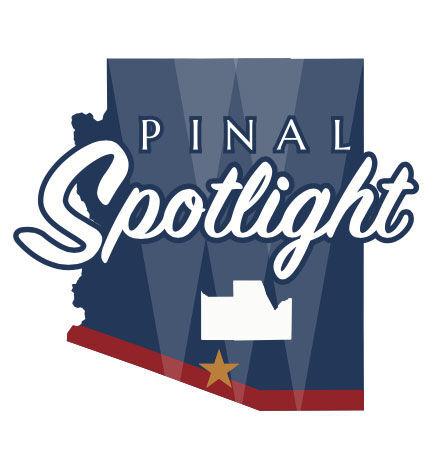 Among its other programs are:
Sexual assault services for men and women, including a 24-hour-a-day, 365-day-a-year crisis line at 520-836-0858, crisis intervention, education for survivors and their families, educational peer support, medical forensic exams accompaniment, assistance with compensation applications, emergency shelter and lay legal advice
Supervised visitation and safe exchange services at its La Paloma Center
Crisis counseling for individuals and groups that includes parenting, life skills and domestic violence education
An animal safe house network for the pets of abuse victims
A thrift store, which accepts donations, selling some items and using other items to help abuse victims rebuild their lives
"We're happy to be here, providing these services for the community," Griffen said.
Against Abuse Inc. was formed at a time when the Arizona Legislature decided to set aside a portion of marriage license and divorce decree fees to be used for domestic violence services.
"We wrote a grant and got our first grant from the state Legislature about 40 years ago. And that's how we came to be," Griffen said.
Funds to support the organization come from a variety of sources.
"We have probably 29 different funding sources within the agency — all sorts of different grants — and wonderful donations from the community," Griffen said.
The organization received COVID-19 grant funding to improve sanitation at the shelters.
But the pandemic also prompted Against Abuse to cancel one of its major fundraisers, Taste of Casa Grande, for two consecutive years.
"We hope that in 2022 we can do our 35th annual Taste of Casa Grande and have a big, big celebration. In Maricopa we have what we call the Seeds of Change gala and that's on its 17th year of fundraising. That is happening in the later part of February in 2022," Griffen said.
Money raised through the events helps fund Against Abuse services.
"There is only one Against Abuse," Griffen said. "We have a staff of 50 of the most wonderful, dedicated people in the whole wide world. They have stayed with us throughout COVID."
Henry, a mobile advocate with the organization, has been with the agency for two years, traveling to different spots throughout the county to provide services for sexual assault victims.
In a typical day, she responds to calls on the agency's crisis line or from various hospitals or law enforcement agencies.
"Pinal County is vast," she said. "A lot of the issues we have in Pinal County are related to transportation. Being a mobile advocate, I can respond anywhere in Pinal County for those who don't have transportation and I can provide transportation when needed," she said.
Statistics highlight the need for Against Abuse services, she said.
In 2020, the Pinal County Sheriff's Office logged 282 reports of sexual assault, including 31 in which the victims were children, she said.
The Casa Grande Police Department reported 34 sexual assault offenses, Eloy Police Department reported 72 and Maricopa Police Department had 137 cases, Henry said.
"Banner Casa Grande Medical Center reported to us that so far in 2021 they have had 47 sexual assaults and nine strangulation (incidents)," Henry said. "Banner hospital is a wonderful partner."
But one barrier the organization faces, she said, is that not all survivors of sexual assault report the crime to law enforcement.
"Because we don't have accurate numbers (of unreported cases), it's hard to say whether cases are on the rise or not," she said.
Henry said she understands the fear and hesitation to report a crime that victims feel after they are sexually assaulted. She is also a survivor of sexual assault.
"I am blessed that I get to give back. I'm a survivor myself, so for me it is a privilege to help others and help them see that although this is a traumatic event, and it is difficult to see beyond today, there is hope," she said.
Against Abuse, she said, is there for survivors when they are ready to reach out.
"I help them with ongoing services," Henry said. "We are there as long as they need us. I like to tell them, 'you're driving the boat, I'm helping you navigate the waters.'"
For more information about Against Abuse, call 520-836-1239.