APACHE JUNCTION — State Sen. Kelly Townsend, R-Mesa, invited other elected officials Wednesday to sign a proclamation against the mandated use of face coverings, "reaffirming our commitment to the rights of our constituents here in Pinal County."
"… We have seen flat-out lawlessness when it comes to respecting the rights of Arizona citizens," Townsend said at a news conference while touting Pinal County for respecting constitutional rights. "And I encourage those in other areas to hold their leaders accountable, and to demand your rights be protected."
"What's great about Pinal County is we try to be as constitutional as we can," County Supervisor Jeff Serdy, R-Apache Junction, said. He said leaders can't choose the parts they like, but must honor the entire Constitution all the time.
"Arizona is at a crossroads," Townsend said. "As elected officials, we must decide if we will honor our oath and our commitment to our constituents within the framework of the law, or if we will allow the fear of a virus to be the excuse for abandoning what made this country great, and to run roughshod over the rights of others in the name of safety."
Townsend clarified, "No one here is saying there's nothing to worry about with the delta variant. No one here says it's not dangerous." Townsend said she had COVID-19 last year and it took her more than a month to recover. She said she's not advocating that people not wear masks. She questioned the effectiveness of masks, but if someone wants to wear one, "by all means do it," she said.
"What I'm here to say is that we swore an oath to the Constitution and to the law…. If we don't like the law we need to change it." Townsend represents Legislative District 16, which includes Apache Junction, Gold Canyon and San Tan Valley in Pinal County.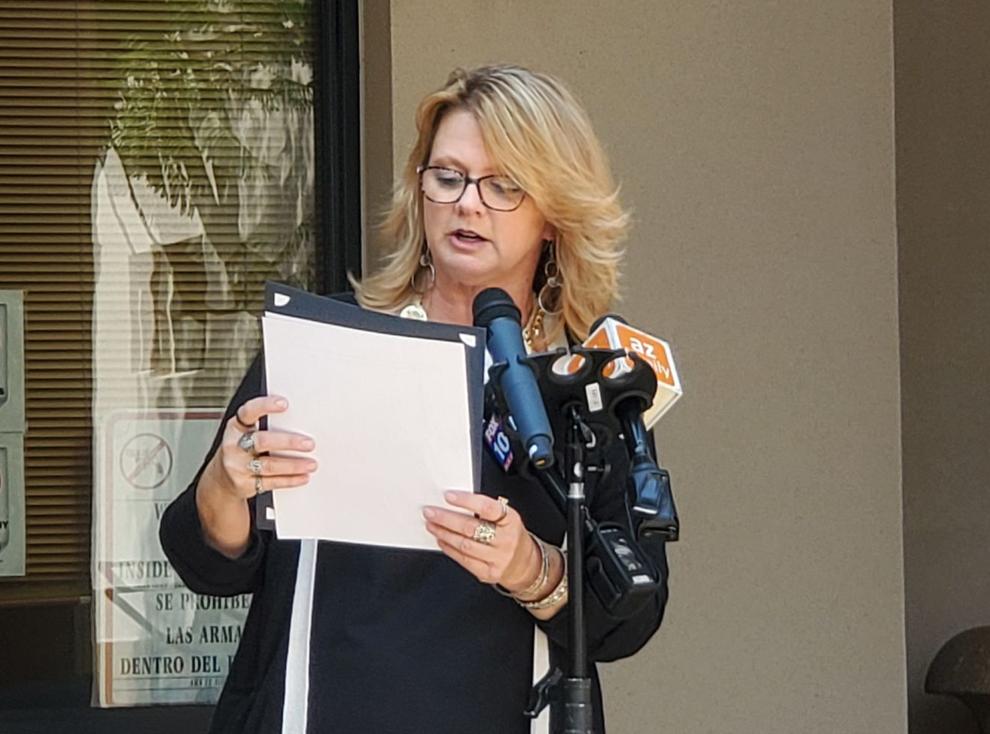 Townsend's proclamation reads in part that "an increasing number of school districts throughout the state and many of our public universities and community colleges have defied state law by requiring students and teachers to wear a mask as well as implementing testing and vaccine strategies that are not enforceable and without legal authority….
"Individual freedom is of the utmost importance, and no person should compromise their livelihood to protect their choices or subject themselves to invasive requirements," the proclamation continues.
It touts Pinal County specifically as "a center for growth and economic development that provides an alternative for Arizonans in neighboring communities that impose restrictions that intrude on personal choice and liberty."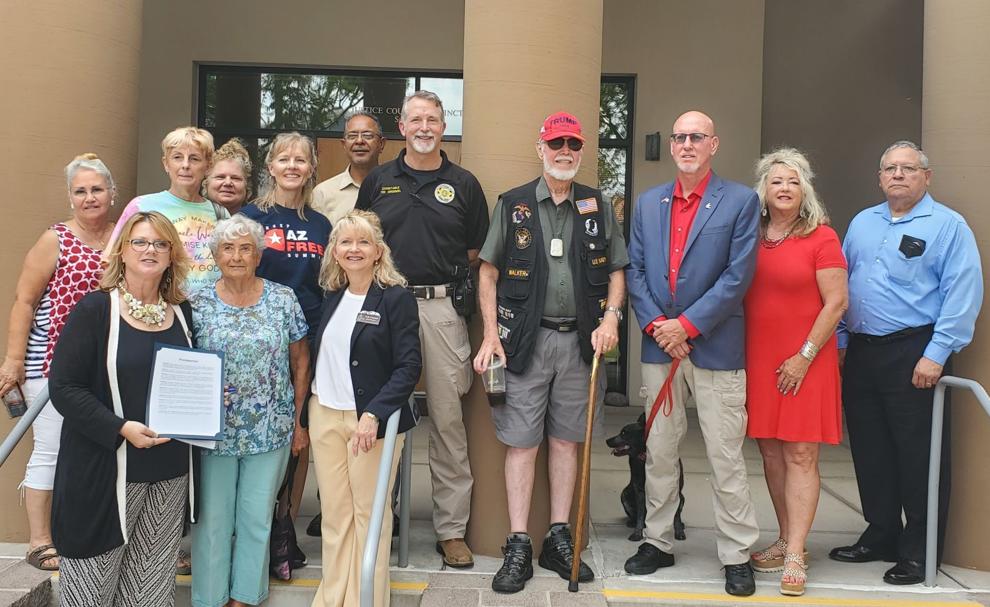 Signers to Townsend's proclamation include herself, U.S. Rep. Paul Gosar, R-Prescott, Arizona Sens. Vince Leach and T.J. Shope, state Reps. Mark Finchem, John Fillmore and David Cook, Pinal County Supervisors Vice Chairman Mike Goodman and others.
Signers "are committed to upholding the principles that respect and value the constitutional rights of their citizens," the proclamation states. Townsend encouraged school board members and other officials Wednesday to sign the proclamation as well. "It is open, it does not have an end date."
Serdy said if masks worked well, "I think they would've worked a year ago."