CASA GRANDE — It was a cat named Coco that sparked a romance between Stephanie Faunce and her significant other, Vanessa Osife. For Brad Phillips and his wife Jen, it was shared love of dogs.
"I believe it was the cat who brought us together," said Faunce, who was raising a litter of kittens when she first met Osife in 2010. "I was so nervous to talk to her. The first thing I said to her was 'do you want a kitten?'"
Phillips and his wife are both dog groomers, but he was living in Casa Grande and she was living in Canada when they first met through a chat site for dog groomers.
"It was definitely the dogs who brought us together," Phillips said.
For countless couples owning a pet, whether it's dogs, cats, guinea pigs, horses or other animals, has led to romance.
In celebration of Valentine's Day, Rover.com released the results of its "Anatomy of Dog Love" study that explores the science behind the human-canine bond and the impact it has on romance.
Based on a survey of more than 1,500 dog owners, "Anatomy of Dog Love" revealed that 61 percent of people believe owning a pet can have a direct impact on their romantic life whether they are in a committed relationship or dating.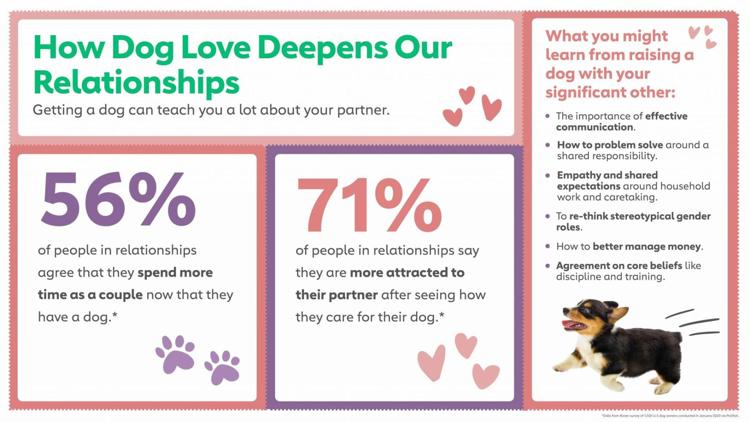 Among dog owners questioned for the survey, the study found:
About half said that co-parenting a pet together results in quality time as a couple.
More than 70% said they are more attracted to their partner after seeing how they care for their pet.
Among dating dog owners, the study found that:
About half would only be in a relationship with a dog person.
One in five have stayed in a relationship longer because of their partner's dog.
72% are likely to click on someone's dating profile if there is a dog in the picture.
Cindy Sutton, board secretary for Valley Humane Society, a nonprofit, no-kill shelter in Casa Grande, said that the benefits of owning a pet go far beyond romance.
"There have been so many studies that prove that pets help to lower blood pressure, anxiety levels and much more," Sutton said. "For seniors, in many cases they are left alone after raising families and they feel they are no longer needed. A pet to take care of gives them that sense of being needed once more as well as fills that loneliness void and gives them purpose again."
As well as providing a common interest that can spark a romance, owning a pet can also impact health, she said.
"There are so many people out there young and old with diseases that have been proven to be helped by owning a therapy pet to calm them or help them to deal with whatever is going on in their lives," Sutton said. "The majority of these pets are dogs, but there are plenty of other pets that can provide the same benefits."
About 86% of pet owners in the Rover.com study said they felt more like a family because of their dog, and two-in-three pet owners reported that raising an animal made them more confident in their parenting skills.
For Osife and Faunce, the two became friends and bonded over Coco the kitten.
"After I asked her if she wanted a kitten, she came over to meet them," Faunce said. "Shortly after becoming friends, we were dating."
Ten years later, the couple is still together and Coco is no longer a kitten. The couple raised Coco together along with Faunce's son from a previous relationship.
"Now here it is in 2020 and we still have one of the kittens and my son, who was 3 when we started dating is now 13," Faunce said.
Phillips and his wife recently celebrated their 11th wedding anniversary.
"We managed to find a way to meet and fall in love," Phillips said.
After their love blossomed over their mutual love of dogs, Jen moved to Casa Grande and the two built a life together, raised dogs and ran a dog grooming business.
Although Phillips retired a few years ago, Jen still grooms. The couple now has five dogs.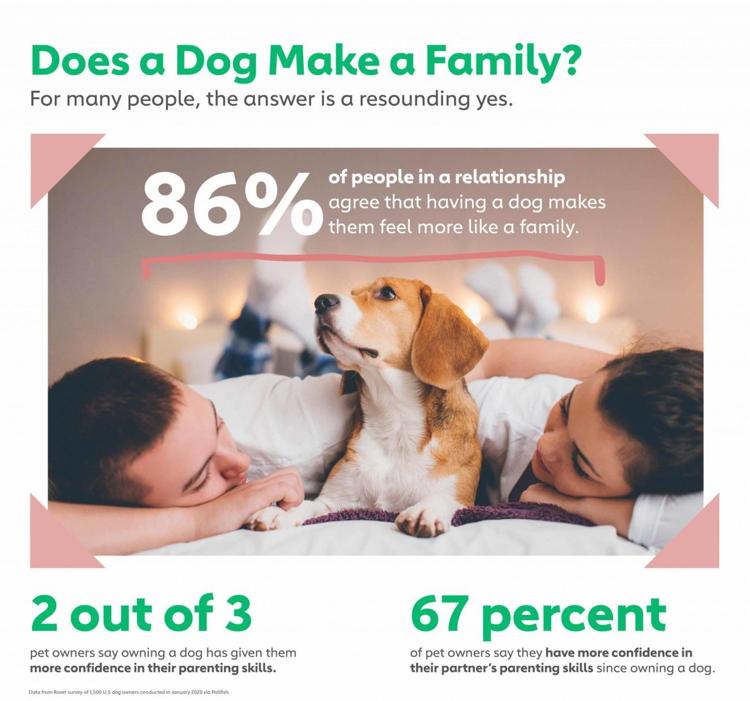 For the positive impact animals can bring to lives of people, Sutton said dogs and cats ask for very little in return.
"Our pets give us 110% and all they ask for in return is food, water, a home and lots of love," Sutton said. "After all, their love is unconditional."
The Rover.com study also found that the vast majority of dog owners — more than 95% — believe their dogs love them back.
About 62% said they plan to purchase a Valentine's Day gift for their dog and one in three said they'd spend just as much money on their dog as their significant other.