CASA GRANDE — Weekend monsoon storms slammed Pinal County with flash flooding, road closures, stranded motorists and power and phone outages.
City of Casa Grande Public Works employees worked beginning at midnight and well into Monday to pump water out of the roadways along Cottonwood Lane between Peart and Arizola roads and between Arizola and Henness roads, city spokeswoman Latonya Jordan-Smith stated in an email to the Casa Grande Dispatch.
The city closed those road sections to traffic at 6:50 a.m. Monday, forcing Vista Grande High School students to enter the school parking lot via Arizola Road on their first day of school for the year.
Jordan-Smith said that once public works employees reopened Cottonwood Lane between Peart and Arizola roads, crews would start working on pumping water from one retention basin at the high school to another to help clear water off of Cottonwood Lane near Clements Road.
The weekend storms dumped about 1.94 inches of rain at Casa Grande Municipal Airport, said Marvin Percha, a meteorologist with the National Weather Service in Phoenix. Some areas of Casa Grande got more than 2 inches.
On Saturday, Casa Grande Police officers were out directing traffic at Pinal Avenue and Kortsen Road after a traffic light went out.
The city also closed its landfill Saturday due to the rain creating a lot of mud in the area. The landfill reopened Monday morning.
Flash flooding was also reported in Arizona City and the Ak-Chin Indian Community, Percha said. Some parts of Arizona City saw between 2.5 and 3 inches of rain over the weekend.
The storm dumped a remarkable amount of rain and covered a large area, causing just about everyone to get at least some rain over the weekend, he said.
Weekend flooding in Pinal 7/25/21
The Eloy Police Department, as well as the Eloy Fire District and Casa Grande Fire Department, responded to a motorist whose vehicle had become stuck on the edge of a culvert over a fast-moving canal full of water early Monday morning. The Casa Grande Fire Department's Technical Rescue Team was able to get the motorist to safety.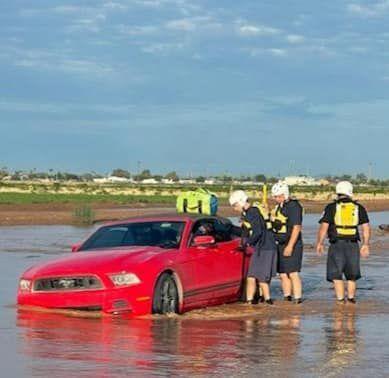 Sunday afternoon, the city of Eloy Public Works Department was offering sand bags at its West Houser Road location and reported flooding near Hanna Road and Sunshine Boulevard, Main Street and La Siesta Drive, Phoenix Avenue and 11th Street, Toltec Road and Giles Street, Eleven Mile Corner Road and Martin Luther King Jr. Street, the city cemetery and Battaglia Road and State Route 87.
Eloy Police also reported a downed power line Saturday near La Grande Vista, which caused a power outage in the area.
Eloy firefighters responded to a single-vehicle rollover accident on Interstate 10 near milepost 206 Saturday afternoon. The driver, who was wearing a seatbelt, had only minor injuries.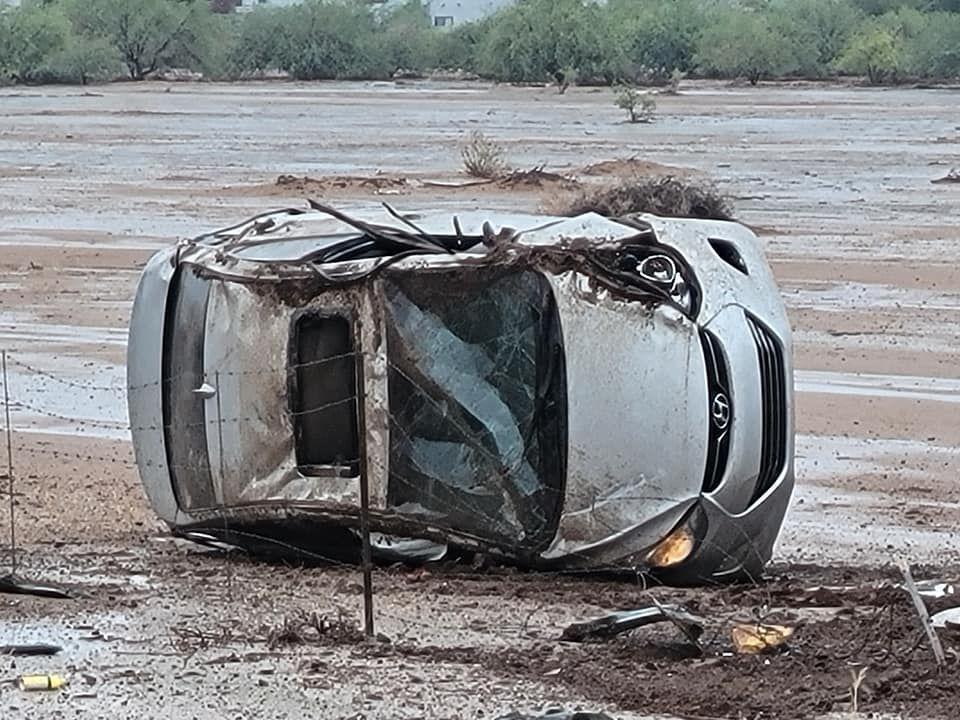 The city of Maricopa reported Porter and Farrell roads blocked and the north and south loops of Rancho El Dorado closed due to the weather Monday morning.
The Coolidge Police Department reported power outages throughout the city Saturday night between Coolidge Avenue and Pima Lateral Canal and from Arizona Boulevard to Ninth Street. The storm also knocked out a traffic light on Arizona Boulevard, causing police to put up stop signs to help direct traffic.
The city opened the Coolidge Youth Center Saturday night for residents who needed electricity to power medical equipment or needed relief from the hot temperatures. Coolidge Police also offered rides to the youth center for residents who needed help.
Some of the Coolidge Police Department's non-emergency phone lines went down during the storm Saturday and were still having problems Monday morning. Coolidge residents should call 520-723-5312, 732-5411 or 723-9748 for non-emergency or business-related calls. The city's 911 line is still working for all emergencies.
NWS Meteorologist Percha said that Pinal County residents can expect a bit of a break from the rain through Wednesday, although, there may be some isolated showers Tuesday afternoon. The rain will return Thursday and is expected to last through the weekend with a little less ferocity.