CASA GRANDE — For nearly 100 years, a mulberry tree has towered over many of the one-story homes in a historic Casa Grande neighborhood.
Some believe the tree, near the corner of Eighth Street and Lehmberg Avenue, is the oldest mulberry tree in Casa Grande. But the summer of 2020, with its higher than normal temperatures and less than normal rainfall, has taken its toll on the tree and others throughout the area.
The mulberry tree has died and is set to be removed in the last week of October.
"I am sad to see it go," said Gregory McGrath, the property owner.
McGrath purchased the property at Eighth and Lehmberg about a year ago. The home was built in 1939 and McGrath believes the tree may have been planted around the time the house was constructed.
"When I bought the house, I was told the mulberry tree was the oldest in Casa Grande," he said.
Several neighbors have also told him the tree is among the oldest in Casa Grande.
McGrath said his goal when buying the property was to maintain the historic home and landscaping so it could be enjoyed for generations to come.
"I see myself as an innkeeper charged with taking care of it," he said. "My goal was to keep all the landscaping alive."
While the tree was struggling when he purchased the home, he set about trying to save it, watering it frequently.
"I was out there with the hose every day trying to keep it alive," McGrath said. "But then we had a harsh summer and the tree didn't make it. I lost all my landscaping this summer. My yard looks like a ghost house."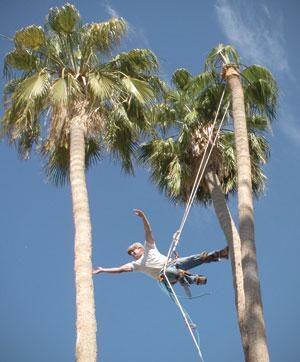 Ed Heeter, an arborist, professional tree climber and owner of Arbortek tree service company, was called to remove the tree. He's had more calls than usual this summer.
"I'd say in my business, I've seen three or four times more calls than normal this summer, mostly to remove dead trees," Heeter said. "Everyone's trees are struggling or dying."
The summer of 2020 has been hotter and dryer than normal.
A monthly drought status summary posted by the Arizona Department of Water Resources earlier this month said that the summer's record-setting high temperatures were combined with 50% less precipitation than average. Casa Grande and northern Pinal County are considered to be in an "exceptional drought" period. About 45% of the nation is in drought, the highest level in more than seven years.
"The monsoon season ended with the hottest and driest summer since 1896," the summary said.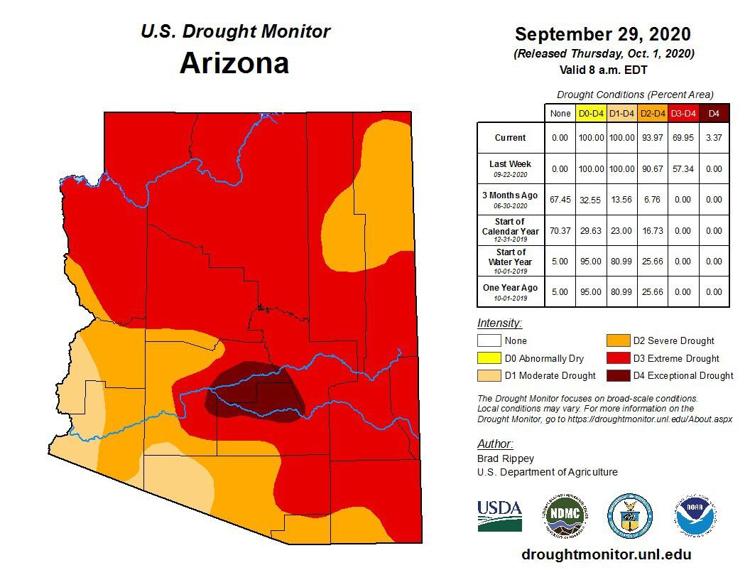 While some trees will be fine in the extended heat as long as they have enough water on a regular basis, some types of trees, including queen palm and pine trees, and some that are aging, are more vulnerable in the hot, dry conditions, Heeter said.
"I've been in this business for 25 years in this area and this is the toughest summer I've seen for the trees," he said. "The mulberry tree on Lehmberg is a good example of how harsh this summer has been on trees. It was once a magnificent tree, but now a safety hazard. If those branches were to suddenly fall, someone could get hurt."
Mulberry trees are common in Arizona and the Southwest. Used as shade trees, they tend to be fast growing and drought tolerant. Some mulberry trees can live for more than 100 years.
The tree Heeter is set to remove is about 55 feet tall and 7 feet across, he said, making it tricky to remove.
"We need to go up into the tree and remove some of the branches, making sure they fall the right way so no one gets hurt. There are physics involved in making sure everyone is safe," he said.
While Heeter isn't sure of the exact age of the mulberry tree, he said he'll know soon.
"Once I cut it down, I'll be able to tell you exactly how old it is," he said.