CASA GRANDE — Proponents of a plan to install shower services for the homeless and less fortunate say they hold no grudges after their request for a special use permit was denied by the Casa Grande Planning and Zoning Commission.
Lighthouse Ministries purchased two self-contained shower-bathroom units that it planned to install in its facility at 465 W. Gila Bend Highway. The showers were in addition to the slate of other services the ministry already provides for the homeless and less fortunate at the facility.
But after several business owners and managers expressed concern about the plan, the commission on Jan. 7 denied the conditional use permit needed to make renovations necessary to accommodate the new shower units.
"I was surprised," said Pastor Richard Cunningham, a spokesman for the ministry. "But we don't feel any ill will about those who were against the plan. We're at peace and believe God is in control of all things."
He believes that some people who were against the shower service may have been confused, thinking a shelter, rather than simply a washing facility, was being proposed for the property.
Some of that confusion, he said, may have been due to the sign city officials posted on the property announcing a public hearing for the permit.
"The (public hearing) sign said what was being considered was a homeless shelter and-or similar services," Cunningham said. "The showers, of course, fall under similar services but people may have thought we were putting in a homeless shelter and the big issue was that people thought it would bring an influx of homeless to the area."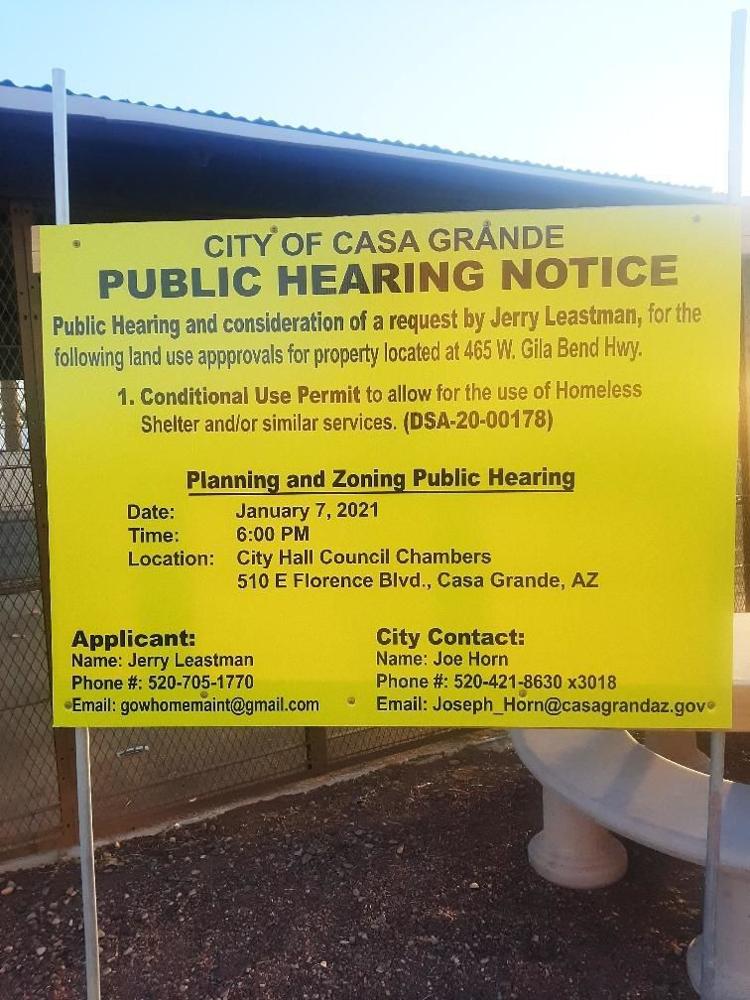 The agenda for the Jan. 7 Planning and Zoning Commission meeting also contained the wording "homeless shelter and/or similar services."
Lighthouse sees the shower service as a "desperate need" for the community and recently purchased two self-contained units that each feature a shower, toilet and sink. The units were to be installed inside the Lighthouse facility on Gila Bend Highway as a place for the homeless and less fortunate to bathe and receive a change of clothing.
The facility is currently used as a second-hand store, place of worship, food distribution center and resource option for the homeless and less fortunate.
"The goal of Lighthouse Ministries is to fill in the gaps to help the homeless and less fortunate and get them to self-sufficiency," Cunningham said. "We try not to duplicate services or do what other organizations do."
While there are some other temporary or mobile shower services in Casa Grande for the homeless to use, Cunningham said hours are limited and the units are not fully equipped bathroom facilities.
Lighthouse Ministries planned to offer use of its showers Monday through Saturday from 9 a.m. to 5 p.m. to anyone in need, including the working poor and those who have a home but don't have access to running water.
A conditional use permit was needed because new sewer pipes, a drop ceiling and a heating system were to be added to the building along with a tank-less hot water "on demand" system, Cunningham said.
The organization is considering its next steps.
"We're looking into the appeals process and what we can do to move forward," Cunningham said. "We aren't holding any grudges or holding it against anyone that we were denied the permit. We were prepared for it to go either way. But we feel these showers are very needed in the community."
The mission of the Lighthouse will remain the same, he said.
"We will continue doing what we do and being a resource for people," he said. "Our goal is to help people where they are today and work with them to get them to self-sufficiency."
The Lighthouse facility is housed in the former S.S. Blinky Jr. Building on the edge of downtown.
The organization partners with many local churches, volunteers and other agencies to meet the needs of the community.
Other services provided by Lighthouse include a regular food distribution program, emergency food ministry, clothing and furniture boutique, a second-hand store, weekly Bible study and referral services.