CASA GRANDE — Jim Dalton had a layover at Union Station in St. Louis. It was December 1943, well into World War II. Dalton, 18, was a sailor on a troop train. He had eight hours to kill and decided on a snack.
He headed for the concession stand on the mezzanine. The girl at the counter was Carlotta McNeely, also 18.
There was just something about her. Well, she was pretty. He kept returning to the concession stand, asking for her address. He'd write to her from his ship. She gave in. As promised, he wrote. She wrote back.
They exchanged some 350 letters, right up to the war's end. They got married and settled down just outside St. Louis. They had seven children. The kids grew up knowing nothing about the war letters. About a love nurtured with paper and pen — in some cases, pencil.
The letters sat in a closet until 2015. They were in a basket. Carlotta was 90 when she brought them out. She didn't want anybody reading them — just yet. They were love letters. Nothing shocking. But personal just the same.
Carlotta passed away in 2017, at the age of 92. She left the letters with her oldest daughter, Judy.
She's now Judy Sellmeyer and lives in Casa Grande with her husband, Don. Judy spent the past two years organizing the letters. Editing them, lightly. Keying them into a computer.
And compiling 300 of them for a book, "Enduring Love: The Letters of Jim Dalton and Carlotta McNeely During WW II." It's available on Amazon.
I visited Judy last week to talk about her book. And her parents.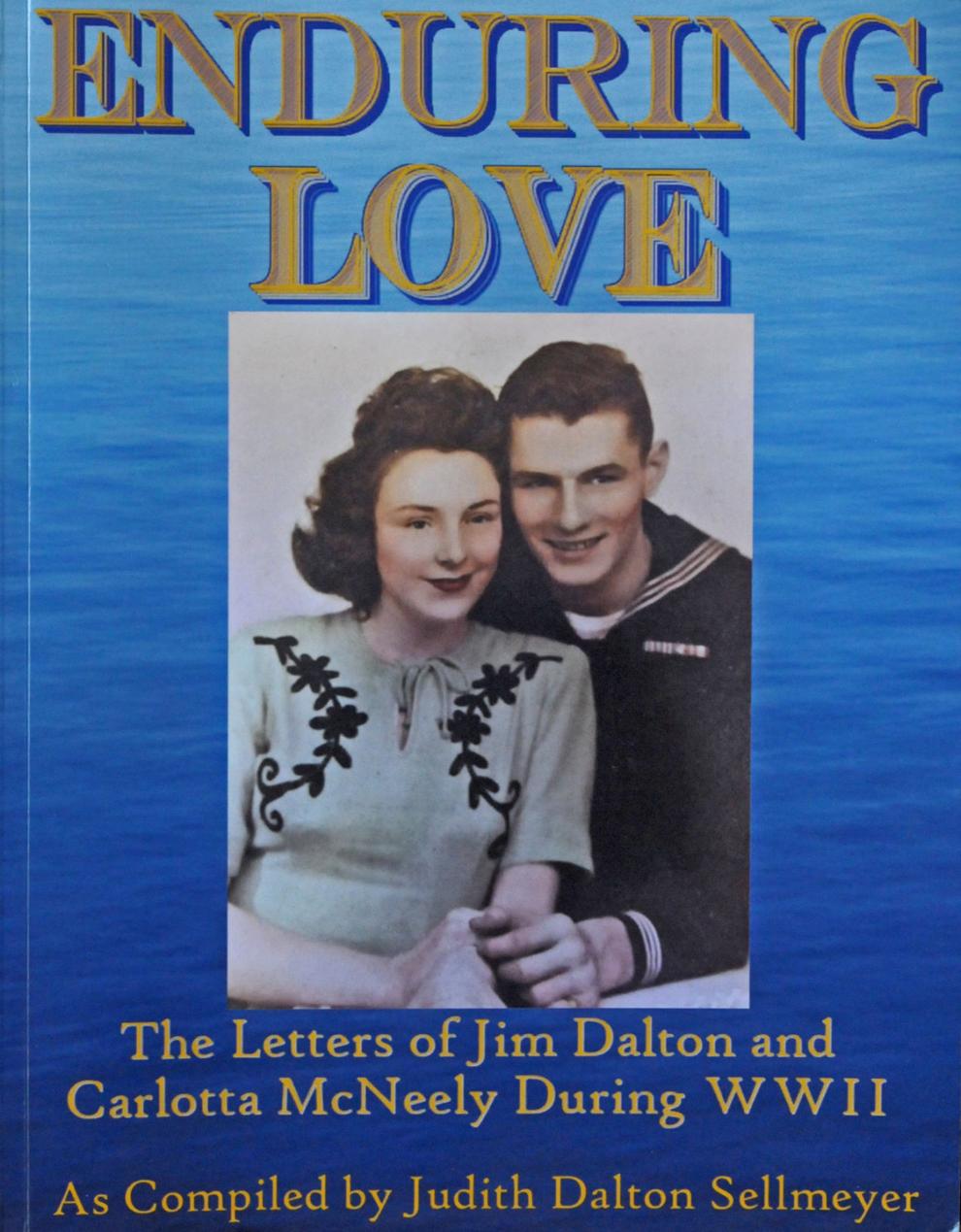 As it happened, Jim wasn't meant to stop in St. Louis that December. He was from Kansas. He had boarded the train in Wichita. He was headed to Norfolk, Virginia, and duty aboard an aircraft carrier. His train was to take a southern route, through Tennessee. But an accident up the tracks led to the detour that brought him to St. Louis. And Carlotta.
Jim wasn't her only pen pal in uniform. Writing to the troops was something of a patriotic duty for young women.
And, Judy said, "St. Louis was a hub for troop trains." Scheduled and unscheduled.
Carlotta wrote letters to some 20 sailors, Marines and soldiers. And, no doubt, some wrote back. But she only saved Jim's. The first one, dated Dec. 22, misspells her name.
"Dear Caralotta: Remember me? Well good! How is everything in Saint Louis? Do the sailors bother you much? I sure wish I was in Saint Louis, but I'm not, instead I'm in Norfolk, Virginia, with nothing to do but write letters."
The next one is dated Jan. 3. Carlotta must have written back, as he writes: "No, I haven't got a girl in every port. I told you I was allergic to women."
In later letters, he teases her. He talks about going out with blondes. He doesn't. He never stops thinking about her. And he shows flashes of jealousy. He tells Carlotta to stay clear of Navy pilots. He calls them "airdales." The spelling varies.
Carlotta did not mix with airdales. Or other troops, for that matter. She was drawn to the E-2 sailor named Jim. He operated a film projector. That was his job, showing Hollywood movies to the 3,000 sailors on the floating village known as the Guadalcanal. The work involved electrical training. It would come in handy later.
Jim had his wartime duties as well. Keeping watch and the like.
With each letter, their bond grows stronger. Most of the early letters, the ones published by Sellmeyer, are from Jim to Carlotta.
Jim moved wherever the Navy sent him. On the ship. Off the ship. He was something of a transient in uniform. Everything had to fit in his duffel bag. Some of Carlotta's letters likely didn't make it.
On the Atlantic, the Guadalcanal and a team of destroyers hunted down German U-boats. The best-known engagement was the capture of U-505. It contained a top-secret enigma code machine. The entire submarine is now on display at a museum in Chicago.
In March of '44, Jim had a five-day shore leave. He had asked Carlotta if he could visit her in St. Louis. She said OK, with her parents' approval.
She had him mixed up with another sailor. She was expecting somebody tall and blond. Jim showed up, dark-haired and a bit shorter. It worked out, all the same. They became fast friends.
The McNeelys lived in a two-story walkup. Jim slept on the couch.
"You know, in those days, every relationship was very chaste," Judy said.
The McNeely family took to Jim. He was the perfect suitor. He did have one "glaring defect." He was Catholic. The McNeelys were Pentecostal fundamentalists. Still, it wasn't a deal-breaker.
In September 1944, Jim had a month of shore duty. He bought Carlotta an engagement ring in St. Louis. His shore leave was extended. The engagement was shortened. Carlotta and Jim got married in Portsmouth, Virginia, where a new aircraft carrier, the Shangri-La, was being equipped for war.
The Shangri-La made its way to the Pacific. Jim and Carlotta now wrote as husband and wife.
Carlotta closes her Jan. 19, 1945, letter: "Remember that I'll love you with all my heart as long as I live, and afterwards, too."
By early August, the Shangri-La was just off Tokyo Bay, part of a force prepared to invade Japan. Two atomic bombs later, Japan surrendered. It became official in early September.
People in St. Louis were anxious for news. They had to wait for newspapers from Chicago. The St. Louis papers had been idled by a strike.
Carlotta, though, was able to give Jim a firsthand account of VJ Day celebrations in St. Louis. It was wild. She was careful walking home from work. Men were grabbing women and kissing them.
In a letter dated Oct. 17, 1945, Carlotta tells him it was her last day at Union Station.
Shortly after, she took the train to San Diego, where she met Jim. He had just been discharged. They returned to St. Louis and settled in nearby Manchester. He built a house on 3 acres. They had cows, pigs, dogs and a horse. Jim called it a farm. Carlotta drew the line. No more pigs.
Jim had a day job as an electrician for the phone company, Southwestern Bell. His Navy training had paid off.
The couple raised seven children, as Catholics. The oldest, Jim Jr., worked as a mechanical engineer. Judy was a nurse midwife for the Indian Health Service. Peggy's a teacher. Jean is a nurse. Joan, her twin, is director of the law library at the Arizona Attorney General's Office. Carla is a CPA. And John, the youngest, is a novelist and creative-writing professor.
Jim's health began failing in his 50s. Carlotta went to school and became nurse, to care for him. And provide for the family. He died of brain cancer in 1981. He was 55.
Shortly before his death, Carlotta wrote Jim one last letter.
"If I could wish anything at all for our kids it would be that they could have a love like ours — the hardship and the joys — but above all the enduring love."