CASA GRANDE — The last of the "zombie" subdivisions in Casa Grande is finally getting developed.
Situated west of the intersection of Peart and Earley roads, "Tuscany" was recently purchased by Century Communities. City Planner Jim Gagliardi said that cleanup is planned and the developer could be six months out from actual construction.
"A year or two ago at this time we had many getting snapped up by homebuilders," Gagliardi said of the "zombie" subdivisions, partially built or planned housing developments frozen in time by the recession over a decade ago. "This is the last one, it lay fallow for 12 years."
The developer is building in several other neighborhoods around the city, including Casa Vista, along Jimmie Kerr Boulevard. The immediate plan for Tuscany is to clean up some of the landscaping; currently the plat has roads and sewer lines.
Casa Grande Economic Development Director Richard Wilkie said that overall, housing is booming nearly everywhere except for the industrial corridor on the west side of the city.
"We are moving forward to achieve our ultimate possibilities," Wilkie said. "When you have 18 or more builders in Casa Grande, our population is seeing a surge. Casa Grande is evolving, it's not a fringe community anymore."
Wilkie also noted that major retail and commercial companies closely follow rooftops, so many of the most popular requests — Trader Joe's or Whole Foods were named — are now more likely to show interest in having a location within the city or region.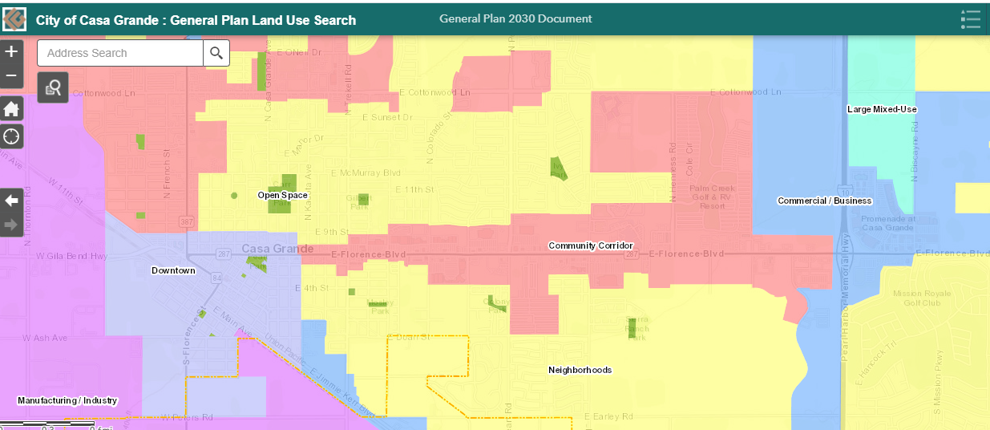 Steven Weaver, Casa Grande's deputy city manager, said that nobody is particularly sorry to leave the "zombie" moniker behind, as the empty or partially landscaped lots were long an eyesore. At certain times the city had to even place barricades around them to keep people from coming in.
"People come here and go, 'What is that? Why are there no houses?'" Weaver said of the subdivisions. "When you fill these all up, then it looks like you are complete. It doesn't look like a ghost town anymore."
City Manager Larry Rains said that even as they lay empty, the "zombies" had been costing the city payments on roadways that belong to the city.
Now the city is at last filling out all plats that had some level of infrastructure, what Gagliardi called the "low-hanging fruit." Where will future Casa Grande homes be built?
City planners said that developers would continue to build out lots within the current city boundaries, with several submitted proposals for neighborhoods such as Casa Grande Crossings and Sonoran Heights, which would be located just southwest of where Florence Boulevard meets I-10.
Wilkie said that state assured water supply certificates will also dictate where single-family homes can be built.
However, the city is considering the possibility of rental homes, which would logistically be easier to approve and build. Gagliardi said the city would like multifamily construction to "catch up" to the rate of single-family growth. Casa Grande has only built one major apartment complex in the last two decades, but demand for rental units within the city has significantly increased over the past few years. The city's 2030 General Plan was modified to allow for some zoning for multistory residential homes, possibly downtown.
Still, Gagliardi said based on best practices studies, the city would like to maintain a 70-30 split between single-family homes and apartments, whether they be larger units or manufactured homes.
Casa Grande's population was at roughly 58,000 according to the 2019 U.S. Census numbers. That was up roughly 20% over the past decade.