CASA GRANDE — The death of a former Casa Grande resident may have led police to the suspects who allegedly killed her and ended a two-month crime spree by a couple of Valley teens.
Chandler Police believe that Amber Patton, 34, was killed in her Chandler home by James F. Quintero and Corbin M. McNeil, both 16. The two teens are charged with murder, aggravated assault, armed robbery, kidnapping, car theft and unlawful discharge of a firearm. The two have been charged as adults.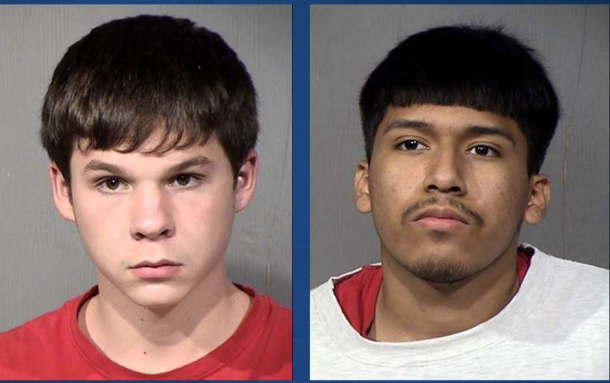 Amber, an Iraq War veteran, had grown up in Casa Grande and graduated Casa Grande Union High School with honors in 2004 and attended Central Arizona College before leaving to join the U.S. Army in 2008, said her mother, Marilyn Suchla, who still lives in Casa Grande. Amber moved back to Arizona after leaving the U.S. Army in 2011 and moved to Chandler about two years ago.
"She was a hero like no other," Suchla said.
Police told her that it was evidence from the crime scene surrounding Amber's death that led to the arrest of the two teens who had been involved in a crime spree that started sometime in July, Suchla said.
The teens were also allegedly involved in several shootings, a kidnapping, carjackings, robberies and the death of Matthew Meisner, 28. Meisner was shot and killed while out for a late night walk in July 2020 in Tempe.
Officers told Suchla that on Sept. 19, Amber had dropped a coworker off at home after work, picked up some food for dinner and had just arrived at her home in Chandler when the two teens allegedly surprised her in the garage.
Officers believe the teens were after her car. The teens had allegedly stolen some beer from a nearby convenience store and then wrecked the stolen car they were driving near Amber's home. They probably saw Amber pull up to her home and allegedly decided to take her vehicle, Suchla said.
"They wanted the keys to her car," Suchla said. "She was such a kind, giving person. She would have given them the keys if they had asked. They didn't have to kill her."
After surprising her in the garage, the teens allegedly shot Amber several times before taking her phone, wallet and car. The teens later allegedly rolled Amber's car near Florence. A roommate found Amber the next morning and called the police.
Suchla said officers told her that without Amber's death, officers wouldn't have connected the teens to the stolen beer and the surveillance video at the store.
Suchla said if the teens hadn't surprised Amber, she was sure that her daughter could have fought them off.
"She was strong," her mother said. Amber would sometimes challenge her mom, who is also a military veteran and keeps herself in good shape, to a series of physical training competitions.
Amber was also a very kind person, her mother said.
"She was very outgoing, very loving. She would have given someone the shirt off her back," Suchla said. "She loved Batman. She loved wolves and the Green Bay Packers and soccer."
Amber started playing soccer in the first grade and played on the varsity team at Casa Grande Union High School. After high school, she played on one of the city's adult teams.
Amber loved animals and was forever trying to adopt strays that she found on the street, her mother said.
And she loved her family, Suchla said. Amber and her little sister, who is several years younger than her, adored each other. When she left for the Army, Amber got her little sister's name tattooed on her arm.
Amber also suffered from post-traumatic stress disorder after a close friend that she was serving with in Iraq was killed nearly in front of her, Suchla said. Amber left the military in 2011 and moved back to Arizona. She wanted to stay in the Army, but she knew if she did she would be deployed to Afghanistan sometime in the next six months and she didn't think she could handle another deployment after such a brief break from combat duty, her mother said.
"She took a great deal of pride in serving her country," Suchla said. Amber received several awards for her service while she was enlisted.
She joined the military after Sept. 11. Suchla said when Amber mentioned the idea of joining the military after the attacks on 9/11, she thought Amber was nuts, but she wasn't surprised by her decision. Their family has a long history of military service. Amber's aunt, who had a great influence on her, served as a nurse in the Air Force.
Suchla said it took a lot of courage for her daughter to join the military at that moment in time, especially knowing what was going on in some of the countries that she might be deployed to.
Amber was also smart, feisty and funny, her mother said.
One of Amber's greatest wishes was to meet her older brother, who had been given up for adoption in 1980 in New York state, Suchla said. Amber and the family have been looking for him, but the laws governing adoption records in New York have made the search difficult. Friends can join in the search on Facebook at www.facebook.com/groups/2649768301905060. The family does plan to have a memorial for Amber, once the pandemic settles down enough to allow family members from other states to travel. The family has set up a GoFundMe page at www.gofundme.com/f/a-hero-like-no-other for donations to help some family members who may not have the money to make the trip.
In the meantime, Suchla is making it her mission to warn others about what happened to Amber and remind people to check their surroundings before getting out of their car and closing the garage door.
"I want to be an advocate for her," Suchla said. "I don't want this to happen to another family."