CASA GRANDE — While the flu season has officially arrived, so far, area medical personnel are not reporting a large number of cases in Pinal County.
"Our staff at Banner Casa Grande Medical Center said they have not seen a large number of flu cases so far this season, nor has our team at Banner Ironwood Medical Center in Queen Creek," said Jeffrey Stensland, marketing and public relations specialist for Banner Health.
Countywide, there have been 11 cases of the flu reported in Pinal County so far this season, according to the Arizona Department of Health Services flu monitoring website. However, PinalCentral has received some reports of children having intestinal distress.
The largest percentage of reported cases, about 45%, are in children between the ages of 5 and 18 years.
In the Casa Grande Elementary School District, officials have not seen an unusual number of absences for staff or students, said Michael Cruz, communications and marketing specialist for the district.
"I have not received any communications from our school health staff at any of our schools indicating any serious outbreaks of influenza," Cruz said.
But he said when it comes to tracking specific illnesses, often the school is unsure if a child is absent due to flu or another reason.
"If a family calls in to excuse an absence, many times they just tell us their child is sick, but that does not necessarily mean it is the flu," he said.
This year, three strains of the flu are circulating throughout the region — B Victoria, H1N1 and A/H3.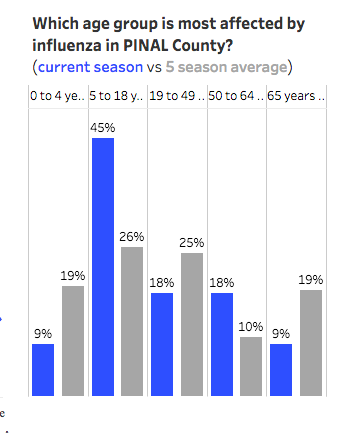 In Pinal County, all cases of flu reported to health officials are the A/H3 strain, a variant virus that can cause localized, sporadic outbreaks.
Symptoms of an H3 infection can include fever and respiratory symptoms, such as cough and runny nose, and possibly other symptoms, such as body aches, nausea, vomiting or diarrhea, according to the U.S. Centers for Disease Control and Prevention.
Although some studies suggest that adults have some immunity to the virus, children born after 2001 have little to no immunity against the infection, the health agency reports on its flu website.
In Maricopa County, there have been 161 cases of flu reported with about 31% of the cases occurring in children, and Pima County has reported 27 cases, according the AZDHS website.
Of the strains of the flu reported in Maricopa County, the B/Victoria strain accounts for 48%, while 34% of cases are the A/H3 strain and 17% are H1N1.
Of the 27 cases of flu reported in Pima County, about 60% are influenza B/Victoria while H1N1 and H3 accounted for 20 percent each of those cases, according to the state's flu tracking website.
Every season millions of Americans nationwide become sick with the flu and in some cases, the infection can lead to hospitalization or death, according to the CDC.
The 2017-18 flu season was the most severe in a decade and the 2018-19 season was record-breaking in duration, with flu activity remaining elevated for 21 weeks, the CDC said.
Across the U.S. there were two different waves of flu last year, the first caused by H1N1 viruses and the second caused by H3N2 viruses.
A flu vaccine is the best way to prevent infection and its potentially serious complications, the CDC said.
This year, flu vaccines for both H1N1 and the H3 strains have been updated to better match the viruses, according to the CDC's website.
Health officials recommend a yearly flu vaccine for everyone 6 months of age and older.
As well, people can protect themselves from infection by staying away from sick people and washing hands to reduce the spread of germs.
Those who are sick with the flu should remain home from school or work to prevent spreading the disease.
For the 2019-20 season, manufacturers are expected to provide between 162 million and 169 million doses of vaccine nationwide. So far, nearly 77 million doses of flu vaccine have been distributed in the U.S., according to the CDC.