CASA GRANDE -- It was a warm July evening in 1945 when Ida and Jerry Storey, then 18 and 19 years old, respectively, were married in the old Presbyterian Church on Florence Boulevard.
The day's temperatures were so warm that the candles inside the un-air-conditioned stone building (now The Museum of Casa Grande) began melting before they were lit.
On July 28, the couple will celebrate their 75th wedding anniversary.
"We're still sweethearts," said Ida, 93. "I feel so blessed that 75 years later, we're still together."
The couple met when they were students at Casa Grande Union High School. Ida, then 15, tutored Jerry in geometry.
"I knew if I could get him through geometry, we could get through anything together," Ida said.
Soon after graduation, as World War II raged on, Jerry joined the Navy. He was on a 75-hour leave when he returned home to marry Ida in July.
"We had a nice service," Ida said. "Because it was summer, it was an evening service."
Because so many of their male friends were serving in the war, Ida's female friends served as ushers. One of her brothers walked her down the aisle and another served as the best man.
"Casa Grande was a much smaller town back then," Ida said.
Because of wartime rationing, she almost didn't have a wedding cake or a bouquet to carry.
"My friends donated their sugar (ration) stamps so I could have a wedding cake made," Ida said. "We only got one stamp a month. I wasn't sure I was going to have a bouquet but at 3 in the afternoon on the day of my wedding, the local florist was able to find some flowers for me in Phoenix. My sister's husband had to drive all the way to Phoenix to get the flowers. He made it back just in time for the wedding. I was lucky to have a bouquet."
Rationing also meant the couple could only have three photos taken at their wedding. A light bulb burst when one photo was being taken so they were left with only two photos marking the occasion.
"I still have the photos," Ida said.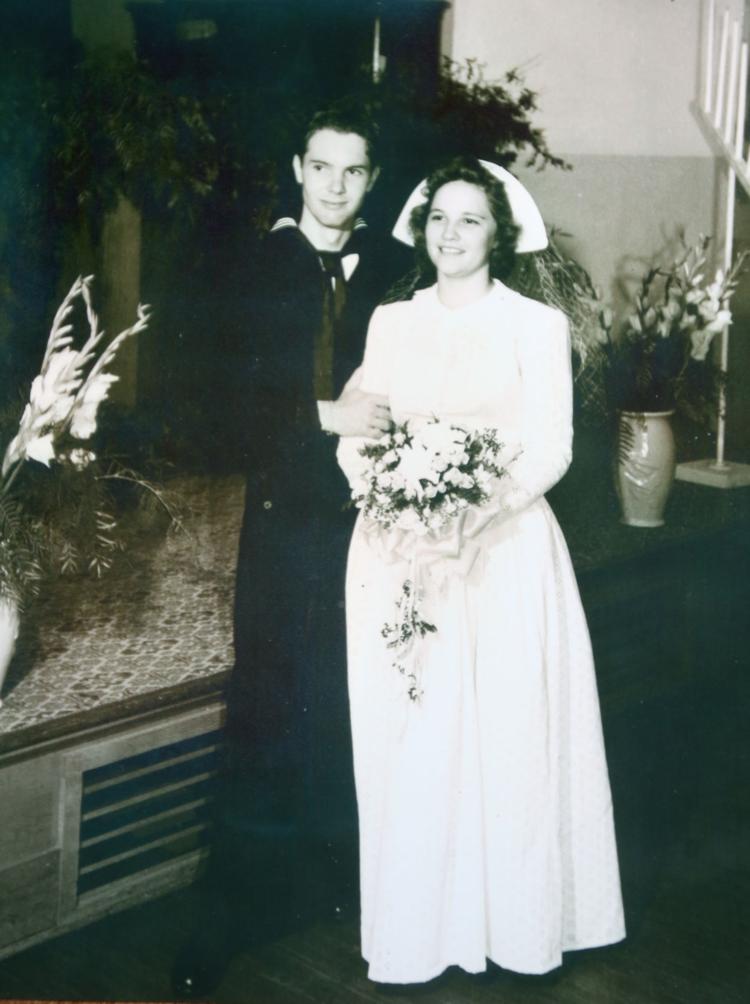 After the war, the couple settled in their hometown of Casa Grande.
They have lived in the same home since 1949.
Jerry followed his father into the cotton-growing business. He retired a few years ago after a decades-long career in agriculture. Ida was a stay-at-home mom and later worked for 23 years for the former Agricultural Stabilization and Conservation Service office, part of the U.S. Department of Agriculture. She retired in 1988.
Together the couple raised five children — Jerrilyne, Lewis, Cline, Marni and Richard.
"We've had our ups and downs and turn-arounds. In this world, you just roll with the changes," Ida said. "There's a song with a line that says 'love leaves the porch light on' and I've tried to live like that. I always leave the porch light on."
Her advice to younger generations is to "not give up on one another."
"Don't give up on each other or your children," she said.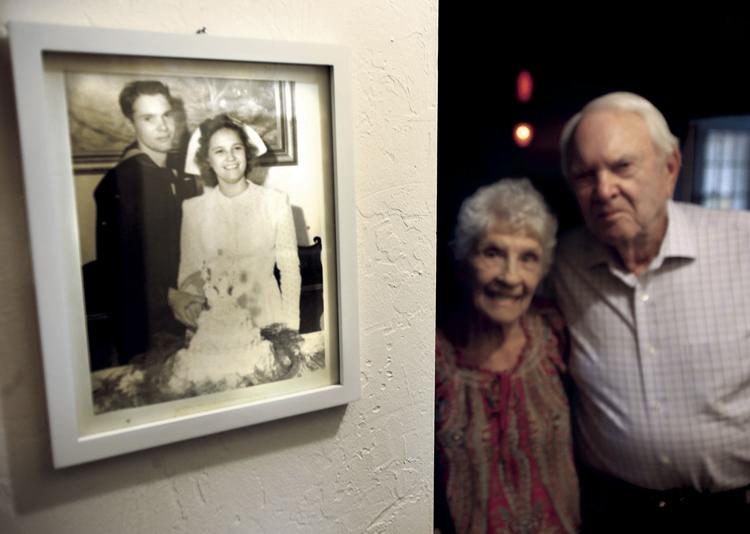 The couple now have 23 grandchildren and great-grandchildren. If not for the COVID-19 epidemic, they would be planning a large family gathering to celebrate their 75th anniversary.
"We always celebrate our anniversary," Ida said. "We have a few friends who got married at the same time as us and for years we'd celebrate together at The Property."
This year will be different, she said.
"We won't have a big party this year," Ida said. "We'll wait for this virus to pass and maybe we'll have a party in October."
She said she doesn't need a party to celebrate.
"How many people do you know are still together and sweethearts 75 years after they got married?" she said.
But she said her 75th wedding anniversary is a good time to reflect on a life well lived.
"I have seen a lot of changes," she said. "The church I was married in is now a museum. There was no air conditioning in the church then, now everyone has air conditioning. We're both in our 90s now. Seventy-five years after getting married, we're still very blessed."