CASA GRANDE — A traffic stop of a shuttle van netted Casa Grande Police officers 5,000 fentanyl pills on Tuesday.
According to the Casa Grande Police Department, officers pulled over a "personal transportation vehicle" around 2:20 p.m. on Interstate 10 near Florence Boulevard.
Alejandro Rodriguez Puebla, 51, a passenger in the vehicle was allegedly found to have several packages of fentanyl pills in his possession.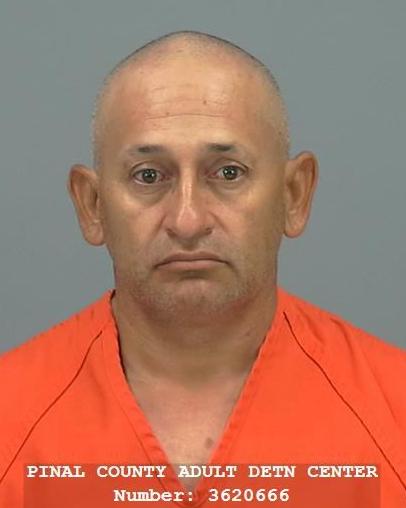 Rodriguez Puebla was booked into the Pinal County Adult Detention Center on suspicion of possession of a narcotic drug, possession of a narcotic drug for sale, transportation of a narcotic drug for sale and possession of drug paraphernalia.
The Border Patrol said smuggling organizations often use public transportation, such as shuttle vans, to move drugs through the country and, more specifically, through immigration checkpoints due to the anonymity it affords. Smugglers attempt to blend in with other passengers and will deny ownership of bags in which drugs are discovered. In addition to being an inexpensive method of transportation for the smuggling organization, the smugglers do not risk having their own vehicles seized.
Border Patrol agents working at an Interstate 8 immigration checkpoint east of Yuma Friday afternoon arrested a United States citizen also attempting to smuggle fentanyl through the checkpoint in a shuttle van.
At approximately 1 p.m., agents referred a shuttle van to the secondary inspection area for an immigration check. While in secondary, a Border Patrol canine alerted to one of the bench seats and a backpack that was located there. Agents determined that the backpack, which contained two packages with a total of 2.015 pounds of fentanyl pills valued at approximately $29,000, belonged to a 37-year-old male passenger.
Fentanyl is a synthetic opioid that is similar to but much more potent than morphine, according to the National Institute on Drug Abuse. It is typically used in medicine to help control severe pain in patients who have had surgery or patients with chronic pain who are physically tolerant to other opioids.
On the street, fentanyl can be mixed with other drugs without a user knowing. It is highly addictive and has a high rate of overdose deaths. Naloxone can be used to stop a fentanyl overdose but because of fentanyl's potency, it may take several doses of naloxone.