CASA GRANDE — For Casa Grande resident Ric Moser, the recent death of celebrity game show host Alex Trebek wasn't just sad, it was personal.
Moser, 73, appeared on "Jeopardy!" in 1984 and had a five-episode winning streak, returning later to appear in the show's Tournament of Champions.
He exchanged emails with Trebek over the years and considered him a friend.
"There are celebrity deaths that are sad," Moser said. "But this one was different. When I heard he had died, I had a real sinking feeling in the pit of my stomach. It hit me hard."
In the mid 1990s, Moser said he was invited back to be on a championship episode. He emailed Trebek and said that he received a personal response from the game show host asking about him and his family.
"I wasn't surprised to get a personal response from him. I was in contact with other 'Jeopardy!' champions and he was that kind of person. He remembered everyone and was special that way," Moser said. "In my mind, he was much greater than a game show host."
Over the years, Moser said he received several personal emails from Trebek.
"Over a 10-year period, I received several emails," Moser said. "We weren't best buddies, but I feel I knew him and I respected him."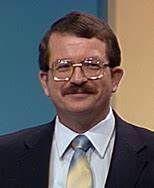 Moser was living in Missouri, working as a printing broker and helping with the Gary Hart presidential campaign when he took a trip to Los Angeles in 1984 to audition for the game show "Tic-Tac-Dough."
At the airport, he picked up a newspaper and noticed that "Jeopardy!" was accepting applicants for tryouts and testing without an appointment.
"I skipped my audition with 'Tic-Tac-Dough' and went straight to test for 'Jeopardy!'" Moser said.
Moser had long been a fan of the original version and relaunched versions of "Jeopardy!"
The game show originally premiered in 1964 and ran through 1975 with a different host. A revival of the show ran from 1978 to 1979.
The version Trebek is known for, produced by Sony Pictures Television, began in 1984. Trebek hosted the show until his recent death.
Moser and his family had several editions of the "Jeopardy!" board games and played them often.
"We loved the game," Moser said.
He arrived at the audition site on a Thursday, was given a test, then immediately put into a simulated audition game. After the audition ended, he was asked to return on Tuesday to compete on an episode of the show.
He went on to win a five-game streak, becoming one of the first undefeated champions and earning $39,200.
"It felt great," he said. "The money was great. At the time, in 1984, it was a significant chunk of change. Being on the show and winning the money had a dramatic impact on my life. I received a fair amount of awe from my friends and it was great."
He said working in the news industry, both as an editor and a printer, gave him an edge over the competition.
"As a newsman, I'm exposed to a lot of different information," he said.
Later, he was invited back to compete in a championship tournament. Although he was eliminated in the semifinals, he took home about $5,000 in winnings.
During his time on the show, Trebek put contestants at ease, Moser said.
"Alex couldn't socialize with us. He was prohibited from socializing with the contestants to prevent any appearance of favoritism or collusion. But he was warm and outgoing and was a very nice guy," Moser said.
Moser described Trebek as "smart and considerate" both on camera and off.
"There was one point on the show where there was a question about British royalty. The answer was a specific person, but all of us on the show got the answer wrong and we all had the same wrong answer. After we missed the question, Alex talked to us about the answer and he had lots of information about the person," Moser said.
Moser, who moved to Arizona from Texas in the 1990s and now lives in Casa Grande, said he remained a fan of "Jeopardy!" long after his appearance on the game show.
He said he'll be one of the millions of people who miss seeing Trebek on the television screen every night.
"Fans of the show have lost a familiar face and regular fixture in their living rooms," he said. "I have lost a friend."