FLORENCE — There is more future demand for water in Pinal County than can be satisfied by existing resources, officials say. And that demand will not be met by excessive pumping of groundwater.
The Arizona Department of Water Resources announced this week it will not approve any new applications seeking to use groundwater within the Pinal Active Management Area.
The decision came during a meeting on Monday of the Pinal County Groundwater Task Force, chaired by Pinal County Supervisor Steve Miller.
The ADWR's decision has been known for a little over two weeks. ADWR Deputy Director Clint Chandler relayed that during a prior meeting with the leaders of the Pinal County Groundwater Task Force, ADWR Director Tom Buschatzke informed them that "the days of utilizing native groundwater for development in Pinal are over, it's done."
Chandler described their conversation as "candid and constructive" and said it was a "difficult assessment," though one that people monitoring the situation could have anticipated. Chandler also emphasized that current Pinal County residents need to be protected as consumers first and foremost.
After the meeting, Miller reiterated this point, clarifying that the ruling will have no effect on the ability of local towns and cities to grow in the near term. Miller mentioned that Casa Grande has around 25,000 lots that already have an ADWR certificate. The city of Maricopa also has enough water resources to at least double in size over the next few decades.
"I don't want everybody to panic," Miller said. "If you have a house in Casa Grande today, you will not run out of water. If you are building a house today you will be fine. We are working on solutions for water issues that will come into play decades down the road, not tomorrow."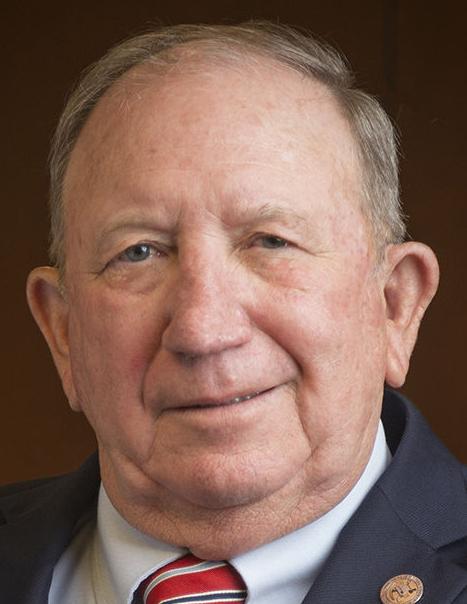 The task force's two co-vice chairs are Bill Garfield of Arizona Water Company and Jake Lenderking of Global Water Resources.
In 2019, models projecting the next 100 years showed that there would be a water supply deficit of just over 8 million acre-feet within the Pinal Active Management Area, which includes most of Pinal but not the northern part. While meeting some, or all, of that demand with groundwater is technically possible, that type of non-renewable water "mining" would lead to a variety of severe problems including arid lands and ground subsidence.
However, even when ADWR ran models that eliminated nearly all hydrological analyses for undeveloped land in the AMA, the water deficit for all uses was still just under 4 million acre-feet, including 589,000 acre-feet for current certificates and designations of Assured Water Supply.
While the timeline for direct impacts on consumers is far out, Garfield noted that ADWR's decision would reflect a critical shift in thinking about water in Pinal County.
"Any project that plans to use groundwater as part of their assured water supply cannot be approved with other unmet demands existing," Garfield said in explaining how he interpreted the results.
Miller said that at least some county officials and developers had assumed that when the state conducted studies ignoring prospective water demands — hydrological studies are necessary before water certificates are approved or subdivisions are planned — those studies would show there was plenty of groundwater left over.
"A number of people said, oh let's just wipe out those analyses and we should be fine," Miller said. "Well, they wiped it out and we are still not fine. That was the big shocker."
Ayesha Vohra, deputy counsel for ADWR, was adamant that despite the projected 100-year shortfall, the department is not currently considering revoking any certificates or designations, though technically there is a process in place to do so. Entities would also still be able to take advantage of long-term storage credits.
Nevertheless, without being able to leverage groundwater access, the path forward is now uncertain for Pinal developers who had not yet secured AWS certificates.
One possible solution is case-by-case water transfers, such as the agreement between the city of Queen Creek and GSC Farms LLC, which lies along the Colorado River in La Paz County. However, Miller said that deal is currently being held up by the U.S. Bureau of Reclamation, which has the final say.
That potential deal also has drawn criticism from on-river communities and environmentalists who worry that it would set a precedent of outside investors buying up water rights and decimating rural economies and ecosystems.
Lenderking said that the Stakeholder Group preferred to work with ADWR on a broad strategy or process that entities could follow rather than see them pursue water deals independently from one another.
"We would like to not have individual projects go alone," Lenderking said. "Going it alone is tough."
The ability to import water supplies into Pinal County is dependent on the status of basins and river systems, some of which are seeing major decline due to drought; the Colorado River Basin, which supplies water via the Central Arizona Project canal system, is in need of its own injection of external water supplies, with proposals including desalination projects off the coast of Mexico and diverting floodwaters west from the Mississippi River.
Garfield said that the task force previously had been looking at various solutions to unmet water demand, even before the most recent meetings with ADWR. Potential strategies they have investigated include: deepening existing municipal wells, adding new wells, performing urbanization studies — modeling what happens when agricultural land is swapped out for housing or other urban growth — and eliminating redundancies in agricultural water demand so as not to double-count needs.
According to Lenderking, the ADWR did say deepening wells was acceptable, and other measures could be approved on a case-by-case basis. Lenderking explained that the task force's next steps included modeling recharge sensitivity and talking with stakeholders — residents, developers, etc. — to figure out how to facilitate further economic development without groundwater.
The Pinal County Water Augmentation Authority, a group that includes many of the same players including Lenderking and Miller, will share its own groundwater modeling results in August.
The Groundwater Task Force also plans on holding another meeting with ADWR during that time frame.