FLORENCE — Automation in the decades ahead will eliminate many low-skill jobs, but Pinal County should look forward to the opportunity, according to the professor leading a planning study of the Pinal County tech corridor.
"We're at the convergence of an exciting part of our economic future," Greg Watson from the University of Arizona's McGuire Center for Entrepreneurship told the Board of Supervisors Wednesday.
Watson said automation changes the job skills that companies are looking for. "When they want to relocate a business, Pinal now has an even greater opportunity to compete globally for businesses" as automation and robots fulfill tasks that once required human skills.
"So as much as automation is a scary concept to an awful lot of people, it is an incredible opportunity for us here in Pinal County. Because with the convergence of utilities, transportation and infrastructure that we have, the opportunities for Pinal are extraordinary," Watson said.
"And that frightening concept of automation — with loss of jobs, that are genuinely threatening industries in a lot of other communities — it really creates an incredible economic growth opportunity, growth engine for Pinal County."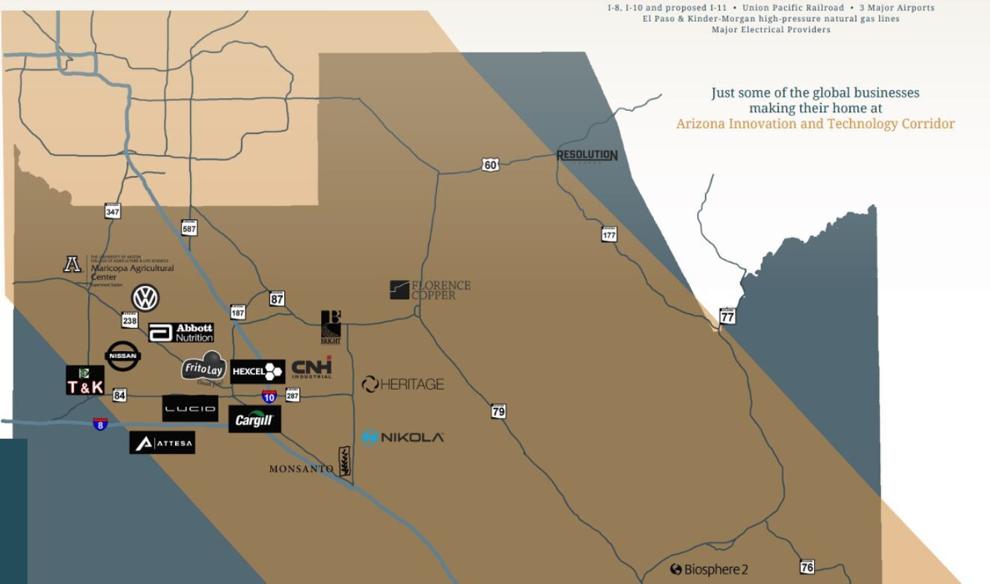 Watson is studying Pinal's assets and potential as they relate to the Arizona Innovation Technology Corridor, highlighting the county's 21st century business clusters and drawing still more modern manufacturing for years to come.
The corridor was championed by Tim Kanavel, Pinal County's economic development director until his death last month from COVID-19. Watson said Kanavel's passing is a major personal and professional loss to the county, but "I don't want to slip and lose the momentum that Tim started to build for us. … I don't want us to lose this particular excitement. I don't want us to lose this momentum. My family believes in celebration of life and the celebration of the future.
"… The world is going to be changing quite dramatically over the course of the next decade," Watson said. Many low-skill jobs will disappear, not just in manufacturing but in the service sectors, he said.
"Farming is going to change quite dramatically, the same with forestry. … Tractors are already in the fields doing driverless farming. We're seeing incredible high-tech within farming where we're actually able to look at what we are planting on the square meter, square foot, and then looking at the yields that are occurring on that exact same square meter.
"We're looking at the amount of fertilizer, the amount of water we're deploying. So farming is changing, it's becoming very high tech." Jobs in production, sales, building and grounds maintenance and food preparation and serving will be similarly affected, he said.
Skills in demand in the future will be advanced information technology skills and basic digital skills, "but also entrepreneurship, critical thinking and how do we innovate, and how do we change and adapt for the future, but also how do we lead? Part of that's your responsibility," Watson told the board, "but also how do we teach people within our communities to lead?"
Other in-demand skills will be related to creativity and complex information processing and interpretation. "How do we be creative? How do we create complex information and understand it, and integrate in our communities, integrate within our state and integrate within our society? So life is going to be fun," Watson said.
Watson told the board that Phases 1 and 2 of the tech corridor study are finished, and the reports are making the rounds with the study's industry advisory group for feedback. They will be delivered to the county very shortly, he said.
Phase 1 is an "Inventory and Roadmap," or assessment of the current state of Pinal County, its resources and opportunities. Phase 2 is a "Stakeholder Assessment" or communication and collaboration with key participants, economic development groups and officials and developers.
Watson told the board he has interviewed more than 300 people and "I've been enjoying my time in Pinal County." He said he's spending a couple of days a week and about every other weekend in Pinal County.
"… Our phase three process is also well underway — looking at the technology, where do we need infrastructure for the future?" The supervisors hear a lot about road needs, but there's also the tech infrastructure the county must plan for.
"In our Phase 3 we're really going to do an in-depth assessment" and create a plan for the next 25 to 30 years. It will also include an assessment of current strategic business location plans and future economic growth trends for Pinal County, Phoenix and Tucson. Following this phase will be a draft final report and then a final report, Watson said.
He said it's not only about economic growth. He said he used to tell Kanavel, "We have to also think about what is the quality of life in our communities, what is the culture and the values we have to protect? What are our schools going to be looking like, what are our nature trails?"