SUSANVILLE, Calif. — Cattle farmers in California have been handed a devastating blow to their industry following multiple dry years in a row that have left the state in a drought and forced farmers to downsize their livestock.
"A lot of guys had to sell off cows this year. Now they're gonna, in addition to losing their moneymaker, they're gonna pay capital gains on that too," Tony Toso, president of the California Cattlemen's Association (CCA), told AccuWeather's Jillian Angeline.
Toso explained that the lack of precipitation has led to two major consequences for cattle farmers: not enough water to provide their livestock and not enough grass production to feed them.
According to AccuWeather Meteorologist Isaac Longley, California has been battling "a significant lack of precipitation" over the last several years in the form of rain and mountain snow.
"This has been especially noticeable during the wet season when California typically sees most of their precipitation," Longley said. "This of course has led to a long-term drought across the state, having a negative impact on local farming and agriculture."
Todd Swickard, owner of Five Dot Ranch, was one of the many cattle farmers affected by the conditions — to the point where he had to sell about 25% of his livestock, many of which were sold to be slaughtered.
"We place a lot of value in our mother cows, so it's very unfortunate we had to sell quite a few of them just in order to stay in business," Swickard said.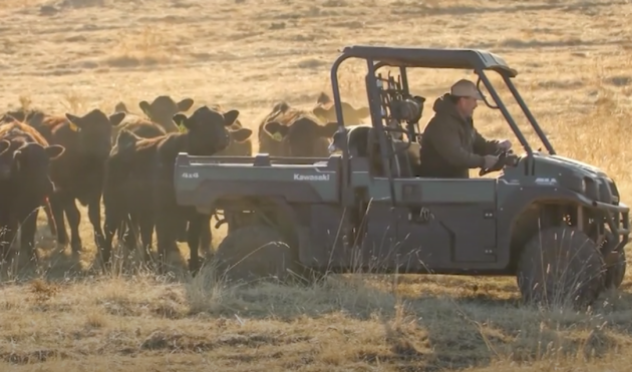 Swickard described this year as "one of the worst years ever" for cattle ranchers in the state. He said he's talked to many other ranchers around his community, some in their 80s and 90s, who also agree that they have not experienced a worse year in their entire lives.
"A lot of the springs that we've relied on for forever also dried up ... so we actually have to haul water. Had a semi-truck going basically all summer and all spring hauling water full time," Swickard told Angeline.
Toso, who is also a rancher himself, said the CCA is working with ranchers across the state to point them in the direction needed to gain government assistant and aid from other programs as the dry conditions continue.
To counteract the lack of grass available to feed the cattle, Toso said he and other cattle ranchers will supplement the cows' diets with hay and other forms of nutrients so they can survive through the winter.
"I feel a lot better now with this last bit of rain that we got. Makes everyone feel a little bit better," Toso said. "But you have to keep your reality glasses on too. Just because we got a couple inches of rain does not mean by any means we're out of this drought situation."
Toso and Swickward are both praying for more rain to come, as that will allow farmers who had to cut down their herds the opportunity to rebuild.
"Fortunately, the wet season has been off to a fast start this year as we have already seen multiple storms dump rounds of rain across a good chunk of the state, especially over Central and Northern California," Longley said. "While this has made a small dent in the ongoing drought, we still have a long way to go to make any serious impact."