SAN TAN VALLEY — According to Resolution Copper representatives, the fate of the Oak Flat mine in northern Pinal County will no longer be determined by Congress.
At Friday's Pinal Partnership breakfast, Resolution Senior Manager Hesston Klenk said that the bill, which was originally introduced by Rep. Raul Grijalva, D-Ariz., House Natural Resources Committee chairman, was taken out of the reconciliation package that has not yet been voted on.
"We made it out of reconciliation," Klenk said. "We made the plea to reach out to members of Congress and have that provision removed. It wouldn't be without that local voice rising up; the last two months have taken 10 years off my life but the project is moving forward."
When the bill was inserted into the reconciliation package in September, Pinal Partnership engaged in a letter-writing and advocacy campaign among members to defend the proposed mine.
Klenk is on the board of Pinal Partnership. Pinal Partnership's chairman, attorney Jordan Rose, runs the law firm Rose Law Group, which represents Resolution Copper.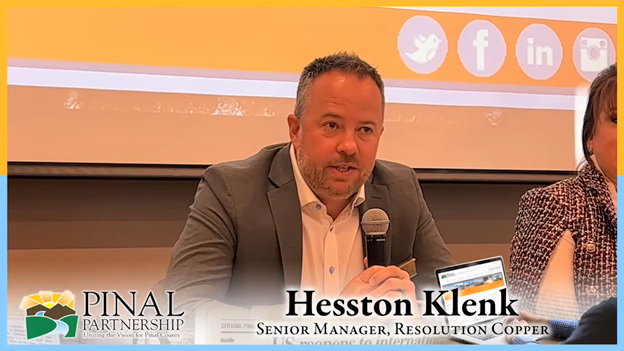 Critics of the copper mine project argue that the mine would have devastating impacts on the environment surrounding Oak Flat and nearby Superior, including tainting local water resources and effectively destroying a local ceremonial site for the San Carlos Apache Tribe. The original land swap authorization is also said to have been a last-minute insertion into a "must pass" spending bill in 2015.
Klenk complained that environmental advocates against the mine are "very loud" and that "finding ways to overcome their voice in the media is a challenge."
The Center for Biological Diversity said it had heard that Grijalva's Oak Flat bill was one of a number of public lands items that were stripped earlier this week from the reconciliation package.
Henry Munoz, who leads the Concerned Citizens and Retired Miners Association in Superior, which opposes the mine, said his group was also aware that the reconciliation bill was out, but Munoz was confident that there were other options still available, including pending lawsuits, that could also halt the mining project.
While there remain a few hurdles before Resolution can move forward with the mine, including an updated Environmental Impact Statement from the U.S. Forest Service, Klenk said Resolution would continue to play up copper's role in supporting new green technology like electric vehicles and solar cells.
"We've always billed ourselves as the mine of the future," Klenk said. "New technologies and new techniques are being developed specific for our project, including miner safety. There are new societal expectations on environmental stewardship, and we've already made that commitment."