GLOBE -- Saying the current fires are just the beginning of problems, Gov. Doug Ducey on Thursday called for a special legislative session to begin this coming week.
"It's clear that we still have a lot more to do,'' the governor said after taking a helicopter tour over the fires -- and charred remains -- of the Telegraph and Mescal fires.
"The response won't end when the fires are put out,'' he continued. "When this year's monsoon rains come, these burned areas are prone to landslides, mudslides and flooding, which pose another threat to our communities.''
Ducey's move comes one day after he declared a state of emergency. That frees up $200,000 for each blaze using resources under his control.
But allocating larger amounts of money, especially for future flood mitigation, requires legislative approval.
Ducey made the announcement as he visited south-central Arizona after traveling with House Speaker Rusty Bowers and another lawmaker to the area where crews supported by aircraft are working to keep the fires out of Globe and several other communities in Gila and Pinal counties.
Bowers lost his longtime family retreat home in the blaze on Monday, which was among five structures that were destroyed in one of the fires burning near Globe and Miami. He lives in Mesa, but he said his grandmother was a milkmaid in Globe when she met his grandfather and his family has deep roots in the community.
"The governor mentioned our loss. But my wife and I, when we look at the friends and the folks that have tried to help us, that are helping you, this is the character of Globe-Miami right here, and beyond over those hills, and we're grateful," Bowers said at a midday news conference. "We're grateful for good neighbors."
Bowers talked to the governor Monday and suggested the special session, saying the state's wildfire funds were depleted and that he was worried about flooding and mudslides to come.
"With what's happened up on the mountain, it's gonna be a bad, bad summer if we get a heavy monsoon, which we need," Bowers said Thursday. "And so, we're here to help. We want to make sure the resources (are there) and work with your emergency management folks to get prepared, to get stationed, to get pre-positioned so that we can really help you in this flooding season that's going to come up."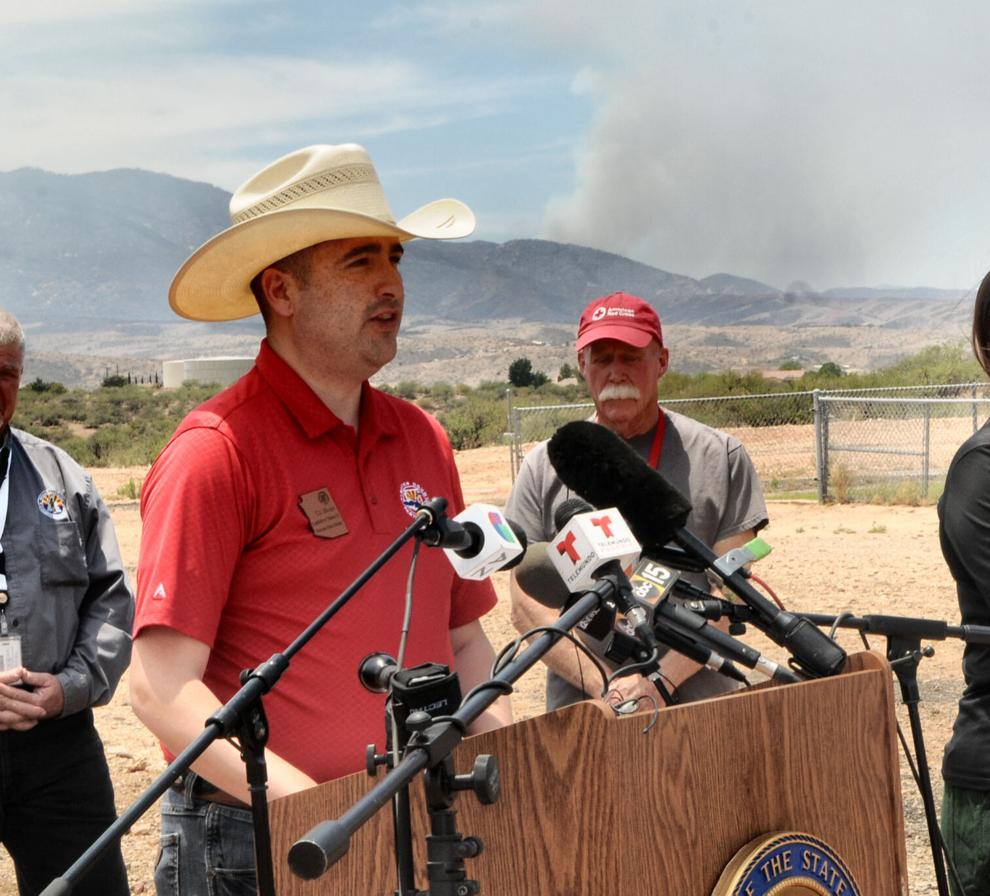 A special session technically isn't required. State lawmakers already are at the Capitol -- though they shouldn't be this late in the year -- trying to work out a deal on a spending and tax-cut plan for the new fiscal year that begins July 1.
The governor essentially acknowledged that isn't going so well. So this, in some ways, becomes a temporary diversion.
"We can put the budget aside for a few moments and focus on Gila County, focus on this issue,'' he said. "So it's a way to just stop all the other noise that is necessary in any legislative session to get big things done and to focus on the fire and the people of Gila County.''
Yet Ducey said Thursday he has no idea how much money he wants lawmakers to approve.
"That's what the special session is for,'' he said, though he later said it could run into the "tens of millions of dollars.''
"That's something we're going to sit down in a bipartisan way with the leaders of the chambers and figure that out,'' Ducey said. "This should be a win for Arizona.''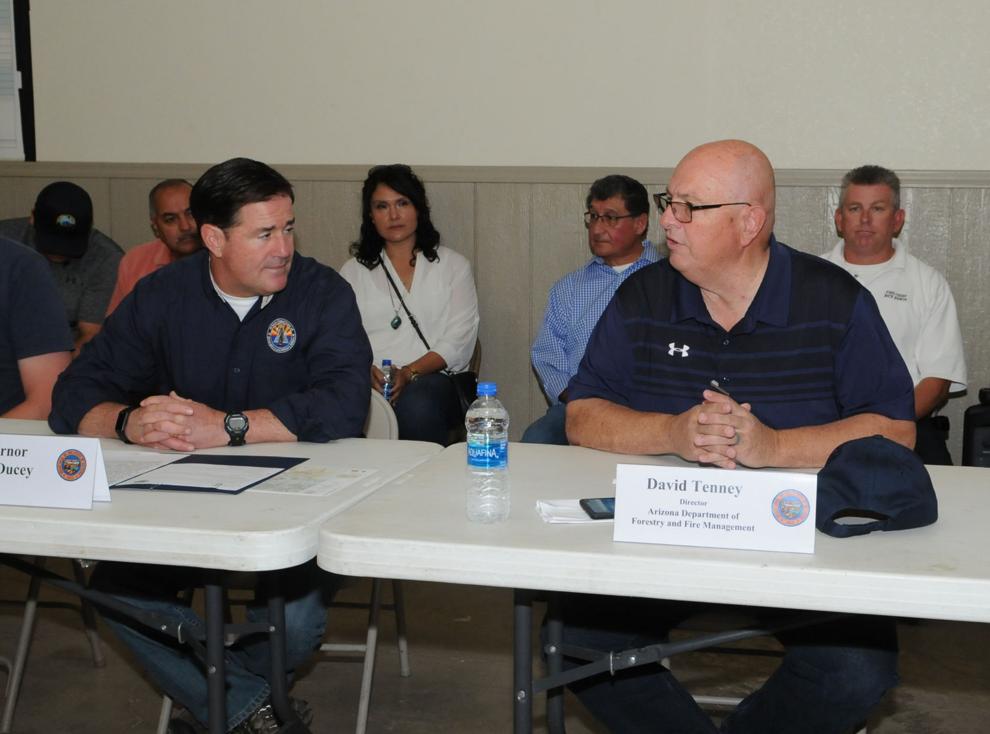 Ducey was in Globe to be briefed on the status of the Telegraph Fire, which has burned more than 85,000 acres so far and is just 40% contained, and the nearby Mescal Fire which, at 72,250 acres, is 64% contained.
"As we move forward over the next couple of days, the weather's a big concern of ours,'' said David Bales, incident command of the Telegraph Fire.
"We all know that wind helped push it up Highway 60,'' he said. "And the next few days, we're looking at high pressure which is pretty risky for our firefighters.''
Globe still remains at risk. And there's also the possibility that the two blazes could merge as their boundaries are just 10 miles apart.
The fire has become personal for one lawmaker whose district includes both Pinal and Gila counties.
Rep. David Cook, R-Globe, pointing to the smoke in the distance, said his cattle ranch reaches from the top of the Pinal Mountains right to the Globe city limits.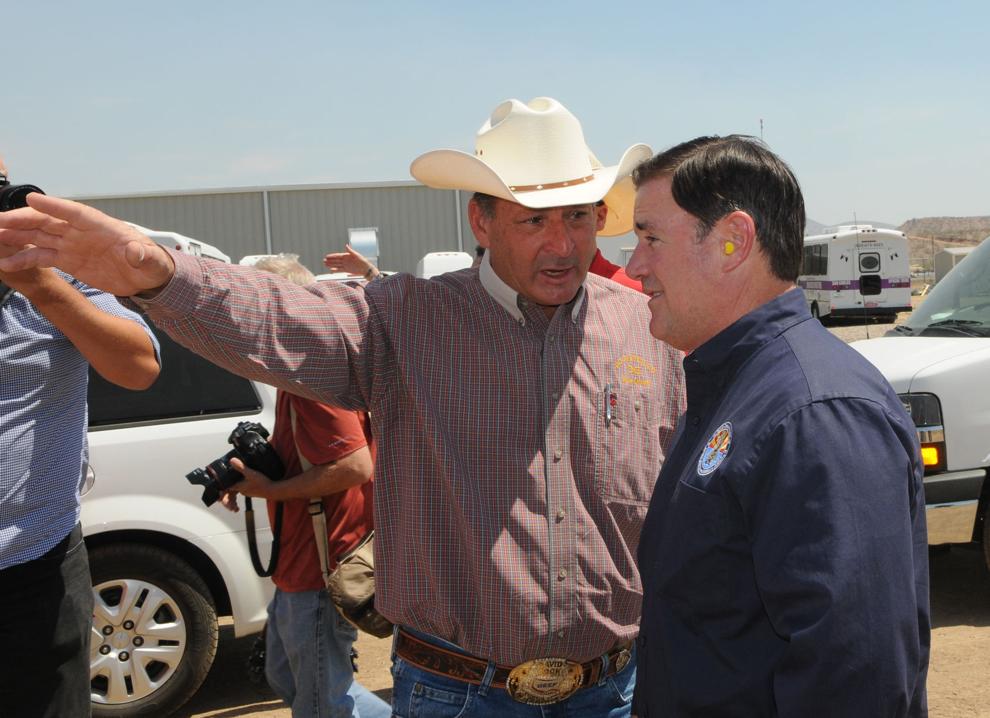 While Ducey hopes for quick approval of whatever funding he seeks without the distraction of the budget, some Democrats are not sure it's possible to separate the issues.
In a Twitter post Thursday, Rep. Diego Rodriguez, D-Phoenix, pointed out that a key element of the proposal by the governor and Republican legislative leaders is to create a flat income tax rate.
"A flat tax would remove $2 billion in state revenue (a year) over the next 10 years, wiping out the resources we need to fight these types of wildfires and help the people and communities recover from the devastation,'' he wrote.
Ducey brushed aside the concern.
"Part of the reason we're able to call this state of emergency, to call this special session, to move hundreds of thousands if not tens of millions of dollars forward is because the state is in such a positive cash position,'' the governor said.
"We're sitting on, depending on whose number you look to, about a $4 billion surplus in our state,'' Ducey continued. "That's why we're able to take action and help these people.''
And the governor added a plug for what he said has been the success of his policies of reducing taxes.
"Part of the reason our state is doing so well is because it's so attractive to build a business, to scale a business, and for employment.''