PHOENIX — Scattered thunderstorms rumbled across the Southwest early in the week, with heavy rain easing drought but leading to flash flooding in some areas.
The North American monsoon has been firing on all cylinders since the season began during the middle of June. AccuWeather forecasters say that the daily downpours will continue for the foreseeable future across the Southwest, bringing much-needed rainfall, but also the risk of flash flooding.
A steady stream of moisture will continue to flow into the region, with the largest concentration of shower and thunderstorm activity persisting over the Four Corners states into the weekend.
Rainfall of any kind is essential for the severely dry Southwest, where extreme to exceptional drought, the two most intense categories given by the United States Drought Monitor, is wide ranging.
But, forecasters say there can be too much of a good thing.
"Scenes of flash flooding observed last week across the Southwest will likely persist through this week as the general atmospheric pattern remains unchanged," AccuWeather Lead Long-Range Meteorologist Paul Pastelok said.
When rainfall rates reach intense levels, rainwater is unable to soak into the ground quickly enough, especially if the soil is very dry. This typically results in dangerous flash floods.
"Flash flooding can quickly turn a busy intersection into a dangerous flowing body of water during a torrential downpour. Motorists should never attempt to drive through a flooded roadway as one bad decision can quickly turn deadly," AccuWeather Meteorologist Mary Gilbert said.
Mudslides are also possible in areas of steep terrain. On Monday, Caltrans crews closed a section of State Route 168 west in the Sierra Nevada as they worked to clean up three separate mudslides. The highway has since reopened.
Where the soil has not been soaked by downpours, dust storms can also become a problem as the thunderstorms stir up gusty winds. Any dust storm can quickly become a travel hazard to motorists by suddenly reducing visibility, as well as causing a drop in air quality.
As the most persistent rainfall continues to target the Four Corners region, spotty thunderstorms are also possible farther north across the interior West. However, these storms are not expected to produce as much rainfall.
Waves of energy high in the atmosphere can spread isolated thunderstorms northward into Nevada, eastern Oregon, Idaho and Montana through the middle of the week.
"This may be problematic because it will pose a risk for dry lightning strikes, which can spark additional wildfire complexes," Pastelok said.
Dry lightning occurs when a thunderstorm produces little-to-no rainfall, due to how dry the air is near the surface, which causes any precipitation falling from the storm cloud to evaporate.
Above-normal rainfall totals will continue to grow in the Southwest as the monsoon surge continues.
For example, Cedar City, Utah, has received 1.51 inches of rainfall from July 1 to July 20, when 0.45 of an inch is more typical during the time frame. El Paso, Texas, has also been exceptionally wet, picking up nearly 4.50 inches so far this month, or 504% of its month-to-date average of 0.89 of an inch.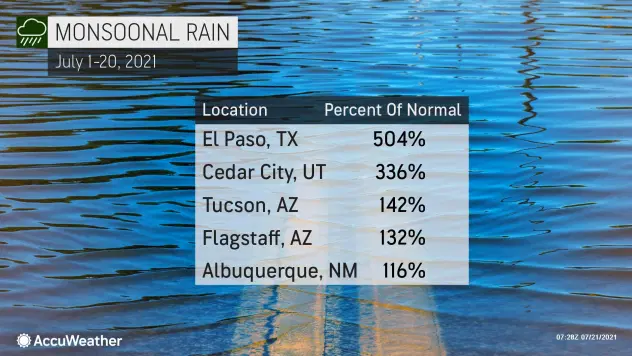 AccuWeather meteorologists are expecting another surge in shower and thunderstorm activity attributed to the monsoon starting late this week and lasting into this weekend.
"At this time it appears as though Arizona will be in the bull's-eye for the most persistent downpours and heaviest rainfall as a result," AccuWeather Senior Meteorologist Brett Anderson said.
From southeastern Arizona and part of southwestern New Mexico to northwestern Arizona, a general 2-4 inches of rain is forecast from Thursday afternoon to Saturday. However, over the approximate three-day period, an AccuWeather Local StormMax prediction of 8 inches is possible in the most persistent downpours.
At this level, the rain might not only be very beneficial, but may also lead to major flash flooding.
"As a storm develops in the middle levels of the atmosphere and wanders westward, it is possible for another surge of moisture to reach portions of Southern California over the weekend and into early next week, but it is a bit too early to say with certainty about the western scope of shower and thunderstorm activity," AccuWeather Senior Meteorologist Alex Sosnowski stated.
As is typically the case during the monsoon season with the scattered nature of the showers and thunderstorms, some areas haven't been hit as hard as others. Salt Lake City has only picked up 15% of its normal rainfall of 0.74 of an inch from June 15, the official start of the monsoon, to July 20.
Phoenix is currently on an average pace for precipitation this monsoon season, picking up 0.54 of an inch of rainfall since June 15, or 91% of average. With the upcoming anticipated surge of moisture for much of Arizona, that is likely to change later this week.