PHOENIX — Triple-digit temperatures are returning with a vengeance, prompting the National Weather Service to issue this year's first excessive heat watch, in effect all next week for most of central and southern Arizona.
Temperatures are expected to top 110 each day, reaching 116 on Tuesday and Wednesday.
In addition, Arizonans can expect higher than normal temperatures this summer, meteorologists say, although not as bad as 2020.
"An excessive heat watch is issued whenever temperatures are at levels that are, first of all, relatively unusual, maybe near records, but more importantly levels that can impact the health of folks, especially for the folks that are going to be outside," said Marvin Percha, a meteorologist for the National Weather Service in Phoenix.
Temperatures are typically 101 to 102 degrees this time of year, he said.
As temperatures rise, so do health and safety concerns in the state.
The weather service uses a color-coded system to warn the public about how dangerous specific temperatures can be for health concerns: Green means no risk; yellow means little to no risk; orange is moderate, meaning there is risk to those who are sensitive to heat; red and purple are high and very high, respectively, meaning there is risk to most people and risk to everyone. When an excessive heat watch warning is issued, it typically deals with red and purple levels.
"So right now if we're looking at temperatures that forecast to be well above 110, that certainly brings much greater impact in terms of heat risk to the population," Percha said.
The turn to summerlike conditions will begin in earnest this weekend over much of the western half of the country. A northward bulge will build in the jet stream and allow warmer air back into much of the West.
In inland areas of the West from Oregon and Idaho to Arizona and New Mexico, thermometers will climb several degrees above normal this weekend, especially on Sunday. Temperatures are forecast to reach 6-12 degrees above normal for cities like Phoenix, Las Vegas and Salt Lake City.
The National Weather Service has issued an excessive heat watch for parts of southeastern California and southwestern Arizona. The heat watch will begin Sunday and continue through at least June 16.
Temperatures in both Phoenix and Salt Lake City are forecast to soar and put high temperature records in jeopardy. If Salt Lake City is able to hit 100 on Sunday, it will tie the daily record that's been in place since 1918.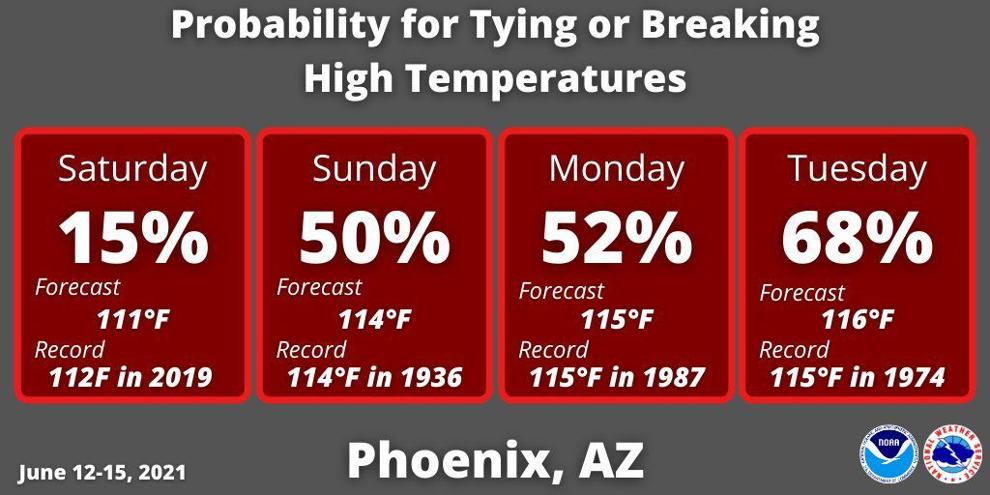 The building warmth will only continue to become more intense through the early week. Cooling demands will certainly be on the rise each day as residents attempt to beat the heat.
"High pressure [in the upper levels of the atmosphere] will remain over the Rockies and interior Southwest, which will keep temperatures above normal and precipitation below normal," AccuWeather Lead Long-Range Meteorologist Paul Pastelok said.
By the middle of next week, some areas, especially across Pinal County and the desert Southwest, will really begin to bake at unusual levels for mid-June.
"It's going to get downright hot for portions of the desert Southwest," AccuWeather Meteorologist Ryan Adamson said.
While temperatures in the triple digits are not at all uncommon for cities like Phoenix at this time of year, the level of heat in the forecast for this upcoming week will be more akin to July.
Phoenix will typically record its first high temperature of 110 degrees Fahrenheit or greater right around June 13. With a high of 110 in the forecast for Saturday, June 12, AccuWeather forecasters say Phoenix should be just about on schedule.
However, on average, it takes the Valley of the Sun until the first week of July to achieve a high temperature in excess of 115 degrees. Next week, Phoenix may hit its 110 and 115 degree benchmarks within two days of one another, rather than the typical two to three weeks apart.
In 2020, Phoenix had 53 days of temps at or above 110, the NWS in Phoenix said.
Next week may also be a record-breaking week for Phoenix. AccuWeather forecasters say the city is forecast to top out within 2 degrees of the current record high temperatures on Sunday — 114 F from 1935 — and Monday — 115 F last set in 1987.
And it's going to get even hotter after that. From Tuesday through at least Thursday, Phoenix is forecast to challenge or fully break the high-temperature record each day with highs solidly in the 110s.
Another city set to be well ahead of schedule in terms of heat is Las Vegas. Las Vegas doesn't typically encounter its first day of 110-degree heat until the very end of June. In 2020, the thermometer did not break 110 degrees until the second week of July. This year, Las Vegas is forecast to eclipse that benchmark on Monday.
On Wednesday and Thursday, the city is forecast to approach or reach 115 degrees and challenge record high temperatures that date back to 1940. It is unusual for Las Vegas to reach above 115 degrees, even in the hottest part of summer. The official reporting station for the city has documented temperatures above 115 degrees in only 21 of the last 73 years.
"The dome of warmth will likely also expand into California, raising temperatures up some 15-25 degrees [above normal]," Pastelok said.
Another location that AccuWeather forecasters say will absolutely scorch by the middle of the upcoming week is Death Valley, California. Death Valley is also no stranger to temperatures in the triple digits and has already experienced 41 days of 100-plus degree heat this year.
However, the first time Death Valley usually soars past 120 degrees isn't typically until the final week of June. June 3 and 4 marked the first days this year where the mercury topped out at 120 degrees or greater — well ahead of schedule. By Wednesday, AccuWeather forecasters say 120 degree temperatures are set to return.
By the end of next week, Death Valley may even make a run at eclipsing 125 degrees, a benchmark not usually reached for the first time until the second week of July. AccuWeather is forecasting a high of 125 next Thursday there. Such a temperature would be within 10 degrees of the all-time high ever recorded at Death Valley — a scorching 134 degrees in 1913, according to the National Park Service. The average high for June 17 in Death Valley is 110.
With this abnormal level of heat across the entire desert Southwest next week, cooling demands will increase, which may put a strain on the electric grid, as well as residents' wallets. Residents may want to limit time outdoors to the cooler portions of the day, like the early morning and evening, to avoid peak daytime heating.
As is typical with hot, dry weather in the Southwest, the risk for wildfire spread will increase as heat builds. With fuels like grass or brush so dry, the smallest spark may quickly spread into a large wildfire. Multiple wildfires including the Telegraph and Mescal fires are still ongoing in Pinal and Gila counties and have burned over a combined 140,000 acres.