PICACHO -- Sandra Bradley's record collection once filled an entire room.
Now consolidated to a modest book case in her Picacho living room, the collection reminds her of her childhood in Chicago, listening as musicians who would become legends rehearsed.
"Jazz music reminds me of my life," she said. "When I listen to it, I can see my family sitting in the living room, playing records. We would dance and eat popcorn. Those are happy memories."
At age 80 and suffering from Stage 4 chronic obstructive pulmonary disease, Bradley said the records are comforting to her.
One of her favorite songs to listen to when she is feeling stressed or overwhelmed is "Rescue Me" by Fantella Bass.
"Whenever I have enough breath, I still dance," she said. "But I tire easily now."
While Bradley is a self-described "jazz fanatic," she said she appreciates all styles of music. The dates of the records in her collection range from 1903 through the disco era and into the 1990s and include 45 and 78 rpm discs and their original packaging.
Some of the rarest in her collection were manufactured by RCA Victor in the pre-Depression era.
Bradley started collecting records when she was a child and continued into adulthood.
For many years in the early 1940s, Bradley's father owned a music store and worked for a record player manufacturing company. Her collection started with many of the records he would bring home for the family.
"Our friends would come over and look at the records. We would charge them a penny to see the records and a nickel for us to put it on the record player and play it," she said.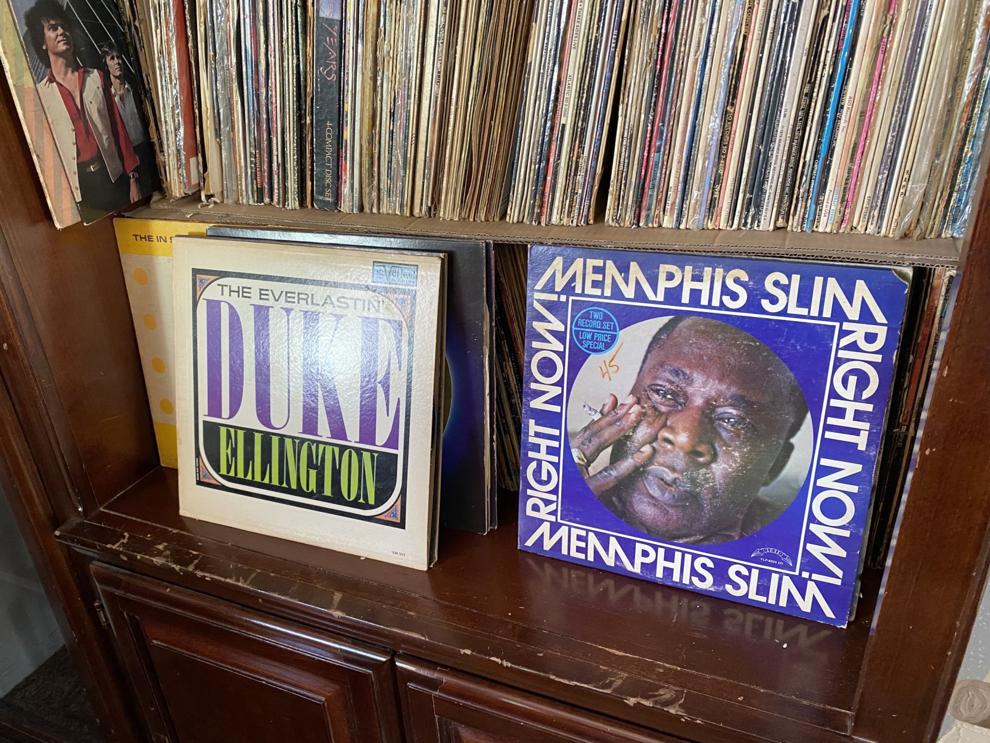 The records in Bradley's collection are an eclectic mix of jazz, R&B, soft rock, disco, rock and a variety of other genres. They reflect the various changes throughout her life, she said.
As a child, her home was near a theater where musicians, including Nat King Cole, Louis Armstrong, Pearl Bailey and others, would rehearse. She would linger off stage in the theater to listen to the music.
"I was 8 years old when I first heard Nat King Cole's voice, and I loved it," Bradley said. "It was soothing and mellow. The theater had a spiral staircase and we would listen and dance. I heard a lot of greats practice in that theater."
She became a fan of acid rock when she met her longtime boyfriend Randy in the 1990s.
"He had a lot of records too. At first we didn't like the same kind of music. He listened to acid, and I liked jazz. But we would play our records and we grew to love each other's music," she said. "We were together 15 years, sharing our love of music."
Bradley's record collection does not include hip hop, rap or much of the music from the current decade, although she does enjoy listening to Usher.
"I don't like any kind of music that belittles women, glorifies violence or puts down other races," she said. "But other than that, I love all music."
Bradley moved to Casa Grande in the 1980s to live closer to her brother, who also has an extensive record collection.
For years she worked as a house cleaner and later as a caretaker for the Dr. James O'Neil family.
"I loved this area as soon as I got here," she said. "It was quiet and friendly and there was no gang violence."
She attended culinary school to learn more about her other favorite pastime, cooking. She enjoys cooking a French-inspired version of soul food. Her specialty, she said, is chicken and dumplings.
"I love to put on my records and dance and cook," she said. "Billie Holiday and Bessie Smith are some of my favorites to listen to when I cook."
Bradley prefers listening to her records on a classic record player. She has never digitized her collection and doesn't have access to the internet.
A few years ago, her record player broke and she hasn't been able to replace it or fix it. But she says she doesn't need it.
"I've listened to those records so many times I can play them in my mind now anytime I want," she said. "If I get upset or need to relax, I just listen to Billie Holiday in my mind and I can see her singing and feel the fabric of her gown."