ELOY -- There are bountiful religions and churches to choose from in the Eloy-Arizona City area.
Worshippers can belong to the Catholic, Baptist, Methodist, Lutheran and Baha'i faiths, just to list a few, attend Spanish-language services, try a new-age type of spirituality or none of the above and go non-denominational.
Still another option is the Mennonites, the group with head coverings, long dresses and pigtails that are common among women and girls. But the Mennonites, who broke off from the Amish, or the other way around, several centuries ago, are not all that stuffy actually.
The La Palma Mennonite Church, with 20-some participants (excluding children), considers itself as mainstream as any other denomination, in some respects, while acknowledging there exists some fundamental aspects unique to Mennonitism.
"We do not consider ourselves a secluded, clannish sect, though we do have regulations for dress and our girls and women wear long dresses and a head covering," said Joseph L. Mast, an integral member of the La Palma Mennonites, in an email interview. While the Mennonites abstain from television, radio and the internet, emailing is permissible. "We also have regulations on technology, etc. So, to some people, we probably do look rather 'secluded.' While we call ourselves Mennonites, we do not attach extreme importance to the name. We are more worried about obeying the Scriptures than we are about the actual name we carry.
"Nevertheless, is the Mennonite faith outside the mainstream of religions in the U.S.? Yes. That is, the conservative Mennonites are. In all respect to the liberal Mennonite segment, they are not much different than any mainstream religion."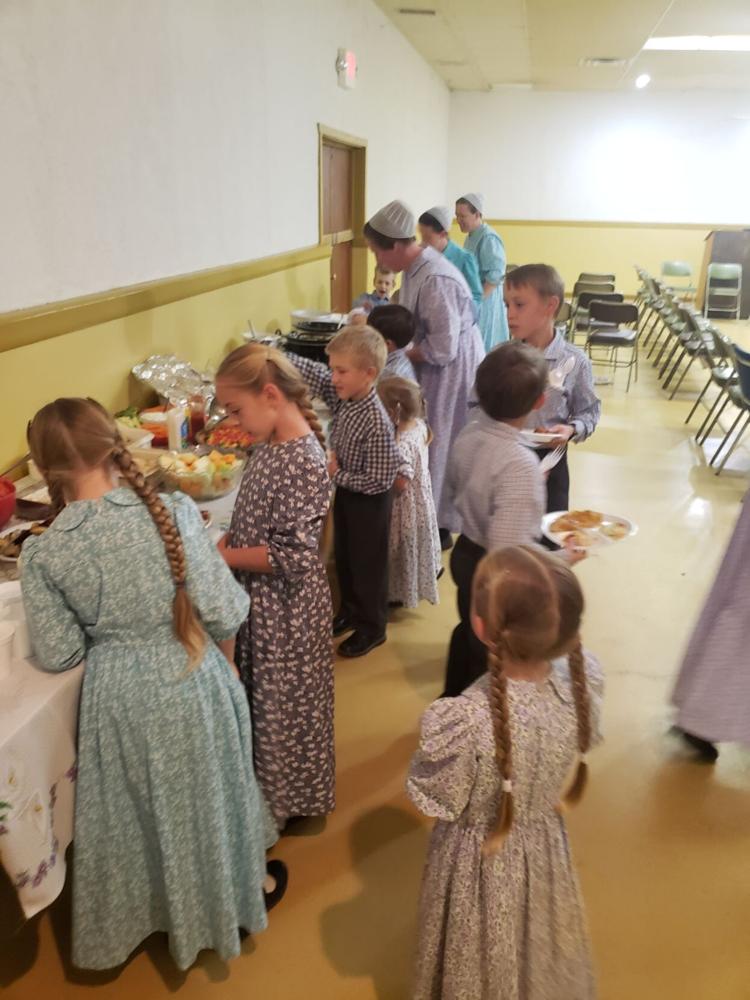 As with most church services and community activities, the La Palma Mennonites were set back by the coronavirus pandemic. Sunday and Wednesday church services have returned to a normal schedule, but the church-run private school for Mennonites in Arizona City ceased classes earlier this year, Mast said. At church services, social distancing and face coverings are not in place among the close-knit parishioners.
The La Palma Mennonites meet at the Eloy Lions Club — the organization does not have its own church building — at 9:30 a.m. Sundays, at 5:30 p.m. the first Sunday of each month for singing services and at 7 p.m. the second and fourth Wednesdays of each month for prayer services.
Attendance at services can reach 50 with children, but youths are not official church members until they are old enough to make responsible decisions, Mast said, adding some as young as 12 are in-the-wool accredited Mennonites.
There are Mennonite chapters in Tucson, Chandler, Glendale and Surprise, but there is no consolidation with the La Palma group, which is coordinated by two pastors, a deacon and a bishop from Farmington, New Mexico.
"We have members in Arizona City, in Toltec and in the area surrounding Eloy and Casa Grande and a bit toward Coolidge," Mast said, adding the organization is not confined to a single, specific community. "We buy properties that meet our needs, preferably not in the middle of the city. Our properties belong to the individual families. We don't have communal properties as such."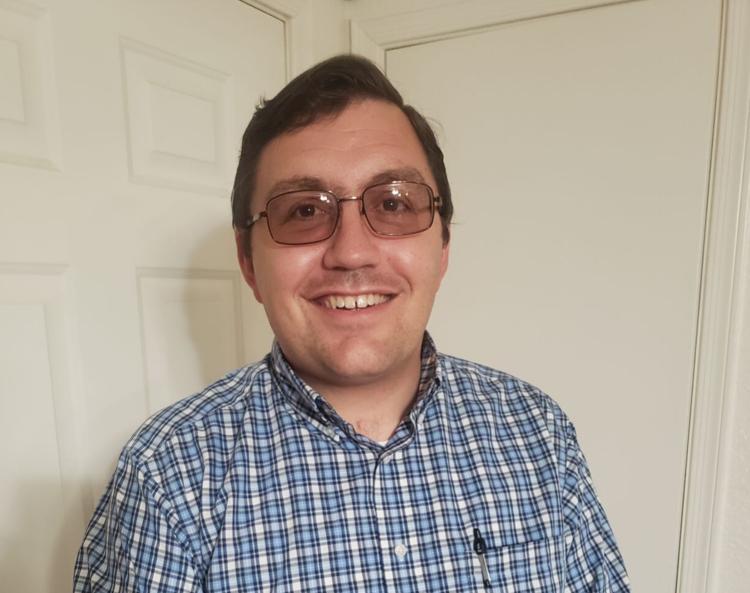 Organized in December 2017, the La Palma Mennonites hope to eventually incorporate themselves into the local and broader community outside of formal church-based functions. As Mast and his fellow Mennonites did in Farmington "to make a positive contribution," a members' goal is to offer Bible lessons and a prison ministry to inmates at the four Eloy incarceration facilities.
In addition, prior to the coronavirus pandemic reaching a severe level of limited personal contact, the LPMC visited an assisted-living home in Casa Grande where they performed hymns for residents. They are also interested in touring businesses in central Arizona.
Services in Eloy can be attended by Mennonites from throughout Arizona and parts of New Mexico, so the Lions Club building on Sunday mornings is hardly bare.
The Mennonites sometimes draw attention from curiosity seekers, and Mast encourages that.
"Any visitors are more than welcome to attend our services. Anyone that agrees with and practices our doctrines and regulations is welcome to become a member. Membership is strictly voluntary, including for those who grow up in Mennonite homes," he said.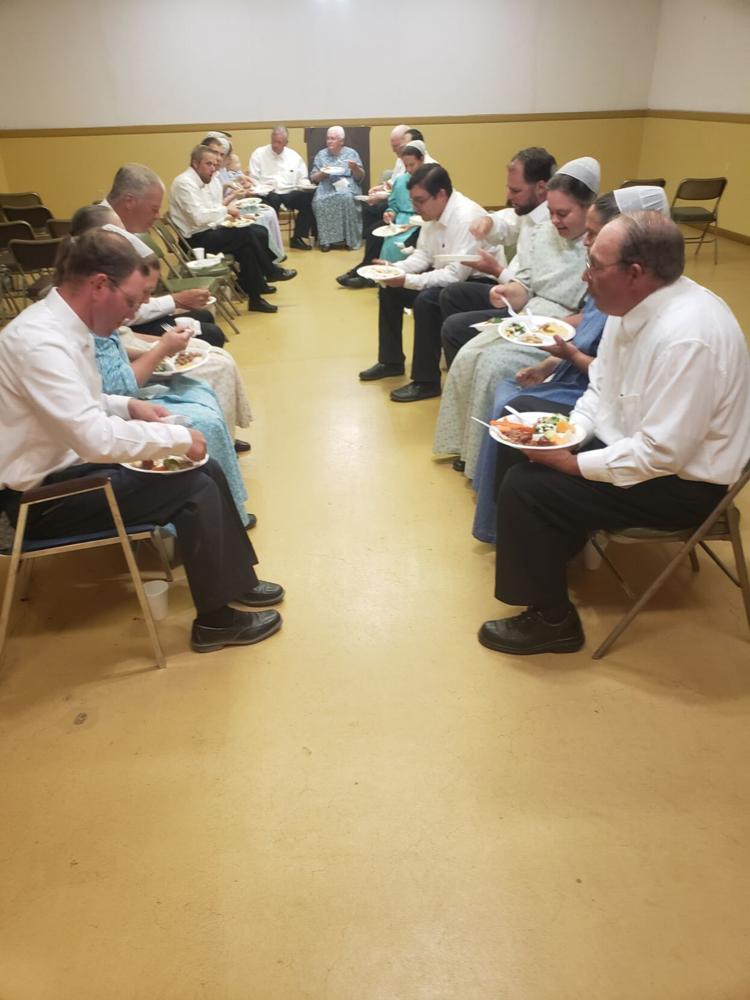 Facing the lectern, men are seated on the right and women on the left. Babies, toddlers and the youngest children mostly stay with their mothers but not exclusively. Hymnal singing goes on before and after a sermon and separate reading from the "Adult Bible Studies" lesson booklet. Each week, one topic from the pamphlet is read and discussed question-and-answer style among men members only; women and children remain silent.
The separate seating arrangement is "largely traditional and helps avoid distractions," Mast said. "We do make exceptions, like at weddings. We're very careful in our courtship practices to help maintain a healthy reserve in boy-girl situations until they are married. This is how we do it at these (La Palma) services. In our particular church, we ask the women to do the Sunday School services (for children)."
It's a very strict custom, and at least two young ladies completely accept, believe and follow the practice.
"The Bible teaches that the men do the services and the teachings, and the women support them," said Danielle Kuhns, 21, a school teacher from Wyoming home for the summer to visit her family.
Her 18-year-old sister, Suzella Kuhns, concurs: "I believe that's very biblical."
Seldom does a curiosity seeker cause trouble for the Mennonites, Mast said, even if the group does stand out from the crowd.
"Our practices make us stand out somewhat and sometimes we are met with surprised looks when people realize that, among other things, we do not have television or radio or that we have no internet access. But most people are very accepting and respectful," Mast said. "As far as being hassled because of our nonresistant position, rarely. Sure, sometimes we are victims of the random looting, but that can happen to anybody. But we are not under the illusion that we will never be hassled, or that times will never come when we face opposition because of our beliefs. Misunderstandings do occur, especially in war time. In times past, conservative Mennonites have been ridiculed and harassed for not participating in war. That is understandable."
An even more serious situation occurred early this year with the killing of a 27-year-old Mennonite woman from Farmington. Sasha Krause's body was found in late February near Sunset Crater Volcano National Monument north of Flagstaff. Brothers Samuel and Mark Gooch have been arrested and charged in connection with Krause's death.
Mast said he and his family knew the former school teacher Krause when they lived in northwestern New Mexico.
"Sasha was known to most of us. In fact, we moved from her congregation to this area about three years ago," Mast said. "Apparently, the (killer) was very bitter against Mennonites. To my knowledge, he knew none of the Mennonites at Farmington. So yes, I consider this to be a targeted act against someone because they belonged to a conservative Mennonite Church."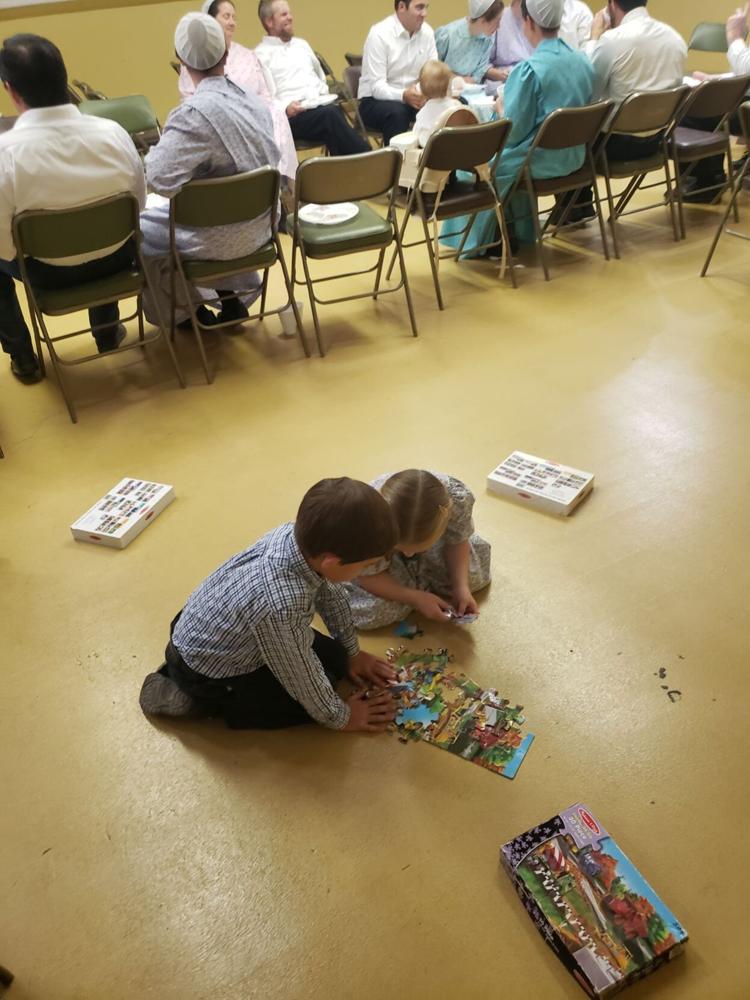 A tenet of Mennonitism is nonresistance, even in the face of violence, which includes opposition to war and political disputes. The principle is drawn from the New Testament, Mast explained.
"We are indeed opposed to war and violence but we believe Jesus calls us to a higher standard yet, that of loving our enemies, giving them food when they are hungry and water when they are thirsty. We pray for enemies and actively seek their good. We bless them when they curse us. We will not sue anyone, and, further, if taken to court for some reason we will seek to help our aggressor."
Mennonites also avoid political participation and do not vote in local, state or federal elections but do support the government and strive to fulfill a societal need.
"We do not ignore the government; rather, we view part of our responsibility toward the government as an intercessory one. We are commanded to pray for those in authority, and we do so regularly. Does this practice (of nonresistance) separate us from mainstream religions?" Mast said.
"We do believe that in times when the draft is enacted, we owe it to whatever country we live in to provide some kind of positive, God-approved service to that country in lieu of military service. In years past, many Mennonite youth volunteered a couple years of service as hospital orderlies, maintenance crews, etc. We are very grateful for such exemptions."