MESA — A fictional book by a former Arizona-based U.S. Border Patrol agent takes readers inside the life of a federal law enforcement agent, from the grueling training program to the rigors of patrolling the vast desert.
"Fleeing the Past" is the first book in a trilogy written by Christopher LaGrone, who worked for several years as a Border Patrol agent in Douglas. He died in 2018 a few years after separating from the law enforcement agency.
His mother, Sherryl LaGrone, who lives in Mesa, pursued publishing the trilogy soon after his death.
"I am in a unique situation as the mother of the author and the person who brought the novel to publication," she said.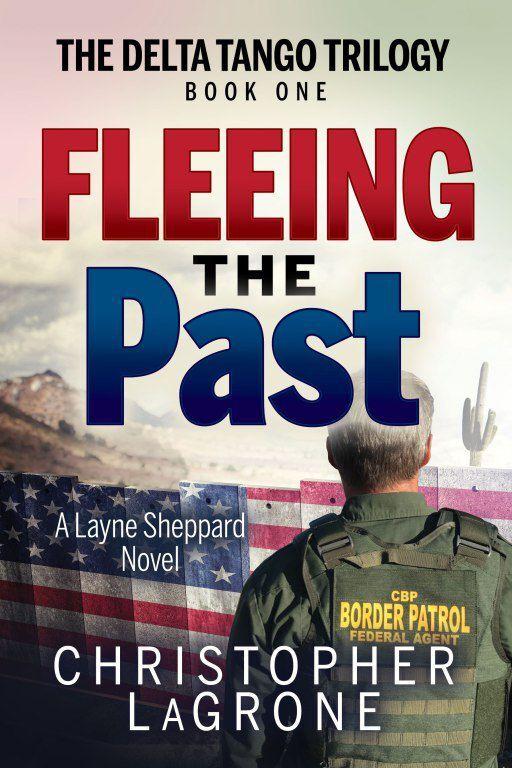 The series, entitled "Delta Tango Trilogy" includes three full novel-length books that follow fictional Border Patrol agent Layne Sheppard.
The first book, "Fleeing the Past," was released this month. The other two are expected to be released in 2021.
In the trilogy, the main character maneuvers through life and the various phases of a career as an agent.
The first book, "Fleeing the Past," finds the main character at the dawn of his career, entering the agency's training program and struggling through the early years of his chosen profession.
Working as a Border Patrol agent in Douglas, the character falls in love with "a beautiful Mexican-born lady and 'Dreamer' who was brought over the border illegally as a young child," a description of the book reads. "During precious free time he meets Felina Camarena Rivera. Both keep personal secrets and pursue plans for escaping them — plans they also keep to themselves, even as their attraction for each other deepens."
In book two, "Felina's Spell," the character deals with "the politics of the BP's Douglas Station" as he works his way up from trainee to agent and learns first-hand what his new job entails. He also learns that his girlfriend's brother is charged with DUI and deported.
Book three, "Moments Of Truth," follows the character as he realizes "the inevitable loneliness and fear of patrolling the border without a partner, and pressure from management mounts," according to the description.
"The reader will find so many topics that are relevant to all of us today," LaGrone said. "Certainly the reader will finish the book with a broader sense of what it requires to become a U.S. Border Patrol agent. The reader will have a better idea of what challenges an agent faces during each day he or she is on duty. But, the reader also will go away with a better understanding of what many of our undocumented citizens experience daily and their challenges."
LaGrone's favorite part of her son's book is a section that describe elements of training.
"The description of a part of training called 'stacking' and the description of the exposure to the Agent Orange-type chemical defense called OC had my heart pounding with anxiety," she said. "I personally enjoy reading a book where I can learn something about a subject that I should know something about, yet be entertained at the same time. There are many topics for discussion, such as the border wall, immigration as a whole, alcohol abuse, workplace politics, Dreamers and much more."
Christopher LaGrone began his career with the U.S. Border Patrol in 2007 when he attended training in Artesia, New Mexico.
After graduation from the program, he was assigned to the Douglas Station, where he worked for several years.
"I believe the least favorite part of being an agent for Chris was the daily conflict between doing the job you are required to do and having deep compassion for most of those who you are responsible for apprehending. I believe Chris valued his friendships and colleagues at his station and the team environment of the Border Patrol," his mother said.
But his dream was always to become a published author, she said.
The former agent-turned fiction writer was living in Cusco, Peru, and studying Spanish and culture when he died of high-altitude sickness in 2018 at the age of 41.
"He had finished his last Spanish class in Lima, Peru, flew to Cusco to prepare for his tour to Machu Picchu and it is estimated he died approximately 24 hours after landing. At the time of his death, he was near completion of the 'Delta Tango Trilogy,'" LaGrone said.
He had grown up in a family of teachers and coaches, according to LaGrone.
"Chris was a natural athlete, playing football and baseball. In high school he focused on baseball, played on a state championship team as the right fielder at Arvada West High School in Arvada, Colorado. He earned a scholarship to Seward County Junior College in Liberal, Kansas, where he played for two years," she said.
He earned a Bachelor of Arts degree in marketing from Metropolitan State University in Denver.
He lived in Tucson until 2014 and enjoyed hunting birds, antelope, deer and elk with his father and was "an expert marksman and hunted regularly," his mother said.
He also enjoyed lifting weights and, when he lived in Colorado, ran a business in which he coached teens in their weightlifting pursuits.
At the time of his death, he had been working on the "Delta Trilogy" and had finished all but the third book.
"Chris had been working for several years with his editor, Denny Dressman," LaGrone said.
The writer and editor had formed a friendship.
"Denny called me offering to finish Book Three in Chris's honor," LaGrone said. "Naturally, I was overwhelmed, joyous and grateful for the offer. I'm a retired high school business teacher who knew nothing about writing or publishing a book, but I anxiously accepted the offer. Since Denny and Chris had worked together for so long, Denny knew exactly where Chris was headed with Book Three and he completed the book."
When the book was finished, it was submitted to Morgan James Publishing, which offered LaGrone a contract for the trilogy and the e-book version of "Fleeing the Past."
"Fleeing the Past" launched on Oct. 6. The printed book will be in stores nationwide on Jan. 12.