QUEEN VALLEY — Firefighters made progress containing the southern and eastern portions of a large wildfire threatening a northern Pinal County community.
Officials said Tuesday night structure protection measures were successful in the Queen Valley and Elephant Butte communities. In late afternoon, fire activity picked up to the northwest in Peralta Canyon near Gold Canyon. Air resources dropped retardant and water on the fire in this area, halting its progress.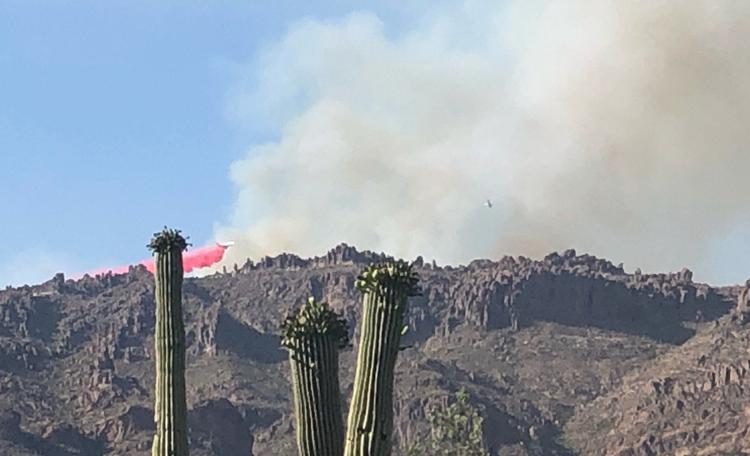 An evacuation order was issued Tuesday afternoon for some residents of Queen Valley as crews battled the lightning-caused wildfire that started in the Superstition Mountains.
Tonto National Forest officials said the fire had burned nearly 29 square miles (7,486 hectares) as of Tuesday with 8% containment.
A precautionary order was issued for homes along Silver King and Williams roads starting at noon Tuesday as firefighters begin backburning operations to protect structures in the area.
Forest officials said Queen Valley residents should be prepared to be out of their homes for a minimum of three days.
The town is located between Gold Canyon and Superior on the north side of U.S. Highway 60.
The communities of Elephant Butte, Hardt Tank and Angel Basin were evacuated Monday by the growing wildfire that started Saturday night near the Peralta Trailhead.
The blaze, dubbed the Sawtooth Fire, is burning in the same area as the Woodbury wildfire last year that charred about 195 square miles (50,500 hectares).
Currently 300 firefighters and support are assigned to the fire, with expanded air resources prepared to drop retardant and water on the fire. Monday, firefighters were successful in building containment along Forest Service Road 172, near Elephant Butte. Crews are focusing on identifying containment options and protecting private property in the area.
A Type 1 Incident Management Team will take over command of the fire Wednesday, June 3, 2020, at 6am.
"This highly experienced team has the skill set and resources to manage the complexity of this incident." said Deputy Forest Supervisor Tom Torres, "They will continue to fully suppress this fire while minimizing the impacts, where possible, to the fragile and scenic Sonoran Desert ecosystem."
Area closures are in effect around Peralta Road, Hewitt Station, Rogers Trough, and the Woodbury Trailhead. The detailed closure order can be found on the Tonto National Forest website at https://www.fs.usda.gov/tonto by clicking on the Closure Orders & Restrictions in Effect link.
Any warning notices or evacuations will be coordinated through the Pinal County Sheriff's office via the Pinal County Emergency Management Office.