APACHE JUNCTION — A woman is mourning the loss of her little dog Gilbert after he was snatched by a raptor last month at a pet sitter's home. The incident is a rarity in the area, and it left his owner and some others in the community shaken.
Pat Stemple moved to Apache Junction in 2003 with her late husband. Stemple considers her two dogs Lacey and Gilbert to be family members.
"I don't have children, so they are literally like my children," Stemple said. "My animals always become like my children. It's just huge. It's a terrible way for him to die — if in fact that's what happened."
The incident occurred at around 6 p.m. on April 29, while Gilbert and Lacey were with a pet sitter on Wickiup Road. The pet sitter and her husband were outside with their own two dogs and Gilbert and Lacey when the sitter spotted something out of the corner of her eye.
She said she saw a large brown bird with a light tan chest snatch Gilbert only feet from her and swoop off into the evening. The couple watched the bird carry the 7-pound dog to the northwest for some distance, hesitating to see if it dropped him, before getting into their car to chase after the bird.
The pet sitter said they drove all night in search of the dog but couldn't find any trace of fur or feathers. The next morning, Stemple got a phone call from the pet sitter, who was inconsolable on the phone while relaying what had happened.
The pet sitter is a personal friend of Stemple and has lived on a 2-acre fenced property for decades. Stemple's dogs had stayed on the property many times.
"She keeps my dogs a lot and my dogs are very happy at her house," Stemple said. "I completely trust her. So I have no qualms at all that she did anything wrong."
Stemple was in Florida at the time of the attack to help a friend after a major surgery, and she needed to stay for three more days. During that time, her pet sitter rallied the community to search for the little dog. People went out on ATVs, made Facebook posts and searched the desert in hopes of finding the canine alive.
When Stemple arrived at the Phoenix airport, she took a shuttle home to Apache Junction. On the way, she began talking with the driver, who asked her why she was coming home early from her trip.
"I said, 'Well, my dog got attacked by a hawk,' and he said, 'You're not talking about Gilbert?' And I started crying," Stemple said. "He said, 'Everybody knows about Gilbert. Everybody in AJ and Gold Canyon is talking about Gilbert. I haven't run into anybody that isn't saying something.'"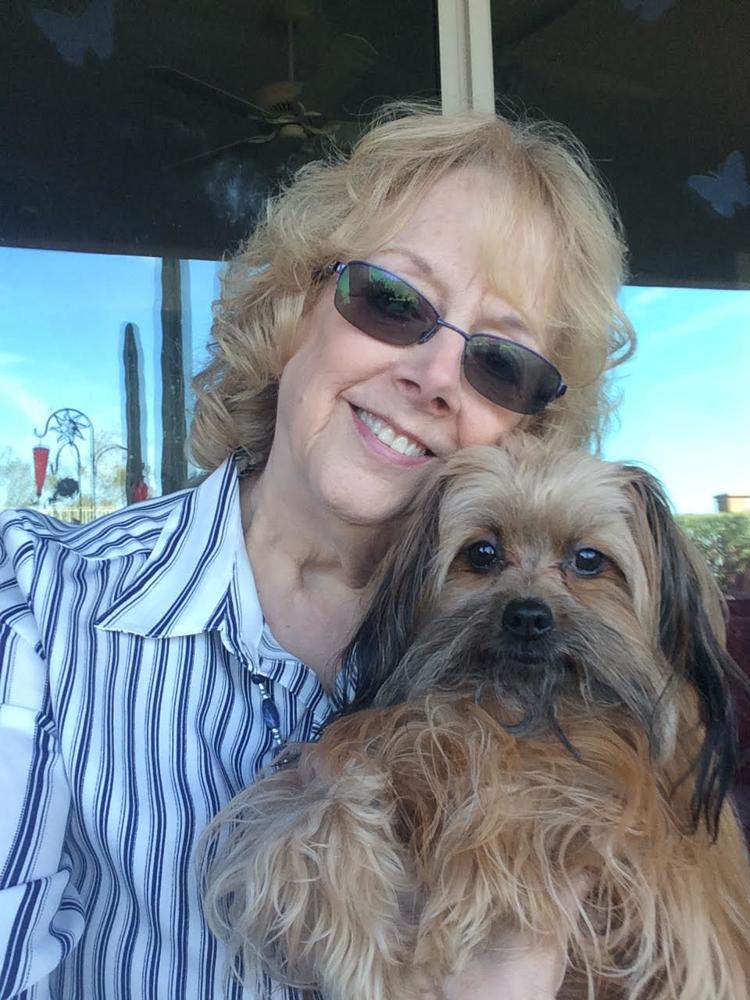 Stemple had Gilbert since he was a puppy. The "Morkie Chi" 6-week-old was auctioned off at a Gilbert Historical Museum fundraiser five years ago and was originally a gift for her mother, but she took him home instead.
"I laughed when I got him, they told me what he was and they said, 'He's a Maltese, yorkie and long-haired Chihuahua.' And I said, 'OK, so he's a mutt,'" she said laughing.
Named after the museum he came from, Gilbert was a spitfire of a pup and spent his days hanging out with his standard poodle sister Lacey and playing with his favorite heart-shaped toy with X's and O's — which he would carry to the door every time Stemple came home.
"It seemed like every time I got home, before he'd come to me, he'd run and find that toy and then bring it to me with it facing me. I mean, it was never upside down, it was always so I could see those kisses," Stemple said.
Though it has now been weeks since Gilbert was taken, Stemple still makes regular trips into the desert in search of her beloved pet. She hopes he was dropped and is either wandering alive or was found by someone who hasn't turned him in yet.
There are, however, some leads as to the culprit of the attack.
Kenneth "Tuk" Jacobson is a raptor management coordinator with Arizona Game and Fish who studies and works with raptor birds in the field on a regular basis. Based on the evidence and situation in which Gilbert was taken, Jacobson believes the bird was a great horned owl.
"They're one of our larger raptors, and they will start hunting close to dusk," Jacobson said. "Around 6:30 and in April — it's about the time they're waking up and starting to look for food."
He also said that the size of Gilbert could have made him look like a rabbit, the primary food source of owls. But the biggest indicator to Jacobson that the predator was a great horned owl is the fact that the pet sitter didn't hear or see the bird approach before it attacked.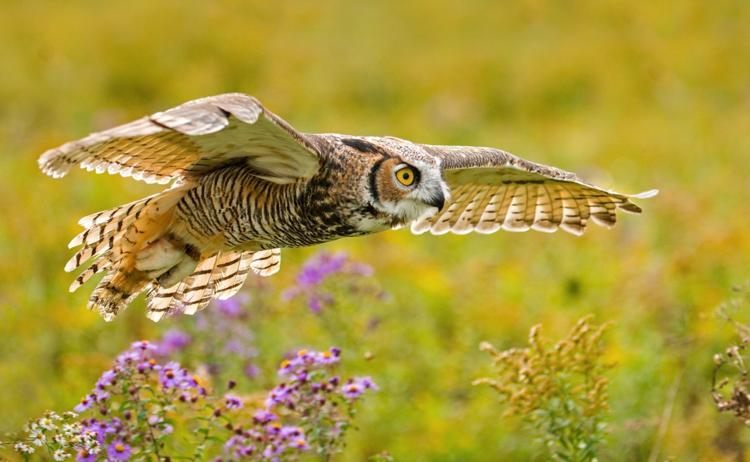 Great horned owls are known for their virtually silent flight pattern, while other birds of prey such as the hawk are much louder when in flight. This means it can approach prey virtually undetected until it strikes.
However, great horned owls only weigh about 3.1 pounds and would have a tough time carrying a dog of Gilbert's size.
"The seven pounds is at the high end of what they'd be able to carry off," Jacobson said. "Five pounds and under definitely, but seven pounds, they would have been struggling a bit."
Another possibility is a hawk, which is originally what the pet sitter, her husband and Stemple thought after the attack, but the hawk weighs even less at 2.4 pounds.
Stemple believes the culprit was a hawk, and that the smaller bird means it is more likely Gilbert was dropped and survived. She has been working with a wildlife photographer in the area to track local hawks.
Either way, Jacobson said this kind of bird attack is exceedingly rare, and he's only heard of a handful of calls involving snatched animals in his time with Game and Fish.
"I wouldn't want everyone to live in fear because they hear an owl hooting," Jacobson said. "They're after rabbits and other things for the most part. It's a very rare occasion that I've heard of, or people have actually observed, owls grabbing their animal."
Stemple expressed her thankfulness for the community's support in looking for her dog and hopes they will continue to help search for her dog.
Meanwhile, she and Lacey are adjusting to living at home without the little dog.
"Gilbert's presence is definitely missed," Stemple said. "He was always moving, always engaged. … You never went anywhere without him in the house."